Napa Planning Commission Approves Matthiasson Winery Expansion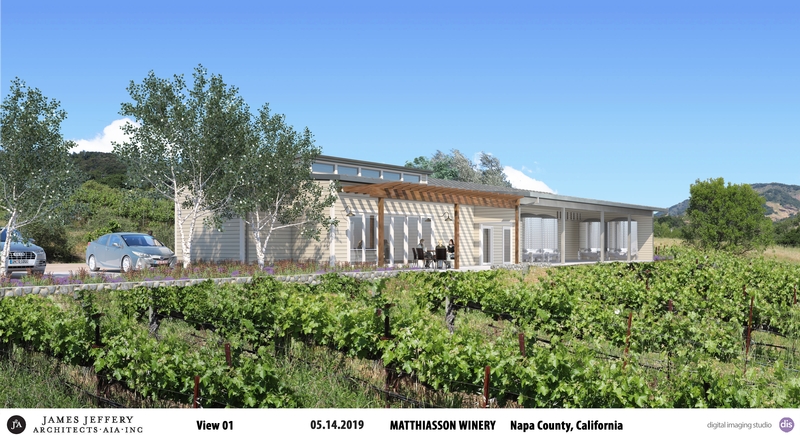 The Napa County Planning Commission has approved plans to upgrade an existing winery Steve Matthiasson and Jill Klein Matthiasson own near Napa. The plans include a tasting room and a cave. Submitted rendition courtesy of Matthiasson Winery.

A proposal to upgrade a small winery near Napa was approved Wednesday after the plans drew praise from neighbors and commissioners alike.

The Napa County Planning Commission unanimously approved winemaker Steve Matthiasson's and Jill Klein Matthiasson's plans to upgrade their winery built in the 1980s, including a tasting room.

The Matthiassons, experts in organic farming, drew praise for drafting their proposal after working closely with their neighbors, many of whom work in the wine industry.

The Matthiassons received the green light to transform an office into a tasting room inside the 3,500 square-foot building; boost wine production from a maximum of 5,000 gallons a year to 18,000 gallons a year; construct 3,800-square foot production cave on the 5.75-acre property; and have up to 17 visitors a day and four marketing events a year for up to 30 guests each. The Matthiassons now can have up to seven employees instead of the current two. A 65-square-foot breakroom will be added to the winery.

Two new 10,000-gallon water tanks will be installed on the hillside. The plans call for the 12-foot tall tanks to be partially dug into the hillside to reduce their visibility. Trees will also screen the two tanks.

The Matthiassons will source fruit from the 3.5-acre onsite vineyard and seven other properties they either lease or own. Steve Matthiasson farms all the properties. The Matthiassons' team worked 20 months with county staff to prepare the application, a representative for the couple told the Planning Commission.

Neighbor Patricia Demery, who frequently speaks publicly to support watershed protection and stricter development regulations, wrote in support of the Matthiassons' project. She also came Wednesday to praise the Matthiassons for their willingness to work with the community. "They work with us," Demery said.
In her letter to the Planning Commission, Demery said the Matthiassons listened to the neighbors. Working with the Matthiassons has been a "surprisingly wonderful experience," she said.

The Matthiassons, she wrote in her letter to the commissioners, initially wanted to produce up to 25,000 gallons a year and be allowed to have up to 25 visitors a day. Demery, who has a well and share a smaller reservoir with the Matthiassons, was impressed that the winery would only use a maximum of 1.52 acre-feet a year. The Matthiassons, she said are committed to "almost" dry farm and experiment with warm climate varietals. The Matthiassons' new trellis system shield the fruit from the sun and native grasses are maintained between rows for carbon sequestration.

Another neighbor, Jeff Atlas, said the Matthiasson reached out to him and others for input and suggestions even before they bought the property. The application packet included one letter from a Mt Veeder resident who opposed the project because of concerns over climate change.

Planning Commissioners praised the Matthiassons for their sensitivity to the neighborhood. Planning Commissioner Jeri Hansen said she has known the Matthiassons for 20 years. She was not surprised at the approach the Matthiassons chose to bring their plans forward. "This is just who they are," she said.

"All the pieces came together," Hansen said of the project. "It really does seem to fit so nicely with the landscape"