Napa Valley Cabernet Sauvignon from Cool-climate Carneros? It's Coming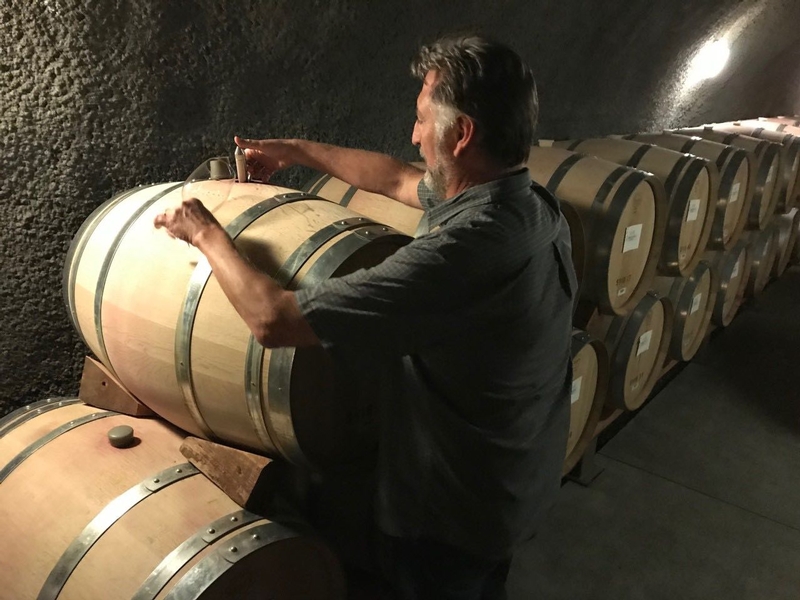 Pine Ridge Vineyards winemaker Michael Beaulac takes a sample from a barrel filled with Cabernet Sauvignon from Carneros. The winery plans to plant 3.5 acres of Cabernet Sauvignon in Carneros this year. Kerana Todorov/Wine Business Monthly

Pine Ridge Vineyards is about to pull 3.5 acres of Chardonnay in Carneros this year to plant Cabernet Sauvignon. The decision to plant Cabernet Sauvignon in Carneros was made after a successful three-year trial at one of its vineyards in south Napa County where Pine Ridge owns 38 acres.
"We are happy, very happy," Gustavo Avina, viticulture director at Pine Ridge, referring to the fruit produced from Carneros.
Pine Ridge winemaker and general manager Michael Beaulac said the discussion to plant Cabernet Sauvignon in Carneros started eight or nine years ago in part because Pine Ridge was not producing as much Chardonnay as it used to. The company, which has 29.5 acres of Chardonnay left in Carneros, wanted to make the switch to best utilize the land, he said.
Pine Ridge first bought Cabernet Sauvignon fruit from Treasury Wine Estates vineyard in Carneros. "We really like the fruit," Beaulac said. The winery then decided to conduct trial before deciding whether or not to replant some of its vineyards into Cabernet Sauvignon. In 2015, Avina grafted Cabernet Sauvignon onto Merlot.
A Treasury Wine spokeswoman on Monday said Treasury does not grow Cabernet Sauvignon "at this time."
Beaulac likes the wine produced from Cabernet Sauvignon grown in Carneros. Its profile is different from the Cabernet Sauvignon in the UpValley AVAs. It is less tannic but very deep in color, Beaulac said. "I think of blueberries a lot when I'm tasting it," Beaulac said. "The structure is softer, silkier…not to say it's wimpy wine by any means. But it's just different than what we grow Upvalley."
This year's Cabernet Sauvignon production from Carneros only fills five barrels of wine - not enough wine for a standalone vintage. Instead, the fruit will be blended into other Napa Valley wines, Beaulac said.
Pine Ridge will continue to produce Chardonnay, he said. After all there will be 27 acres of it left in Carneros after the Cabernet Sauvignon is planted. "That's plenty of Chardonnay for us," Beaulac said.
Pine Pidge, which produces 30,000 cases a year, is primarily a Cabernet Sauvignon winery. It produces Cabernet from various regions in the Napa Valley, including Stags Leap, Oakville, Rutherford and Howell Mountain.
"Now we can make a Cabernet from Carneros," Beaulac said.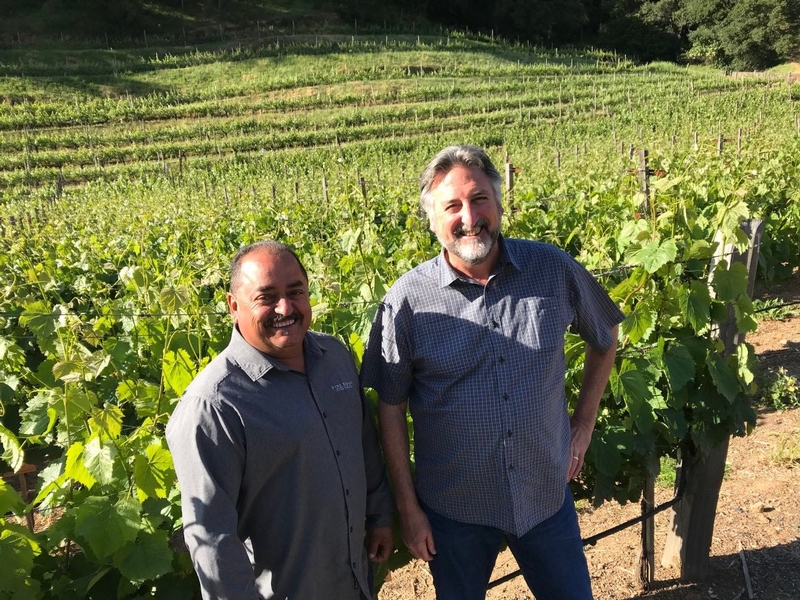 Gustavo Avina, viticulture director at Pine Ridge Vineyards, left, and Michael Beaulac, winemaker and general manager at Pine Ridge Vineyards, right, worked on a trial to grow Cabernet Sauvignon in Carneros. Kerana Todrov/Wine Business Monthly