Grape and Bulk Wine Market Pauses, Vineyard Economics Symposium Attendence Surges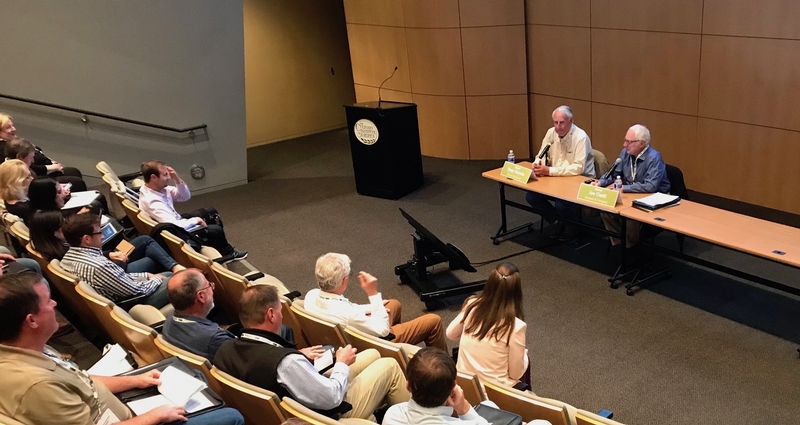 Tony Correia, president, The Correia Compnay, left and Joe Ciatti, partner, Zepponi & Co., right, speak on acquisitions and vineyard pricing at Vineyard Economics Forum, a Wine Business Monthly event. Kerana Todorov/Wine Business Monthly

Selling a vineyard in most wine regions will be challenging over the next two to three years and grape growers should reset their expectations because the market has changed.

These are among the insights speakers gave Wednesday at Wine Business Monthly's Vineyard Economics Symposium in Napa.

It will be more difficult to sell vineyards in many wine regions where wineries deal with an oversupply of grapes and sluggish wine sales.

Vineyard pricing in Lodi, the Central Coast and the North Coast are either flat or down, said Joe Ciatti, partner at Zepponi & Co. Exceptions include Napa and Sonoma, where vineyard prices are either flat or up.

"I think the next two years or three years will be very challenging," said Ciatti, partner at Zepponi & Co.

Oregon's vineyard market is solid. However, growers have overplanted in the state of Washington, where the land is cheap. Many have put grapes in the ground without contracts, Ciatti said. "They have excess grapes out there," Ciatti said.

In addition, the ramifications of the recent $1.7 billion deal between Constellation Brands and E & J Gallo, which includes the sale of 30 more affordable Constellation brands to Gallo, are not fully understood. That deal represents 30 million wine cases, Ciatti said. "It does have a big impact."

Tony Correia, president, The Correia Co, agreed that the market is tough. Still it will not be like the 2009 and 2010 market, he said, though growers who have planted vineyards on speculation may have trouble selling their grapes this year, he said.

Consumers continue to buy wine, Correia said. Good quality grapes are easily sold. "Pinot Noir continues to drive the bus in Sonoma," he said.

Napa Cabernet Sauvignon from prime areas in Napa continue to rise, he noted. There are a lot of replants in Napa, where instead of new vineyards. Vineyard prices in Napa range from $300,000 to $450,000 per acre, Correia said.

Glenn Proctor, partner at Ciatti, said growers have to be open to the realities of the current market place, in part shaped by new vineyard coming into production, a historically large 2018 California crop and sluggish wine sales. Some of the largest wineries who are usually bulk wine buyers have become sellers, looking to move excess inventory, Proctor said.

"The bulk market activity and grape market activity are extremely slow," Proctor said during his presentation at The CIA at Copia in Napa.

More bulk wine is expected to enter the market, Proctor said. The Cabernet Sauvignon, Chardonnay, Merlot, Pinot Noir and Zinfandel bulk wine inventory is bigger this month than in January, according to Ciatti. "Bulk inventories are increasing," Proctor said.

Other panels addressed other issues, including smoke taint. Copper Cane Wine & Provisions is drafting an addendum to its Oregon contracts that includes a crop insurance provision, according to the company. Only 20.1 percent of the 33,996 acres planted in grapes in Oregon were insured.

Copper Cane Wine & Provisions will require new contracts to carry crop insurance, with Copper Cane paying 50 percent of the cost of crop insurance policy paid by the grower, said Matt Heil, director of fruit supply for Copper Cane Wine & Provisions. The reimbursement deal covers the acreage under contract.

Copper Cane Wine & Provisions in 2018 rejected 2,100 tons of fruit in Oregon last year after measurable levels of volatile phenolic compounds known to cause smoke taint or atypical character of smoke in wine, Heil said. Most of the 20 growers did not have crop insurance.

The company collected grape samples in southern Oregon, where fires six fires burned more than 658,000 acres. The samples were collected from 30 vineyards in the Southern Oregon AVA and Rogue Valley AVA. The samples were fermented under the Australian Wine Research Institute protocol; the samples were tested at ETS Laboratories, Enartis-Vinquiry and at the Australian Wine Research Institute in Australia.

Wednesday's symposium drew 38 percent more people than in 2018.