Bidders Find Value at Sonoma's Barrel Auction
Per-case prices for 2017 and 2018 futures range from $700 to $2,600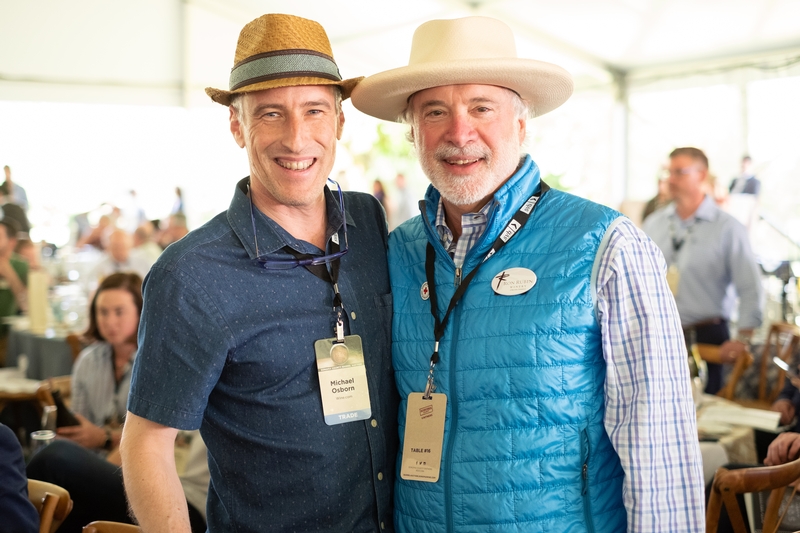 Bidder Michael Osborn (left) of Wine.com and vintner Ron Rubin of Ron Rubin Winery.
Ron Rubin was honored along with the Duncan Family of Silver Oak Cellars as Innovators; and winemakers Margo Van Staaveren of Chateau St. Jean and Rod Berglund of Joseph Swan were honored as Icons by the Sonoma County Vintners at the Innovators and Icons event.

Members of the Sonoma County Vintners celebrated the results of their annual barrel auction for the wine trade on May 3, which drew a total of $645,000 in bids to help fill the marketing coffers of their organization and also those of the county's smaller wine district associations.
Retailers and restaurateurs from around the country attended three days of winery visits, tastings and meals that culminated in a live auction at MacMurray Estate Vineyards attended by 450. The bidders chose from 85 lots of wine in sizes from five to 20 cases, paying as little as $700 a case to as much as $2,600 a case for wines from coveted brands such as Williams Selyem, Pride Mountain and Cirq Estate.
"It was our fifth year and I couldn't be more happy," said Michael Haney, executive director of the 200-member winery association after the final lot was sold. "It was a great day for Sonoma County. We had a lot of new bidders here, and a lot of new wineries as well. From the comments we heard, it just could not have been a more picturesque, wonderful, successful day."
On the auction block were one-of-a-kind offerings of Pinot Noir, Cabernet Sauvignon, Chardonnay and other wines from mostly the 2017 and 2018 vintages, all grown in Sonoma County and donated to the auction by their producers. These were "futures" offerings because the wines were still in barrel and not yet ready for sale.
Three wines that topped the equivalent of $217 per bottle were a Cirq Estate 2018 Pinot Noir from Koplen Vineyard labeled "2001: A Space Oddity," a Pride Mountain 2017 Cabernet Sauvignon called "Summit Cuvee" and a Crescere 2016 Syrah "Darden" from the winery's inaugural vintage.
But some bidders, like Michael Osborn of Wine.com, found good deals at the three-hour-plus sale. "We are value shoppers here because ultimately we're going to sell these wines, as we have from the previous four years of auctions, on our website, as we do with Napa Premiere wines, wines from Washington and the Willamette Valley. The idea is to offer the customer something unique that they can't find elsewhere but not at the crazy prices that some of the Premiere Napa items go for."
Osborn said that he likes wines that have good tales to tell, and bought five or six lots that fit that description. "We love story telling, and what we were able to secure today were not just the never-before, never again wines."
An example of that was a 20-case lot of Sonoma Valley Cabernet Sauvignon called "Once in a Blue Moon" co-produced by Amapola creek Winery and Arrowood Winery for which Osborne paid $12,000. The story revolves around Dick Arrowood, who founded and later sold Arrowood Winery before starting Amapola Creek.
"We had dinner last night with Dick Arrowood who is just as sharp as ever and who had not been back to the Arrowood winery since the sale. He and Kristina Shideler, the young winemaker from Arrowood, made a great collaboration lot and were describing how they went about it. Fortunately for us that wine, for what we paid, was a great value in this crowd," Osborn said.
Two wines that garnered the highest prices per lot were Silver Oak Cellars' "First of Its Kind" 2017 Cabernet Sauvignon which sold for $40,000 and Williams Selyem's "The West Side" 2018 Pinot Noir at $33,000.
Auctioneer John Curley kept the audience engaged with a combination of comic lines, rock music backup, athletic stage moves and interplay with the bidders. In his fourth year at this event, Curley said afterward, "You start to know people, you have a deeper relationship with people than just auctioneer and bidder. You can poke people a bit, and you know they can take a joke. It's fun, it's great, I love these people."
He pointed out the difference it makes to have wine trade bidders at this auction rather than the private buyers he sells to at many high-end charity wine auctions. "These are industry people. They want to buy the lot, but they want to have someone else taste it. They don't want it to just sit somewhere in inventory, but to introduce someone to Sonoma wines all over the world. So it's important that they are able to buy it not so expensive that it can't be resold and tasted."
Next year's Sonoma County Barrel Auction will be held Friday, May 1, 2020. For more information or to request a ticket, visit: barrelauction.sonomawine.com.