California Wine Grape Acreage Grew 6.3 percent in 2018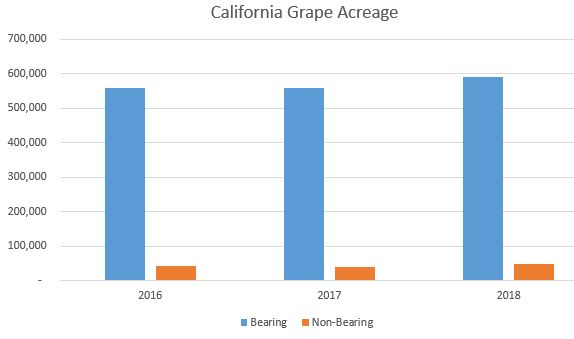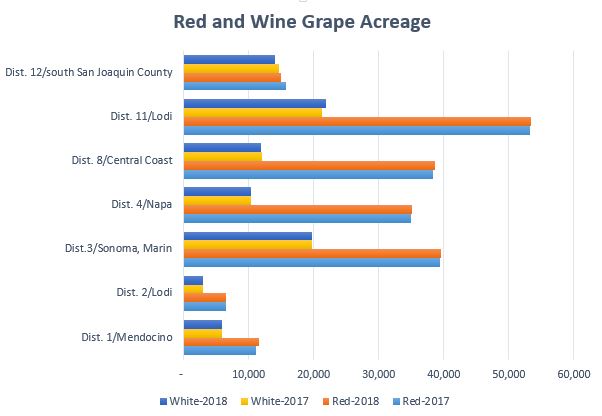 Winegrape acreage in California increased by 6.3 percent in 2018, according to USDA statistics released his week.

The report is available at www.nass.usda.gov

The data is part of an annual survey of table, wine, and raisin grape bearing and non-bearing acreage.

In 2017, the estimated wine grape acreage totaled 599,000 acres – a 0.5 decrease over the previous year.

The most recent survey estimates the wine grape acreage at 637,000 acres. Of those, 590,000 acres were bearing and 47,000 acres were non bearing, according to the USDA/ USDA/National Agricultural Statistics, Pacific Regional Office in Sacramento. The survey considers varieties non-bearing for three years after they are planted.

The data on wine grape, table grape and raisin are based on a voluntary survey of about 8,300 grape growers.

The survey is voluntary and is unlikely to report all acreages of bearing and non-bearing grapes, according to a news release from the California Department of Food and Agriculture. For that reason, the submitted data is compared with the state statistics to estimate the statewide grape acreage, said Jennifer Van Court, statistician, USDA/National Agricultural Statistics, Pacific Regional Office in Sacramento.

Allied Grape Growers speratedly presented results of its annual nursery survey sales in late January. Wine grape bearing acres in California is expected to grow from 591,000 acres in 2018 to 594,000 acres in 2021 – a 0.5 percent increase. Estimated bearing acreage in 2021 will total 247,500 acres, two-thirds of which will be Chardonnay, Cabernet Sauvignon and Pinot Noir, according to the Allied Grape Growers. Central Valley property owners planted less than 2,000 acres, according to the Allied survey.