Oregon discovering the value of Gamay

photo by Cheryl Juetten
May is Oregon Wine Month, when Pinot promotions pour through Portland and across the state. Pinot Noir and Pinot Gris certainly dominate Oregon production (with 59% and 15%, respectively, of the total harvest), yet industry attention is extending to other varieties. Consider a four-day festival called I Love Gamay, which returns this week for its third year.
Gamay has been cultivated in Oregon since the mid-1980s, but commercial success never seemed to happen. Even today, plantings are so tiny that they don't merit listing in the state's official vineyard report. (Anecdotal estimates by several producers put the total at only about 30 acres.) So how is it possible that more than two dozen Oregon wineries bother to produce and promote the variety?
"Gamay is a blip on the map in the Willamette Valley," admits Tom Monroe of Division Winemaking Company, a co-founder of the I Love Gamay festival. "But plantings are increasing rapidly now because it grows so well here."
Laura Cusick of Craft Wine Co explains why: "The naturally high acidity of the cultivar lends itself to our climate and our soil types, with little or no need for manipulation. So Gamay allows winemakers in this region to expand horizons."
Industry pioneer Harry Peterson-Nedry of RR Winery confirms the appeal of diversification. "Winemakers and consumers alike value something 'new' that can serve as a discovery or something to differentiate themselves. Consequently, having an alternative red in your 'quiver' isn't a bad idea."
Members of the local wine trade seem to agree. Elaine Testa of importer and distributor Casa Bruno says, "I don't think that Oregon should be limited to one red varietal. And Gamay is extremely viable here. I've tasted some examples that rival cru Beaujolais, and they can age very well."
Thomas Houseman of Anne Amie Vineyards concurs about Oregon Gamay's quality and distinct character. "The wine brims with dark berry flavors, lithe tannins, and a lively seam of acidity. We really couldn't be more pleased. It's not Pinot. It's not Beaujolais. It's something all its own—but still Oregon.
Alongside quality, Monroe adds that price is a significant factor. "Gamay is less expensive to grow—and therefore to sell—than Pinot Noir." Indeed, multiple producers note that it crops more heavily and ripens earlier than the state's staple variety, with significant cost benefits.
Doug Tunnell of Brick House Vineyards highlights the need for that relative value proposition. "Many young consumers with a passion for food and wine are unable to pay $45 to $65 for a bottle of local Pinot Noir. So Gamay offers a delectable wine for half that price."
Oregonians seem to be buying in, since festival events have sold out since their first iteration in 2017. This year's I Love Gamay series includes the addition of an all-day guided tour of nearby vineyards. Also new is the inclusion of a few brands from Washington state, California, Canada, and France. "The festival is rooted in Oregon's burgeoning Gamay scene," says Monroe, "but it's nice to have some guest producers around to 'commiserate' with, and to make things more fun."
I Love Gamay begins on May 3rd with an informal comparative tasting called The Gamay Soirée; and the series concludes on May 6th with a technical tasting and panel discussion called Between Two Barrels. More information is available at ilovegamay.com.
[In Oregon, "Gamay" means Gamay Noir. Elsewhere, this nomenclature isn't so straightforward. In California, there are several grape cultivars that were historically mis-identified as Gamay but which are in fact cultivars other than Gamay Noir. The most notable may be the GB clone, or "Gamay Beaujolais clone", of Pinot Noir which is widely planted in the Pinot Noir producing regions of California. Another mis-identified cultivar is Valdiguié, which can be labelled as Napa Gamay in California. Valdiguié has a lot of aliases. In France, it is also known as Gros Auxerrois, Cahors, Noir de Chartres, as well as several less widely known synonyms. Fortunately, because Oregon tends to discourage, or prohibit, cultivar synonyms, one can be pretty sure that if the label simply says Gamay, the wine is at least 90 percent Gamay Noir. Eds.]
According to WinesVines Analytics, 106 wineries in North America make Gamay - 31 of them in Oregon, including:
Aerea Vintners, Artisanal Wine Cellars, Ayres Vineyard, Bjornson Vineyard, Bow & Arrow Wines, Brick House Wine Co., Chemeketa Cellars-Chemeketa Community College, Color Collector,Cooper Mountain Vineyards, Craft Wine Co., Division Winemaking Co., Duck Pond Cellars, Evening Land Vineyards, Grochau Cellars, Gusty Farm Estate Vineyard & Winery, Hanson Vineyards, Hauer of the Dauen Winery, Havlin Vineyard, Hayworth Estate Vineyards, James Rahn Wine Co., Lexeme Wine, Martin Woods Winery, Methven Family Vineyards, Piluso Vineyard & Winery, R R Winery, Scott Paul Wines, Southeast Wine Collective, Spectral Cellars, Stedt Wines, Vinent Wine Co, and Walnut Ridge Vineyards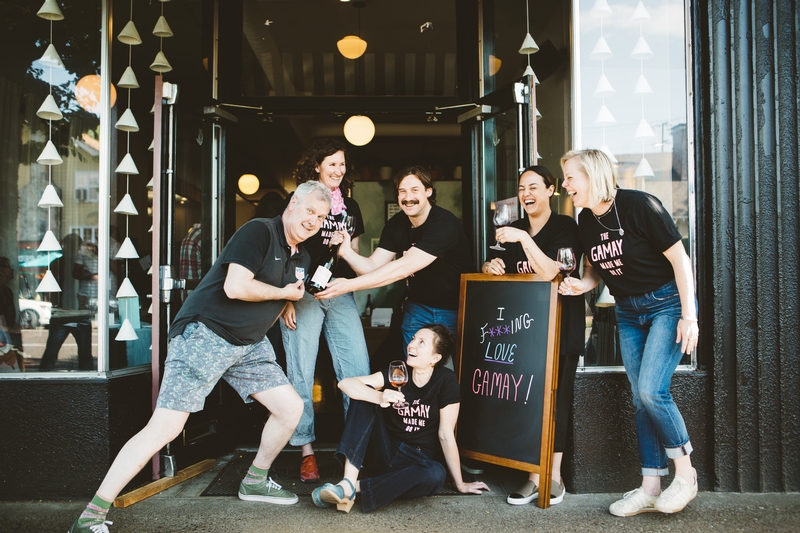 photo by Cheryl Juetten