Idaho: The Next Grapegrowing Frontier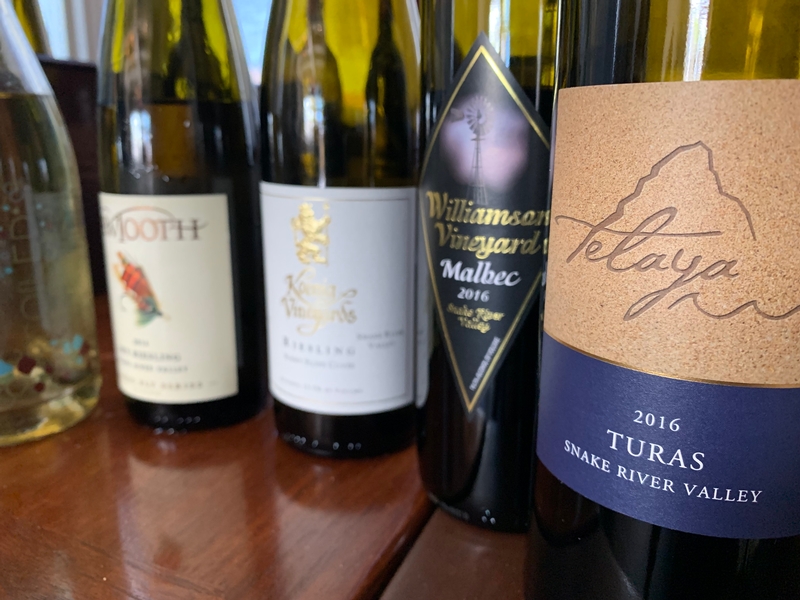 According to the Idaho Wine Commission, within the last 10 years, the number of wineries in Idaho have increased by 30 percent. Today, the state is home to 56 wineries, 1,300 planted acres of wine grapes, crushed 3,000 tons of grapes during the 2018 harvest — and continues to see consistent growth in grape growing and winemaking.
Present to represent the wine growers and winemakers of the state best known for its potatoes (although dairy is actually Idaho's largest agricultural sector), was Earl Sullivan, proprietor and winemaker of Telaya Wines in Garden City, Idaho. Sullivan said that one of the reasons the quality of the state's wines has increased so significantly is because of the influx of veteran winemakers coming onto the Idaho wine scene. He named Leslie Preston, former winemaker for Stag's Leap in Napa, current winemaker for Coiled Wines in Idaho's Snake River AVA; Melanie Kraus, former winemaker for Chateau Ste. Michelle in Washington, current winemaker for Cinder Wines, also in Snake River, Idaho.
"Quality is a function of winemakers coming to the valley knowing they can get world class fruit and make world class products," Sullivan said, then added, "And know they can be supported."
Supported by the 20,000-plus people who move into Idaho's valley (in or near Boise) every year — 16 percent of which are relocating from California, according to Visit Idaho representative Amy Alpers.
That support is of the utmost importance to the Idaho wine industry, as only 30 percent of the wine produced makes it out of the state. Sullivan, whose winery produces about 4,000 cases annually, said he himself conducts about 92 percent of his business direct-to-consumer (DtC), which includes both locals and out-of-state visitors who sign up for his club membership. The state's largest winery, Ste. Chapelle Winery, produces about 150,000 cases annually and is the label most commonly found on consumer market shelves. "I don't think the other 55 wineries in the state together produce 150,000 cases," said Sullivan, explaining why very few Idaho wines see commercial distribution.
And to hear Sullivan speak, it seems that the state's wineries are more "DtC friendly:" most wineries are family owned and operated; a majority of tasting rooms are found at the estate winery; tasting fees max-out at $5 (waived with bottle purchase); and bottle prices, according to the winemaker, stay in the range of $12 to $22 for white wines and $22 to $35 for red wines.
When it comes to the types of grapes grown and wines produced, Sullivan said the Snake River Valley is seeing the most success with Syrah, Tempranillo and Viognier. Further north Idaho's wine regions see more Bordeaux varieties like Cabernet Sauvignon, Petit Verdot and Cabernet Franc. And the state in general is currently enjoying, what he called, a "Riesling revolution."
"And higher end of the winemakers in Idaho are more European in style," added Sullivan: Grapes are hand-sorted, go through delestage to remove the bitterness imparted by seeds, and are cold soaked for a significant amount of time. The wines themselves are lower in alcohol, less fruit-forward and have less oak influence.
Indeed, all wines tasted during the course of the meal were dry, with white wines never lacking in fruit or floral aromatics and the reds never cloyingly tannic. The honied aromas of the Sawtooth 2016 Riesling along with its flavors of poached pear and its sharp, almost tart acidity, paired perfectly alongside the rich, creamy (Idaho) potato and leek soup. The Koenig Vineyards 2017 Riesling was so reminiscent of apple pie filling, complete with savory baking spices like nutmeg and cinnamon, yet had an almost effervescent mouthfeel, countering the richness of the trout dish, yet complementing the spicy romesco sauce. And the Telaya Wines 2016 Turas (a blend of Syrah, Mourvedre, Malbec and Merlot) portrayed a good balance of earth to fruit flavors with soft, plush tannins and a solid level of acidity — paired with a fruit crumble and basil ice cream, but very much enjoyable on its own.
But Idaho isn't just a wine region for consumers to watch, it's a wine region for the industry to watch. Sullivan predicts that within the next ten years, the number of wineries within the state will double yet again. With global warming, many major players in the wine industry have already set their sights to the north, buying vineyard acreage in Oregon and Washington. So it stands to reason that Idaho may be the next wine frontier: the state does not lack for water (In fact, the state sometimes gets too much water, Sullivan said.), grape prices are around $1,800 per ton for the "high-end reds" and land prices go for $7,000 to $13,000 per acre depending on the region (Compare that to your Napa numbers.).
Why should we be paying attention to Idaho now? Sullivan said this has been a long time coming over the past ten years. With the increase in volume of producers, Idaho is now home to a wider array of grape varieties and wine. "We now know what grapes grow really well here," he said. "And the quality of the wine has finally reached a point where we can take it out and demonstrate that quality."