California Crushes Record 4.3 Million Tons of Winegrapes in 2018
Expanding Cabernet, Pinot Noir, and Chardonnay Harvests Drive the Bus - 1.5 Million Additional Cases of Napa Cab Coming Online ...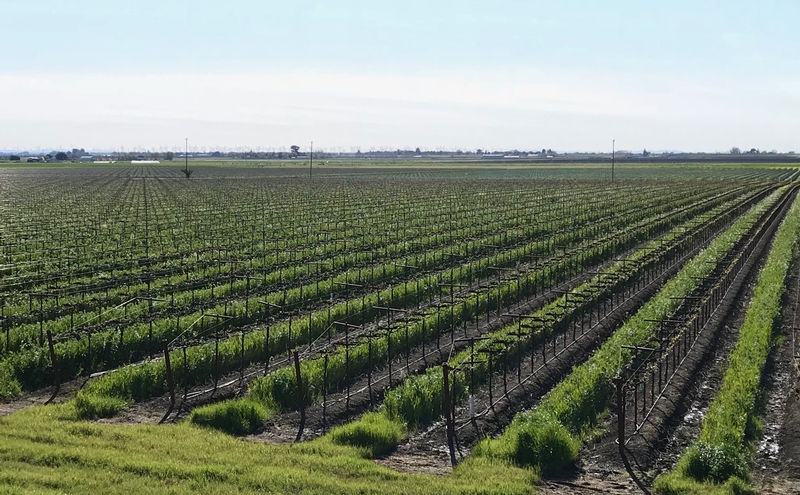 The California Agricultural Statistics Service (CASS) released the 2018 grape crush report yesterday.

According to the report, the state crushed more than 4.28 million tons of winegrapes in 2018 – up by 7 percent compared to 2017, when the state crushed approximately 4 million tons of winegrapes. The 2018 harvest also eclipses 2013's record 4.2 million ton crush.

The overall tonnage increase was driven by higher yields in Napa, Sonoma and in the Central Coast, and by by Cabernet Sauvignon, Chardonnay and Pinot Noir. Chardonnay was up 16 percent state-wide, while Cabernet was up 13 percent and Pinot Noir was up 19 percent.

The California Cabernet crop rose by 78,000 tons with a total of 680,000 tons crushed. Chardonnay came in at 711,000 tons compared to 614,000 tons the previous year - the largest Chardonnay crop since 2013.

"This shows there's new plantings going into the ground and that we had a big year," Glenn Proctor, a partner with The Ciatti Company said.

Red wine varieties accounted for 2,447,930 tons, up 8.8 percent from 2017. The 2018 white wine crush totaled 1,833,755 tons, up 3.8 percent.

CASS said the 2018 average price for all varieties was $831.63, up 6.8 percent from 2017. Average prices for red wine grapes were, $1,019.03, up 5.5 percent from 2017; and for white wine grapes were $634.84, up 8 percent.

Record Cabernet Sauvignon Harvest for Napa

According to the report, Napa crushed 185,000 tons during 2018. Some 89,000 tons of this was Cabernet Sauvignon, compared to 66,000 tons reported crushed the previous year. Steve Fredricks with Turrentine Brokerage said the 22,000 ton increase equates to 1.5 million additional cases. While Napa has little, if any, room for new vineyard acreage, the increase is attributed to vineyards being redeveloped to Cabernet Sauvignon with higher density plantings and modern trellising systems that result in larger yields. Higher yields were also attributed to higher cluster weights in 2018.

While tonnage increased, average Napa grape prices increased too, according to the report. That's because Napa grape prices are often indexed to an average price with an increase or escalator clause: The average price of grapes produced in Napa rose 6.67 percent to $5,571 per ton.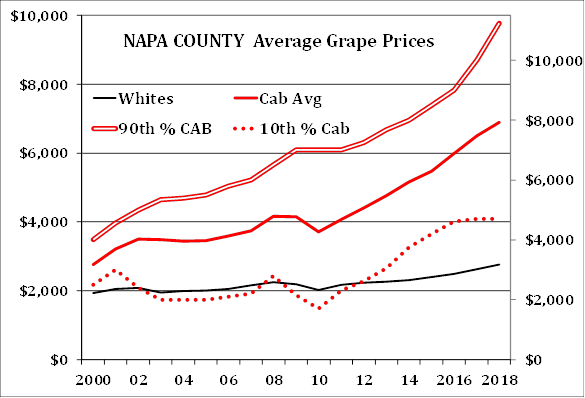 courtesy of Tony Correia


Record Harvest in Sonoma

Sonoma County crushed approximately 276,000 tons of grapes during 2018. Of that, some 60,000 tons of it was Cabernet, compared to 43,000 tons of Cabernet the year before. The Pinot Noir harvest also increased significantly with a record 57,000 tons crushed, compared to 43,000 tons crushed the year before. The Sonoma Chardonnay harvest was up 44 percent at 88,312 tons.

Average prices for Sonoma Pinot Noir (District 3) dropped by about $100 per ton, according to the report.

Spot market activity late in the season was a likely factor in the lower average prices.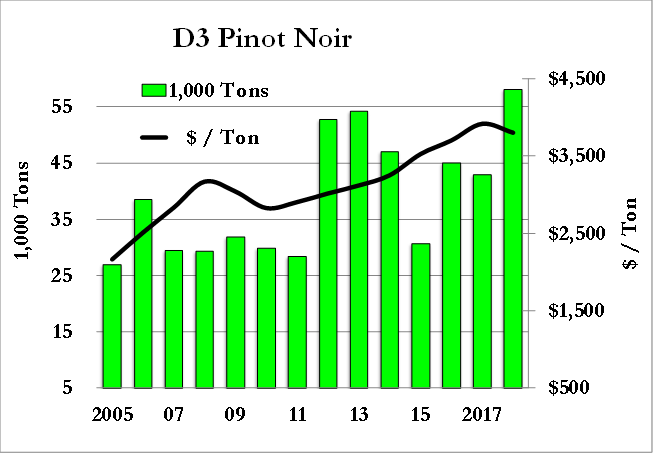 courtesy of Tony Correia


Huge Cabernet Crop for Paso Robles

In District 8, which includes San Luis Obispo and Santa Barbara Counties, total tonnage of all wine grapes was up five percent with 245,000 tons crushed.

Paso Robles Cabernet Sauvignon tonnage increased 13 percent to 91,000 tons as a result of new bearing acreage and ample rain. Ciatti's Glenn Proctor noted that Paso Robles crushed 51,000 tons of Cabernet in 2014, 32,000 tons in 2015, 69,000 tons in 2016 and 80,000 tons in 2017. "You can see the jump," he said.

Meanwhile, the average price of Paso Robles Cabernet Sauvignon reportedly decreased to just under $1,500 per ton. That decrease is likely the result of uncontracted Paso Robles Cabernet Sauvignon going for low prices late in the 2018 season, some of it priced as low as $200 per ton. Proctor said 8,012 tons of Paso Robles Cabernet Sauvignon was purchased for $400 or less per ton in 2018.
The Lodi region also produced a record crop with 850,687 tons, an increase of 14 percent.

An Opportunity to Innovate

"It's big but not as big as we thought it could be," Proctor said. "4.281 million tons is our biggest crop ever compared to 4.246 million tons in 2013 but it's not as big as a 4.4 million tons many of us in the industry were contemplating."

"If you start to look at it, we have some digesting to do in some of the premium areas of the market where the crop was very big and we've seen some case sales slowdowns," he said. "That will continue to put pressure on those markets."

"The challenge, when we look at prices, is you have to be cautious because they are a reflection of past markets," Proctor said. "I don't think they reflect current market conditions we find ourselves in today. As wineries release growers from vineyards and contracts, there will be more open fruit available in 2019. We continue to see potential pressure on pricing as we move into this year."

"Certainly there's an opportunity for people to come and do new things," Fredricks said. "These are the times where innovation occurs. It's good for existing wineries and negociants who have an opportunity to try new things or for those looking for an opportunity to expand. … Of course, it's going to be competitive to do so."

The traditional February release of the USDA's official preliminary harvest figure, and the breakdown of that figure, was delayed by the 35-day government shutdown in December through January. Today's release combines the preliminary and final reports.

The report is available at: www.nass.usda.gov/ca