Challenges to the 2018 Virginia vintage: rain, insects, diseases, and birds

The panel for the "2018 Season in Review" at the Virginia Vineyards Association winter technical meeting in Charlottesville, VA. From left to right: Kevin Sutherland, Abingdon Vineyards; Mike Newland, North Gate Vineyard; Rock Stephens, Vineyard at Point Breeze; Jason Murray, Arterra Wines; Stephen Rose, Rosemont Vineyards; and Dr. Tony Wolf, Virginia Tech.

It's well known that the East had an exceptionally wet grape growing season in 2018. Now that the vintage is over and the wine is in the tanks, barrels, and in some cases, the bottles, it's possible to look at what actually happened as a result of the bad weather. Winery owners, grape growers and winemakers came together at the Virginia Vineyards Association winter technical meeting in Charlottesville, VA on February 22-23 to review what did occur and what growers could do better in future seasons.
Dr. Tony Wolf, professor of viticulture at Virginia Tech, opened the first session on February 22 with a review of the weather in Winchester, VA. He noted that in May and June, the forecast was for more rain than usual. "We saw it coming," he said, "and should have done more to promote less dense canopies."
He noted that the average rainfall in the Winchester research vineyard between April 1 and October 28 is 36 inches; in 2017 there was about 25 inches, and in 2018 the total was approximately 45 inches. Cabernet Sauvignon on September 12 had a Brix of 18.3° but on September 24 the Brix was down to 17.6°, Wolf reported. "Even Petit Manseng, a rain tolerant grape, also suffered in 2018."
Some of the lessons from 2018, according to Wolf, include:
Canopy management is critical, especially for fungal diseases, although macrophoma rot, a new disease seen for the first time on grapes, appears to like open exposure of grapes;
If rain is the norm, growers should look for varietal tolerance of wetting of fruit, and consequently, Cabernet Sauvignon may not be the best red grape, at least in the Winchester area;
If wet growing seasons become the new normal, would rain shelters for grapes be a good idea?
Different growing regions, a range of problems

While frequent rain occurred across Virginia, there are other factors that impacted vineyards in the different regions and climates in the state. Rosemont Vineyards in La Crosse, VA bills itself as the southern-most vineyard in the state. According to owner Stephen Rose, the vineyard is four miles from North Carolina and, as a result, their growing conditions are more similar to those vineyards south of them than vineyards in northern VA. Bud break occurs in late March-early April, and harvest begins early in August and is finished by late September.
The vintage in 2017 was their "best season, ever," Rose said, while 2018 was "6% warmer and had almost two times the rain." In 2018, white varieties – Chardonel, Pinot Gris, and Traminette – were harvested in August. Vidal that was picked early in September was "beautiful fruit," but the second Vidal block developed sour rot after the rains associated with Hurricane Florence and, as a result, 40% of that fruit was left in the field.
Under normal conditions, red grapes at Rosemont come in at 24° to 26° Brix, and their challenge is to slow down ripening. This past fall, Cabernet Franc was picked at 21.5° Brix before Florence, and at 20.2° Brix afterwards. Merlot did better, with Brix levels between 22.5° and 24°. "The only varietal red we'll make in 2018 will be Merlot," Rose said. "The rest will be blends or table wines." In contrast, Cabernet Sauvignon was harvested on September 22 at 20.2° Brix, and Rose plans to rip out those vines as they think it is "not a viable grape for us."
Ripe rot was a problem, and Rose noted that they "must get better control of ripe rot to advance grape/wine quality." They plan to look carefully at spray effectiveness, reduce grape temperatures to give more control of ripe rot by doing internal leaf pulling on the east side of the vines, and pick the grapes earlier if ripe rot conditions suggest the fruit is being compromised.
Jason Murray, owner and winemaker at Arterra Wines, reported that 2018 was "a stressful, but OK, season." He described his vineyard and winery as taking minimalism to the extreme. In the winery, he uses only native yeasts, native malolactic fermentations, neutral oak, no enzymes, no additives, no finings, no chaptalization, no chips or powders.
The vineyard, at about 800 feet elevation, is very rocky with about a 20-25% slope and excellent drainage, During a "normal" season, Murray shoot thins in May and again in June; hedges one time and leaf pulls in late August. After bloom, he switches to an organic program (plus phosphate). However, that plan didn't work in 2018, and he had to hedge three times. In addition, his vineyard was hit hard by spotted wing drosophila (SWD), which spread sour rot as well as other rots. Chenin Blanc (at 25%) and Tannat (at 15-33%) had the highest incidence of disease pressure. "I know which blocks are more susceptible to sour rot, and I will harvest those earlier for a different wine," he commented.
Rock Stephens' Vineyard at Point Breeze is located on sandy/loam soil on Virginia's Eastern Shore between the Chesapeake Bay and the Atlantic Ocean, and consequently has a maritime climate. During 2018 the region had more than 52 inches of rain, the highest amount since 2002. There was rain and clouds during bloom, and in September when it didn't rain, there was fog. Downy mildew was a major problem beginning in June, especially in the Chardonnay, even though Stephens sprayed 16 times during the growing season. He normally hedges one time; this past summer he hedged four times. Harvesting of Chardonnay was finished on September 9, just before the rain from Hurricane Florence started and dumped 9+ inches on the area.
Stephens' biggest problem, however, was birds. "We never get all of the Syrah," he said. "The birds get in to it." The Eastern Shore is part of the migratory bird flyway zone, and in September birds stopped in Virginia for a longer time because Florence, with strong winds and rain, lingered in the Carolinas.
Mike Newland is vineyard manager of North Gate Vineyard (now owned by Walsh Family Wine) in Purcellville, located in the rolling hills just west of Leesburg outside Washington, DC. He has been managing vineyards since 2002 and reported that 2018 was the most difficult year he has seen. North Gate Vineyard had significant hail damage during the Spring, and while he saw some stress, he now realizes that he should have added nutrients to the vines sooner than he did. At harvest, the hail damage lowered yields by 10% in Chardonnay, 60% in Petit Manseng, and 90% in Viognier.
Rain occurred during bloom and fruit set, and there were problems with grape berry moth. He sprayed after bloom but said that in 2019 he will spray before bloom. After the first spray in 2018, it rained for five days; if it rained, he sprayed again in order to control downy mildew. He thinks early control is key, as is the use of a variety of sprays. During late July and August, if it wasn't raining, it was humid.
Newland pulled leaves when the berries were small in order to open up the fruit zone to sun, wind, and sprays, but by late August, found some botrytis. Grape berry moth damage earlier in the season led to a problem with SWD, and rots set in. He harvested the Petit Manseng at 23° Brix one week earlier than normal. Cabernet Sauvignon was harvested three weeks early at 18° Brix because the skins were breaking down from SWD damage. The yield was down by 30% from normal, and much of the wine will be used in rosé wines.
The mountains of Southwestern Virginia are at a higher elevation, and Abingdon Vineyards, which is close to Virginia's border with Kentucky, is between 1,780 and 1,950 feet in elevation. Kevin Sutherland, cellarmaster and vineyard manager, reported that the 13-acre vineyard is planted with two-thirds hybrid varieties and averages 3,500 Grower Degree Days.
The vineyard was more fortunate than vineyards in North Carolina (to the southeast), in that Hurricane Florence delivered only 2.5 inches of rain, not 11 to 15 inches. However, just like the rest of Virginia, 2018 was a wet growing season. Sutherland hedged three times but didn't have time for more. He pulled leaves more vigorously than normal to expose the fruit to sprays – a total of 15 to 17 times during the growing season.
Sutherland reported the following statistics for their 2018 harvest:

Pinot Noir – harvested at 20° Brix;
Riesling – harvested at 18° Brix;
Traminette – harvested at 19° Brix, 2.98 pH; complete leaf pull, no ripe rot; grapes did well;
Chardonel – harvested at 22° Brix, 3.0 pH, 7.35 TA;clusters were open enough to protect the grapes from black rot; made a nice wine;
Chambourcin – harvested at 21.5° Brix, 3.34 pH, 6.0 TA (Sutherland commented that the grapes should have been picked a week earlier and would have made a better wine);
Cabernet Franc – harvested at 21.5° Brix, 3.89 pH, and 4.5 TA. Bees were a problem for these grapes, and it is possible they should be picked a week earlier;
Norton – harvested at 21.5° Brix, 3.5 pH, 8.3 TA;
Cabernet Dory produced little crop as it was in its third leaf. 40 gallons of wine were produced from grapes with 23° Brix, 3.33 pH and 6.75 TA; the crop "took a hit from bees and birds;"
Crimson Cabernet, also in their third leaf, but the vines were not netted and were hit by bees and birds. The vines produced no crop.
Birds are definitely a problem for Abingdon Vineyards, especially for their Traminette and Chardonel. Turkeys also present difficulties, but according to Sutherland, at least they eat the whole berry!
Conclusion

It is not just rain that caused problems for grape growers and winemakers in Virginia during the difficult season in 2018. There were other challenges, such as hail, humidity, and fog; grape berry moths and spotted wing drosophila; sour rot, ripe rot, botrytis and downy mildew; bees, and last but not least, birds, including turkeys.
While there may not be as many full-bodied dry red wines produced in Virginia as in past vintages, I can assure all wine consumers that there will be many high quality wines produced from the 2018 vintage. And for those who love rosé wines, 2018 may be a banner year!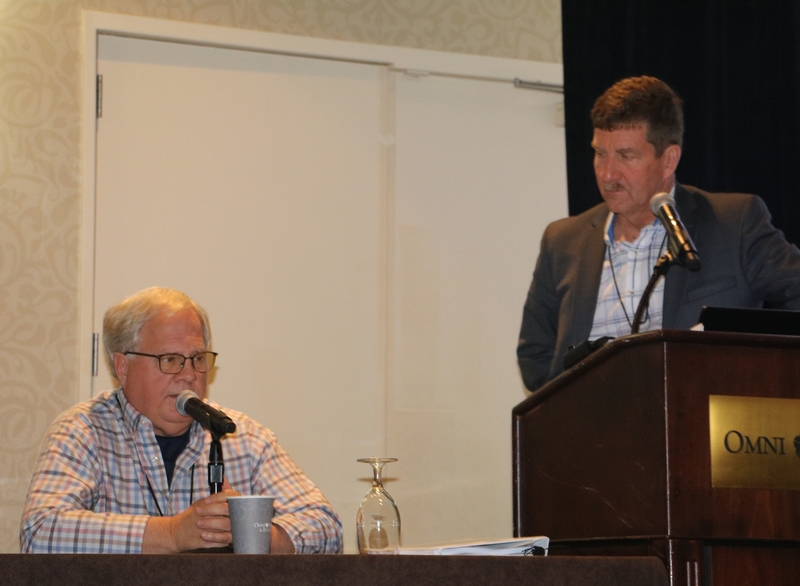 Stephen Rose (left), owner of Rosemont Vineyards, discusses the 2018 vintage as Dr. Tony Wolf listens at the Virginia Vineyards Association winter technical meeting.