Mechanical Pruning Tools Demonstrated at Lodi Field Day
The Lodi Winegrape Commission (LWC) held a mechanical pruning tailgate talk and demonstration field day March 11 in conjunction with E & J Gallo Winery at Gallo's Valley Oak Ranch near Galt. This was one of three field demo days planned for 2019 as follow-up to the Lodi Vineyard Mechanization Showcase educational and vendor meeting held in December. The mechanization educational program and field days are organized by LWC grower communications and sustainable winegrowing director Dr. Stephanie Bolton; and LWC Research, Education & Communication Committee member Keith Striegler, grower outreach specialist with E & J Gallo.

Mechanical pruning tools were demonstrated by company reps from Spagnolo Engineering and from VMech in two adjacent older vineyard blocks that Gallo has retrofitted for mechanization. One block is a Sauvignon Blanc vineyard originally planted in 1999. The vines were cut at the trunk and retrained with a single shoot to a 72-inch single high-wire trellis in 2016. The other block is Cabernet Sauvignon originally planted in 1997 with a vertical shoot positioned (VSP) trellis system, and converted to a single wire, single-cordon system but left at the existing cordon height of about 48 inches. In this block, the tops of the metal trellis posts originally installed were cut off at cordon height to facilitate mechanization. Both vineyard blocks are now mechanically spur pruned as box hedged systems, and are mechanized for other operations as much as possible, including harvest.

As Striegler pointed out, "You can retrofit vineyards for mechanization and make it work, but if you have the option to replant and design for mechanization from the beginning, it can be more efficient over the long run." In the case of these vineyards, the retrofits enabled minimal downtime in crop production.
Following its 2016 conversion, the Sauvignon Blanc vineyard has already produced two crops--in 2017 and 2018.

Both the Spagnolo and VMech pruners removed the bulk of vine material leaving box hedged cordons in both vineyard blocks. However, some follow-up will be needed to fine-tune the box and remove dried cluster rachises that remain from mechanical harvest.

Striegler summarized, "The main point of having these demonstrations is to show what's available now, because growers have to start doing more of this. The labor won't be there in the future, and the cost for the labor we have keeps increasing." He expressed optimism that machine pruning equipment will continue to be improved and fine-tuned in the future so that hand follow-up operations will not be needed. The LWC's future 2019 field days will likely include mechanization tools for trunk suckering and leaf removal.

Spagnolo Mechanical Pruners

Spagnolo Engineering is an Australian manufacturer in business since 1989. Spagnolo equipment is available through California sales rep William Major based in the San Joaquin Valley. Spagnolo pruners attach to and operate off a vineyard tractor as an over-the-row tool. They can be used on single high-wire systems, but are also adjustable for use on other types of single- and double-cordon trellis systems, VSP, Scott Henry and Smart-Dyson. In the case of single high-wire systems, Spagnolo pruners can prune above the wire, below the cordon, and on the sides. The equipment is generally operated at speeds ranging from 1.8 to 2.2 kilometers per hour. Spagnolo also manufactures a tool for mechanical trunk suckering.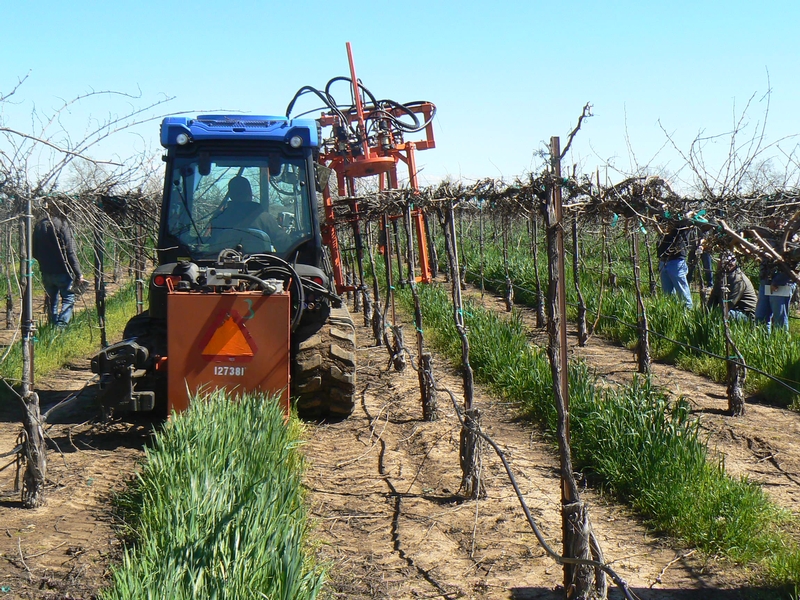 Spagnolo mechanical pruner attached to a vineyard tractor was demonstrated during a Lodi growers field day.
Photos by Ted Rieger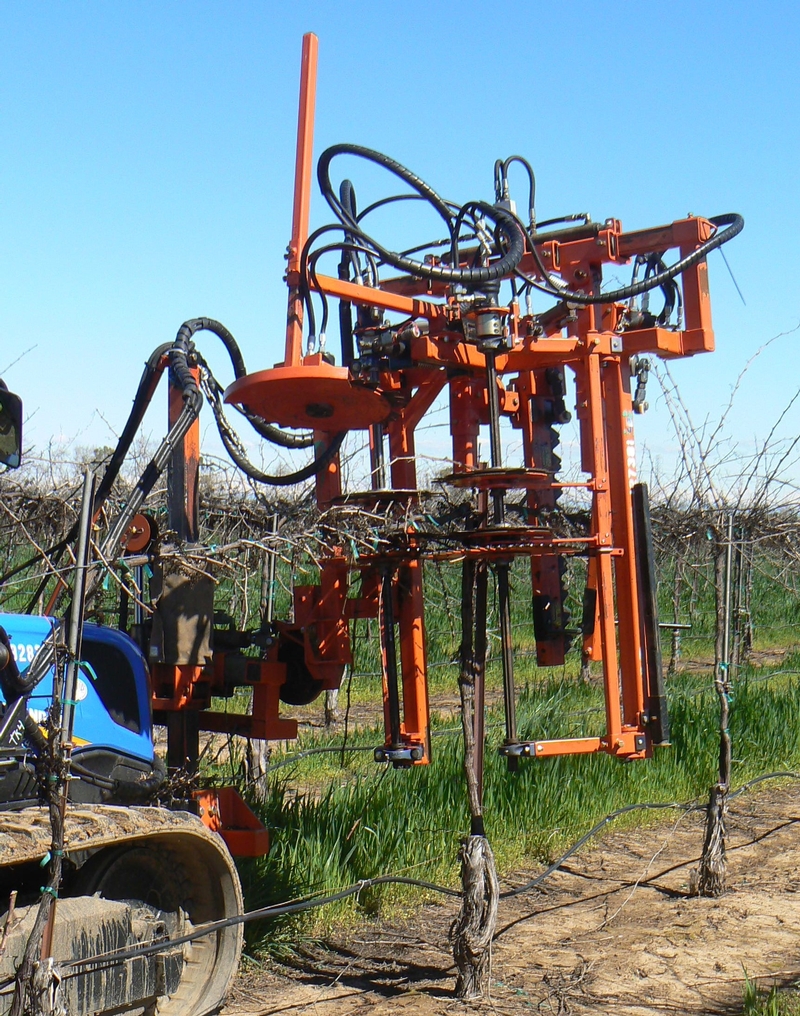 A Spagnolo mechanical pruning head prunes a single high-wire Sauvignon Blanc vineyard in the Lodi AVA


VMech Mechanical Pruners

VMech equipment is manufactured by Midwest Grower Supply Mfg. in Stanberry, Missouri that acquired the VMech product portfolio from Oxbo International Corporation in 2014. VMech operations and sales are now headquartered at its Fresno, California office. VMech's platform utilizes a tool carrier trailer pulled by a vineyard tractor. The VMech 2220 Vineyard Mechanization Trailer is designed to cover up to two vine rows at a time, with seats for two operators who each manage one row with individual joy sticks and controls. The mechanical pruning heads are over-the-row tools that can be used as pre-pruners or combination pruners, with pruning head stacks adjusted to the height and width of the pruning box. The VMech can be operated at an average speed of 1.5 to 2 mph. VMech rep Steve Roland said the company also has tools attachable to the trailer to perform mechanized trunk suckering, leaf thinning and shoot thinning, and can adapt equipment for quadrilateral trellis systems. VMech tools are used in the Central Coast by Mesa Vineyard Management and French Camp Vineyards.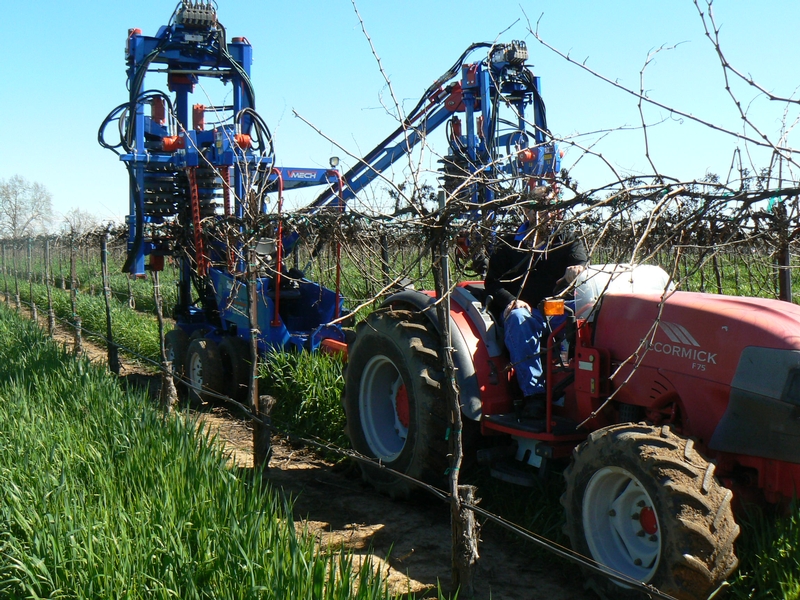 A VMech tool carrier trailer with mechanical pruning head is towed with a vineyard tractor to mechanically prune this Sauvignon Blanc vineyard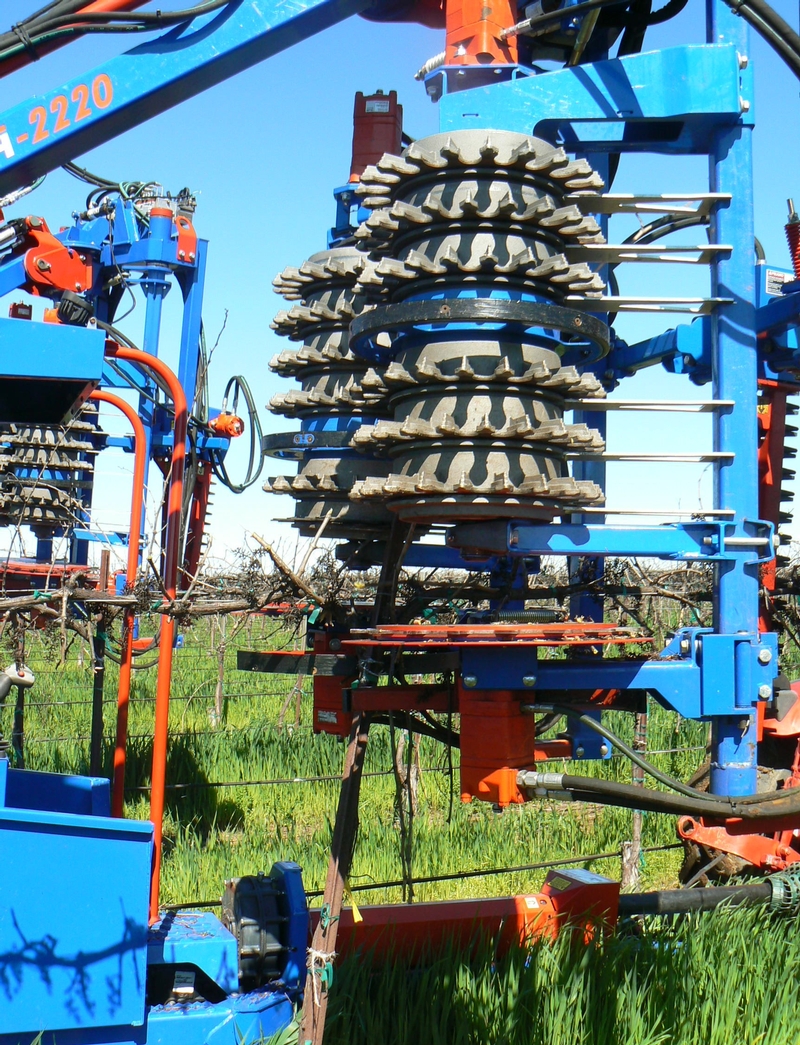 Closeup of a VMech mechanical pruning head operating in a single high-wire Sauvignon Blanc vineyard