Central Coast CFOs air frustrations and share strategies for growth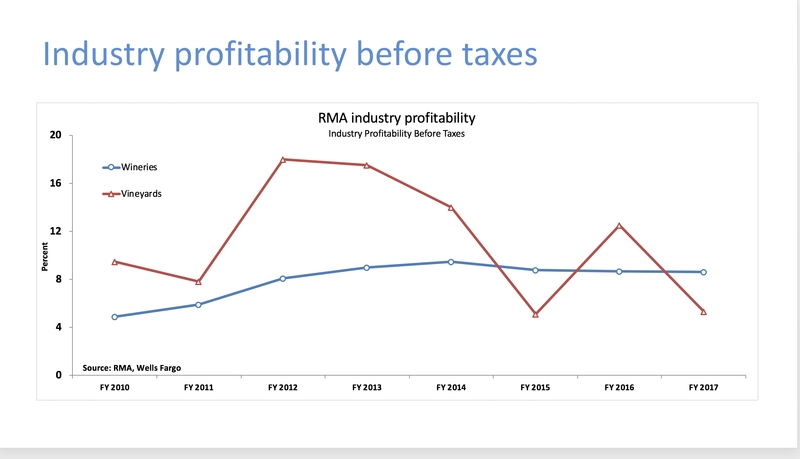 Source: Lee Ann Pearce, Vice President, Sector Manager, Food and Agribusiness Industry Advisors, Wells Fargo
As rising labor costs and interest rates push from one direction and consolidation in the wholesale and retail tiers pushes from the other, wineries have found it more difficult to keep their profit margins healthy. Three CFOs and one CEO acknowledged during a panel discussion March 12 in Paso Robles, Calif., that they are feeling the squeeze.
Vineyard and winery businesses saw a slide in profitability through fiscal year 2017, according to Lee Ann Pierce of Wells Fargo Bank, who has more than 200 wine industry clients in her Food and Agribusiness Industry Advisors sector. The pressure comes from the rising cost of farm labor, trucking, interest rates and several other sources.
She said that the large grape crop in 2018 offers some relief to wineries since it puts downward pressure on the price of grapes and bulk wine, but cautioned the winery and vineyard professionals in attendance at the Central Coast Insights conference not to count on it as a panacea.
Grapes may get less expensive, she said, but other major expenses such as insurance, regulatory compliance, water for vineyards and winery production purposes and freight are moving higher.
Labor is a well-known challenge, and while some employers blame the recent hike in the California minimum wage to $12 per hour and the change in overtime rules, Pierce noted that the average farm labor cost in the wine grape business is already $20 per hour in the Central Coast. Competition from the berry industry is just one of the factors boosting farm wages.
Further mechanization in vineyards and smarter use of technology in other aspects of grape growing and winemaking are helping employers to manage employee costs. Becky Barieau, CFO and co-owner of Foxen Vineyard in Santa Maria, said Foxen has increased its use of agricultural technology, including machines for hedging and pre-pruning, providing the hand-pruning crews with battery powered shears, and mechanized in-row hoeing of weeds.
Barieau said Foxen has conducted trials with harvesters to examine the results but has avoided machine picking for the normal harvest. "We're keeping the labor we have because they're well trained, we like these guys, and we're paying them more to keep them."
Pushback on machine harvesting

Another CFO, Evan Stein of Thornhill Companies, also based in Santa Maria, noted that labor costs will continue to rise through 2023 when the final step of the minimum wage hike and work week revisions take effect. "We're definitely feeling the margin squeeze," he said.
Thornhill is a large-scale vineyard operation that owns several vineyards including the iconic Bien Nacido Vineyard and also produces several wine brands. It uses mechanization to streamline vineyard operations and other forms of technology in wine production, IT, payroll and other areas of the business.
"We use mechanization at a very high level," Stein said, but added that some of Thornhill's grape buyers essentially forbid mechanical harvesting. The fruit from Bien Nacido is in high demand and sold on an allocation basis to wineries paying top prices. Many of them insist on hand harvesting.
Another speaker on the panel reinforced the virtual ban on machine harvesting for high-priced wines. Gregory Ahn, CEO of Folk Tale Winery, based in Carmel, said, "We cannot ignore the benefits of mechanization, and we use technology throughout the organization. But we're a luxury product. At some point in the sales and marketing process we've got to tell the story of hand harvesting. We can't sell it by talking about how great our machines are."
The CFO of Hahn Family Estates in Soledad, Thomas Duhameau, raved about the benefits of using mechanization and then said that ag tech should not be used only on the ag side of the business. Using the right software and other solutions in various departments can help leverage staff members efforts.
Duhameau noted that the unemployment rate for accountants is only 1.5%, so they're difficult to find and hire. He suggested that helpful systems like ERP business process management software might make it possible for one accountant do the work of three.
Why not raise prices?

The conventional wisdom for wines in three-tier distribution is that it's difficult or impossible for a winery to raise its prices. Pierce from Wells Fargo noted that 81% of all wine sells for less than $14 at retail. With hundreds of brands backed by the biggest wineries and major distributors it can be virtually impossible to take price.
Barieau at Foxen, however, said her company had been feeling the squeeze and decided to take a price increase. A significant hike on the high-end wines and a more modest one on the core wines worked well, she said. Ahn at Folk Tale said that the "wholesale world is an out and out blood bath" but that for his direct-to- consumer brands a price hike is less sensitive.
"Our approach to easing the margin squeeze is focused more on battling for the market share, the mind share, of the customer rather than looking so much at the hard costs," Ahn said.
Duhameau said that Hahn's approach is to consider whether it has strategic products within the constraints of the cost structure. He said that of course a winery should reduce the cost structure wherever possible, but that "the only leverage you have is, do you have the right products in the right markets to give good returns to your stakeholders."