Wine Conversations: Cork Closures and Experiential Marketing
Sixth annual DIAM and G3 event takes a look at key trend in wine sales: experiential marketing and service
DIAM Bouchage and G3 Enterprises held their sixth annual Wine Conversations: A Global Tasting and Marketing Forum at the Vintners Inn in Santa Rosa, Calif., on March 7. As per tradition, the event began with a double-blind tasting of wines from around the world led by event host Master Sommelier Evan Goldstein. Attendees had the opportunity to taste everything from Argentinian Malbec to Chateau d'Yquem Sauvignon Blanc, Grecian Malagousia, and, of course, Sonoma Chardonnay and Pinot Noir.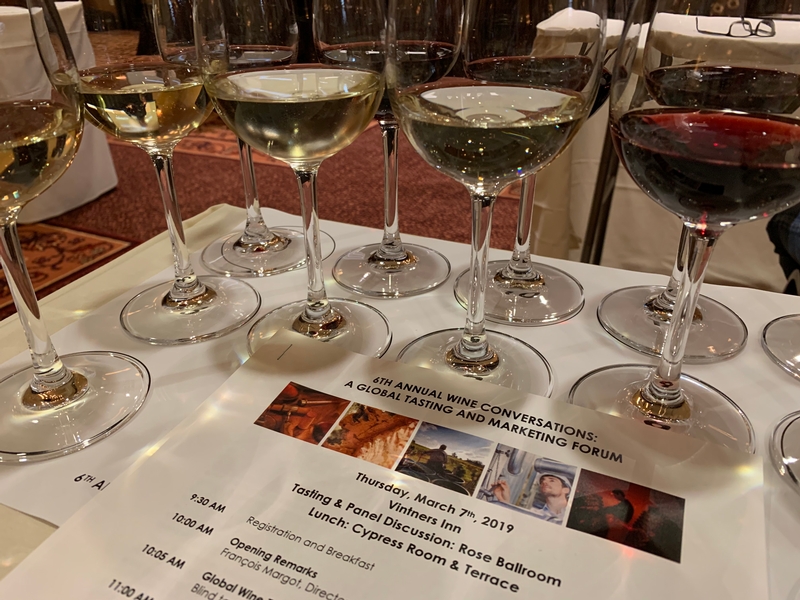 The keynote panel discussion began with and introduction from Francois Margot, director of commercial export, North America, for DIAM Bouchage, who said within the last year, the company has reached two billion closures. Margot touted that DIAM is the chosen closure for 50 percent of the grand crus today, in the U.S. they are close to 1,000 customers and that many of their clients (around the world) represent the luxury-tiered wine segment or above. "I believe this is because of the consistency in our cork options," he said.
This year also marks the end of a study DIAM Bouchage has been conducting for the last 10 years regarding oxygen transmission through the company's line of closures and how that affects the evolution of the wine.
Dr. Christophe Loisel, PhD., director of research and development at DIAM Bouchage, spoke to the scientific process of the study. This process included measuring the permeability of a closure in three successive stages: oxygen initial release (OIR), or the release of oxygen contained in the closure when pushed into the bottle; the oxygen transfer rate (OTR), or the transfer of oxygen from the outside to the inside of the bottle through the closure; and, lastly, the transfer of oxygen between closure and glass — "a phenomenon that occurs when the closure is tired," or after it's had time to relax (which occurs about six months after bottling).
The conclusion the DIAM research and development team came to was that different DIAM closures provide different OIR and OTR, which can affect the age-ability of the bottled wine. Depending on what a winemaker is looking for regarding aging potential, the company can now offer options to help him or her achieve those specific goals.
A Movement to Experience-Based Service
The panel also included Jason Plutz, senior vice president of operations of Cooper's Hawk Winery & Restaurants and Emily Wines, MS, vice president of wine and beverage experience for the business. The two talked about the success of, what they called, their "experiential marketing."
The company made $280 million in 2018, up 30 percent from $222 million in 2017, according to Plutz. Plutz also stated that the company's same store sales (SSS) grew 8 percent within the last year (most restaurants, he said, average about 2% increase) and that Cooper's Hawk's average unit volumes (AVU) reached $9.5 million this last year.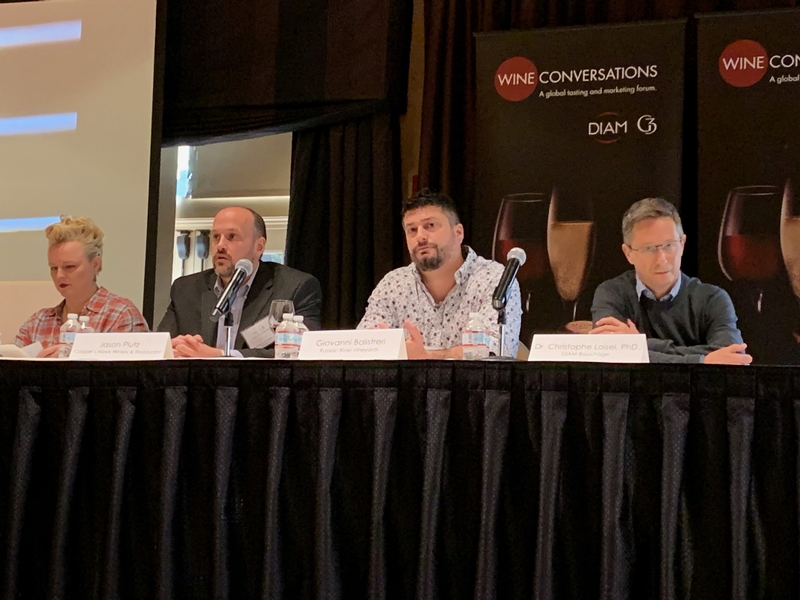 [Right to Left]: Christophe Loisel from Diam, Giovanni Balestrari (Russian River Vineyards),
Jason Plutz (Cooper's Hawk), Emily Wines (Cooper's Hawk)

Much of Cooper's Hawk's success is due to its wine club — the largest wine club in the world, with 350,000 members, with a consistent increase in membership of about 20 percent each year.
The basic business model of the restaurant and winery is centered around creating a "Napa-like experience," for those who do not have immediate access to those luxuries. All of the Cooper's Hawk's 35 locations are predominantly found in the Midwest and Florida, with a few scattered along the East Coast. And Wines said that the bulk of their clientele have, and are willing to spend, the money on a classic, West Coast wine country experience.
Of the 350,000 club members, 90 percent pick up their monthly wine club allotment in person, according to Plutz, who added that of those 90 percent, 65 percent of them will spend money on something else during that visit. Wines noted that this works in their favor regarding their membership retention. "The problem is that when people visit a winery and have a great time, they may sign up for a wine club…but over time, that experience becomes a faded memory," she said. "[At Cooper's Hawk] they can relive that experience and remember what it is about it that makes them feel so good."
The incentive to join and maintain a Cooper's Hawk club membership is based on experience but is elevated with a loyalty program: members receive points for maximizing memberships — visiting the restaurant, signing up for events and, of course, buying wine. Members then use these points to enhance those same experiences. In 2009, the winery launched its travel program for higher-tier members to experience different wine regions throughout the world.
Plutz said the company will expand yet again this year, with plans to open eight to 10 new locations by the end of 2019. Wines said they also have plans to expand their wine program with both new wines and new wine-focused experiences.