Who's the Best (and Fastest) Pruner in the East?
The first Felco East Pruning Competition crowns a winner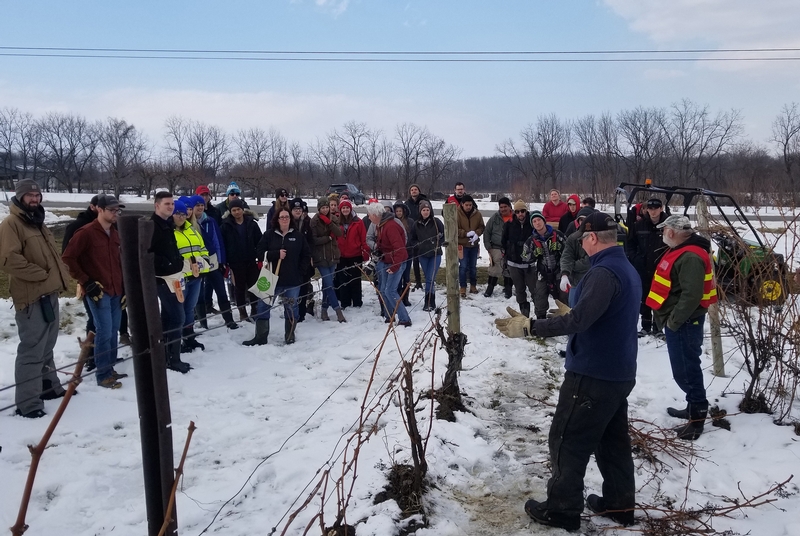 Peter Martini describes the pruning technique to the competitors in the First Felco East Pruning Competition. (photo credit: Russell Moss)

Competitors from three colleges and five vineyards in NY and PA – 26 people in all – gathered at Anthony Road Wine Company in Penn Yan, NY for the first Felco Pruning Competition in the Eastern United States at 2:00 p.m. on Friday, February 15. The event was organized by Ryan Amberg, a marketing and business development manager for Felco US and Russell Moss, lecturer in viticulture at Cornell University, School of Integrative Plant Science, who modeled the competition on similar events that have been held around the world but haven't taken place in the U.S.
Each competitor at the pruning competition in the Finger Lakes was assigned eight vines and given a number so that the judges were judging solely on the timing and quality of the pruning. Peter Martini, vineyard manager at Anthony Road, instructed the pruners on how he wanted the vines to be pruned and then they entered the vineyard. The vines were all on a 4-cane VSP trellis system with two trunks.

It took Catarino Chavez, an experienced vineyard worker, only about 13 minutes to finish pruning his vines. According to Moss, "His skill and speed was truly impressive!" Second place went to Tito Chavez, a student at Finger Lakes Community College (and Catarino's son), and third place was awarded to Ellis Parseghian, a vineyard worker at King Ferry Vineyards in King Ferry, NY.

While the judges conferred and evaluated the competitors pruning efforts, the participants went to the tasting room to have some food, taste wine and mingle with each other. Moss then spoke on how vineyard personnel can use satellite normalized difference vegetative index (NDVI) and Trimble Soil information systems to guide vineyard design and practices. "We really wanted to include an educational component to this event so that folks didn't just come out, cut a few vines, have some food and leave," Moss commented.

The participants included students from Cornell University, the Finger Lakes Community College in Geneva, NY, and Alfred State College, and vineyard workers from Atwater Estate Vineyards (Burdett, NY), Boundary Breaks (Lodi, NY), Anthony Road Wine Co., King Ferry Vineyards and Waltz Vineyards Estate Winery (Manheim, PA).

The judges were Chris King, vineyard manager at Atwater Estate Vineyards in Burdett, NY, Eric Amberg, owner of Amberg Grapevines (formerly Grafted Grapevine Nursery) in Clifton Springs, NY, and four faculty from Cornell University, Dr. Justine Vanden Heuvel, Dr. Tim Martinson, Steven Lerch, and Moss. Supporting sponsors were the New York Farm Bureau and Cornell University.

Ryan Amberg and Moss are planning for the Felco East Pruning Competition to be an annual event. They would like to add a similar competition on the West Coast. A national winner would be determined and that person would receive an all-expense paid trip to Switzerland to visit the Felco factory (whose home office is located in the village of Les Geneveys-sur-Coffrane near Neuchâtel in western Switzerland) and compete against other national winners from around the world.

Moss noted that New Zealand has a Young Viticulturist Competition that "gets great industry support and really encourages the next generation of viticulturists. Similar pruning competitions have been held for several years in South Africa. The 2018 Felco pruning competition on August 24, 2018 took place at the La Motte Wine Estate near Franschhoek, about 30 miles east of Cape Town. Teams of three students represented Stellenbosch University, Elsenburg Agricultural Training Institute (five miles north of Stellenbosch) and Cape Peninsula University of Technology in Cape Town. The students from Stellenbosch University were the ultimate winner of that competition.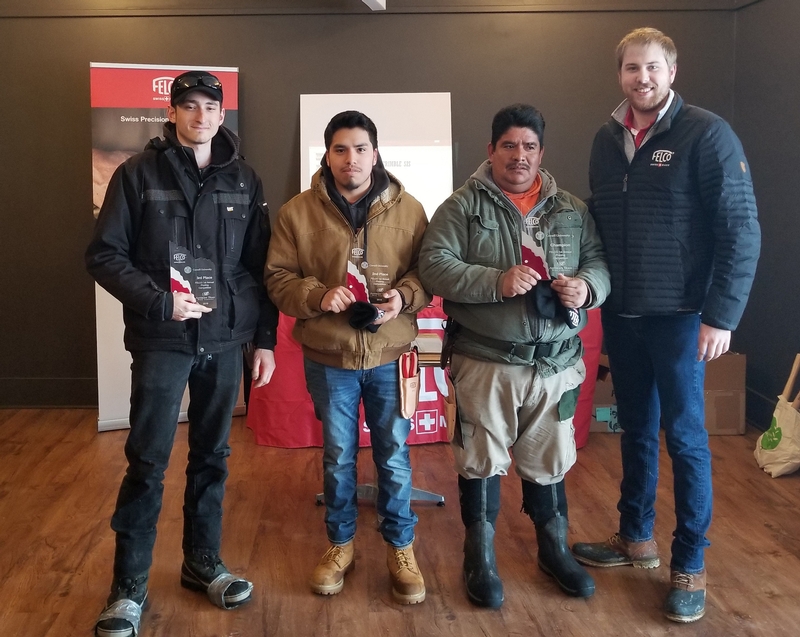 (winners): The winners of the competition were (left to right): Ellis Parseghia (third place), Tito Chavez (second place), Catarino Chavez (first place), and Ryan Amberg from Felco Co. (photo credit: Russell Moss)