More than 2,000 wine industry professionals attend Oregon Wine Symposium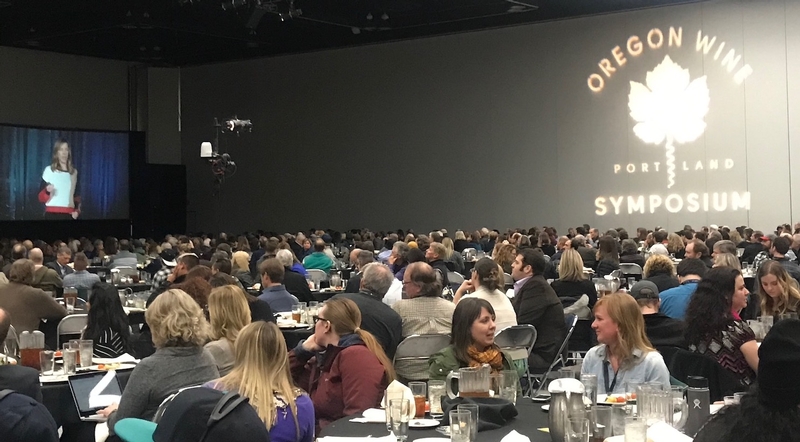 photos: L.M. Archer
Portland, OR. - More than 2,000 Oregon wine industry professionals gathered on February 12 and 13 for the annual Oregon Wine Symposium, held at the Oregon Convention Center in downtown Portland. Hosted by the Oregon Wine Board (OWB) and Oregon Wine Association (OWA), the symposium encompassed educational seminars, a trade show, social soirée, and Industry Awards luncheon. The purpose of the Oregon Wine Symposium is to showcase the Oregon wine industry, which currently employs over 30,000 people, and generates over $5.6 billion dollars annually.
Keynote speaker Sandra E. Taylor, CEO of Sustainable Business LLC, kicked off the General Session outlining global trends and local opportunities in sustainability and brand equity. "Oregon has been a leader in sustainability for many years with its rigorous LIVE (Low Input Viticulture and Enology) certification program," says Taylor, "As the industry grows here with new entrants, and new investors outside the state, I wanted to stress the importance of environmentally sustainable practices, social responsibility to communities, and third party certification."
The Oregon Wine Board Communications and Marketing team also shared compelling Oregon wine media metrics, including the staggering fact that though Oregon wines comprise only 1% share in the United States, they garner nearly 20% of Wine Spectator 90+ wine rankings. But Oregon wine media coverage isn't the only growth area. According to Nielsen, Oregon wine value grew 12.4%, and volumes increased 12.1%.
Moreover, in a show of indomitable community spirit, this year's Symposium Soirée introduced just-bottled Oregon Solidarity rosé wines to eager industry members excited to taste a tangible example of Oregon's collaborative spirit. "Solidarity is the effort of King Estate Winery and Willamette Valley Vineyards," says Oregon Wine Board Communications Manager Sally Murdoch, "who teamed up to help winegrowers whose grapes were abruptly rejected this past harvest." Silvan Ridge Winery and The Eyrie Vineyards also joined in production of the Rogue Valley AVA labeled Pinot Noir, Chardonnay and Rosé of Pinot Noir called Oregon Solidarity. Net sales proceeds from the wines will be donated to the Rogue Valley Vintners to help support vineyards in the region.

Dr. Greg Jones, Evenstad Chair in Wine Studies at Linfield College, presented his perennially popular Climatology report reviewing the 2018 vintage, and forecasting for 2019. While 2018 proved the fourth warmest and the third wettest on record in general, Jones warns of increasing drought conditions in the Pacific Northwest. And despite current weather patterns, he suggests 2019 may prove to be warmer and dryer, with harvests resembling those of 2015 and 2016.
An emphasis upon research reverberated throughout the entire symposium, particularly in the area of red blotch virus. In 2018, Domaine Serene gifted $500,000 to the Red Blotch Study Team at Oregon Wine Research Institute. The Oregon Wine Board shared their strategic plans for research on this spreading concern, with a plea from Dr. Greg Jones for community funds to help further studies.
In addition, Oregon Wine Board Educational Manager Bree Stock MW touched on OWB educational initiatives and programs, such as a Salary Survey, Tractor Safety and Spray Calibration workshops, WISE Academy workshops geared towards sale and tasting room professionals, and an interactive online Profit Planner for vineyard and winery owners. The OWB also rolled out a new online Resource Studio for trade members.
Governmental issues impacting the Oregon wine industry loomed large. Oregon Winegrower Association Vice President of Government Affairs and Operations Jana McKamey broke down the links between the Oregon Winegrowers Association and the Oregon Wine Board before walking attendees through a robust list of her agency's legislative advocacy accomplishments. McKamey pointed out that while the OWA is membership funded, focusing upon state and federal legislation, regulatory advocacy and cost savings opportunities, the OWB is tax funded, concentrating upon viticulture, viniculture, business research, education, and media relations. Current OWA issues statewide include strengthening labeling rules and enforcement, lowering BAC levels from .08 to .05 for drunk driving offenses, expanding commercial solar panel development on high-value farmland, and carbon emission caps. Federal priorities focus upon the Craft Beverage Modernization and Tax Reform Act, wildfire assistance, and TTB enforcement of federal and state labeling regulations. "Oregon's pioneers had the foresight to establish rigorous standards early on that far exceed federal labeling requirements," says McKamey, "The OWA's role is to protect Oregon's small, family-owned businesses from unfair competition that threatens to dilute our brand."
Cutting-edge educational sessions presented by acclaimed international industry experts centered around timely enology, executive business and viticultural topics such as "Exploring and Understanding Wildfire Impacts on Winemaking and Wine," "Outlook on the Wine Sector: Managing the Changing Generational Demographics and Market Dynamics", and "Exploring the Microbiome."
A myriad of mini-sessions ran the gamut from "Do's and Don't of OLCC's Advertising and Tasting Room Rules" to Experimental Wine Trials investigating issues such as irrigation, oxygen dosage, and yeast nutrition. Breakout sessions included research poster topics like "Efficacy of an Intelligent Sprayer on Grape Powdery Mildew Management" by Oregon State University, plus a first-ever Global Cafe Roundtable Discussion for DTC Management, helmed by Natalie Sigafoos, Director of Operations for Dusky Goose Winery.
At the symposium's conclusion, Industry Awards this year lauded a host of industry recipients. Senator Arnie Roblan and Representative Paul Holvey shared the Oregon Wine Leadership Award; Alison Sokol Blosser, Co-President and CEO of Sokol Blosser Winery, garnered Outstanding Industry Leadership Award; Dan Jarman, President of Crosswater Strategies, claimed the Industry Partner Award; Meliton Martinez, Vineyard Manager for King Estate Winery, earned the Vineyard Excellence Award; Ken and Grace Evenstad of Domaine Serene received the Founder Award; Steve Thomson, CEO of Cristom Vineyards and JP Valot, winemaker of Silvan Ridge Winery, shared the Board Service Award, and a posthumous Lifetime Achievement Award was bestowed to Jesus Guillén, owner and wine maker of White Rose Estate, who died unexpectedly in November 2018 at age 38 after a brief bout with cancer. Acceptance of the award by his wife Yuliana and son Adrian brought attendees to a tearful standing ovation, once again highlighting the Oregon wine industry's commitment to character, collaboration, and community.