Sold-Out Oregon Bubbles Fest 2019 Defies Weather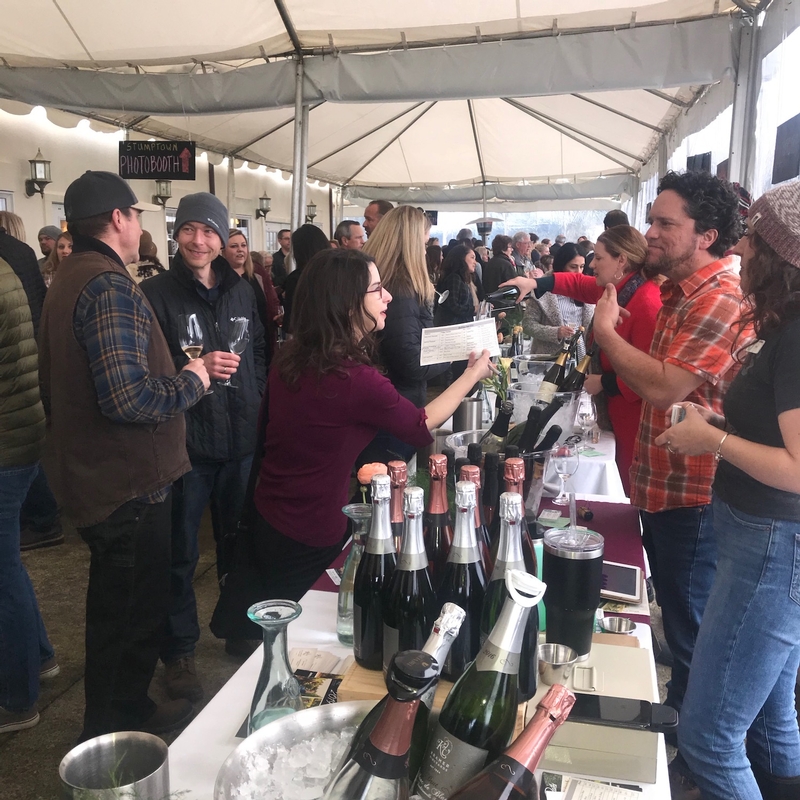 photos by LM Archer
Carlton, OR. - The Willamette Valley didn't let an arctic snow storm blanket enthusiasm for Bubbles Fest 2019. More than 450 sparkling wine aficionados snuggled together February 9-10 2019 at Anne Amie Vineyards in Carlton for the sold-out fizz-fest, sipping and savoring a variety of Oregon sparkling wines paired with sumptuous local eats.
"I feel that sparkling wines have always had that certain cachet of sophistication, grandeur, and luxury associated with them, " says William Kobyluck, Wine Club and Events Manager for Anne Amie Vineyards. "I feel events like Bubbles Fest allow the consumer to look at the versatility, value and food friendly component of sparkling wines and move them to more of an any occasion wine."
This year's participants included an all-star roster of artisans, including Anne Amie Vineyards, Apolloni Vineyards, Argyle Winery, Day Wines, Division Winemaking Company, Elk Cove, Eola Hills Winery, Kramer Vineyards, Left Coast Cellars, Lundeen Wines, Maysara, Mellen Meyer, McMenamins, Ponzi Vineyards, Quady North, R. Stuart & Co. Winery, Raptor Ridge, ROCO Winery, Seufert Winery, Sokol Blosser, Soter Vineyards, Terra Vina, Trisaetum, Willamette Valley Vineyards, and Winter's Hill, with bites by Big's Chicken, Columbia Empire Farms, Northwest Fresh Seafood, and Smitten: Artisan Truffles.
Celebration, Education, Collaboration

Thomas Housman, winemaker for Anne Amie Vineyards, initiated the first Oregon Bubbles Fest in 2015 as a celebration to mark the release of the winery's 2011 brut rosé. At the time, he invited all of the sparkling wine producers instrumental in assisting Anne Amie with production of that first brut rosé to attend the consumer-focused winter event designed to dovetail with Valentine's Day.
Since then, Bubbles Fest has blossomed from a one-day event featuring 11 wines, to a popular two-day event showcasing 26 sparkling wine producers and 37 different wines, plus a winemakers-only technical symposium. "I started going back to the the Steamboat Pinot Noir conference model," explains Housman of the tech seminar, "Let's sit down as a group of producers and bring our base wines, bring our experiments, and start talking about them, because the only way you're really going to learn is by learning from what other people are doing."
For bubble makers, the event offers also an opportunity to showcase the region's growing prowess in the sparkling wine arena, in addition to collaborating with peers at the technical gathering. "Bubbles Fest has become an important, seminal event here in the Willamette Valley," says Scott Shull, founder and winegrower of Raptor Ridge Winery in Newberg, "By attending and tasting, consumers are learning that Willamette Valley wineries are producing some of the finest sparkling wines world-wide."
Markets, Methods, and More
Consumer attendance echoes this burgeoning enthusiasm for Oregon bubbles. Shoulder-to-shoulder crowds span in age from millennials to baby boomers, and vary geographically in regions from Portland and the Willamette Valley in Oregon, to Vancouver and Seattle in Washington state, and beyond. "We also have some of our wine club members from as far away as Florida, Virginia and Maine attend the event," says Anne Amie's Kobyluck.
Most Oregon sparkling wine producers attending Bubbles Fest make their wines using the or méthode champenoise, or traditional method of sparkling wine production first developed in Champagne a few centuries ago, which completes secondary fermentation in bottle. This secondary fermentation in bottle yields sparkling wine's trademark bubbles, as well as its complex flavor profiles derived aging the wine on dead yeast cells, or lees.
But not all Oregon sparkling wine makers employ méthode champenoise in production of their fancy fizz. A few bold winemakers craft Pétillant Naturel, more commonly referred to as pét-nat, a single-bottle fermentation sparkling wine production method known as méthode ancestral, or rurale. The process yields a lighter style sparkler some liken to fizzy cider. Division Winemaking Company in Portland produces a prolific panoply of such sparklers, including their newest release, 2017 Yama American Sparkling Wine, a 'wildfire' infused pét-nat style sourced which resembles aged whiskey.
Apolloni Vineyards in Forest Grove is the only Bubbles Fest participant employing the 'charmat' method, a traditional Italian sparkling wine production which honors owner and winemaker Alfredo Apolloni's old world heritage. The charmat method induces secondary fermentation in large, stainless steel tanks (autoclave) coated with acid and wine-resistant vitrified glaze. Apolloni, who appreciates the freshness of the wines produced in this way, strives to share something "interesting and unusual" each year with consumers and colleagues. "Bubbles Fest is always an event we look forward to, as it showcases the range and depth of Oregon sparkling wine," says Apolloni.
Love, not Money
Ultimately, Thomas Housman of Anne Amie Vineyards notes a marked difference in the Oregon sparkling wine industry since the initial Bubbles Fest in 2015, when only a handful of larger wineries like Argyle Winery made it. Today, thanks to mobile bottlers like Radiant Sparkling Wine Company, more and more small regional growers can now afford to initiate a bubbles project. As competition increases in Oregon sparkling wine, so does collaboration - and experimentation."I love that even though we're kind of a Burgundy-based pinot noir and chardonnay region, all of these sparkling wines," says Housman, "the pét-nats and these things that are coming out, are just as creative and different as the other wines."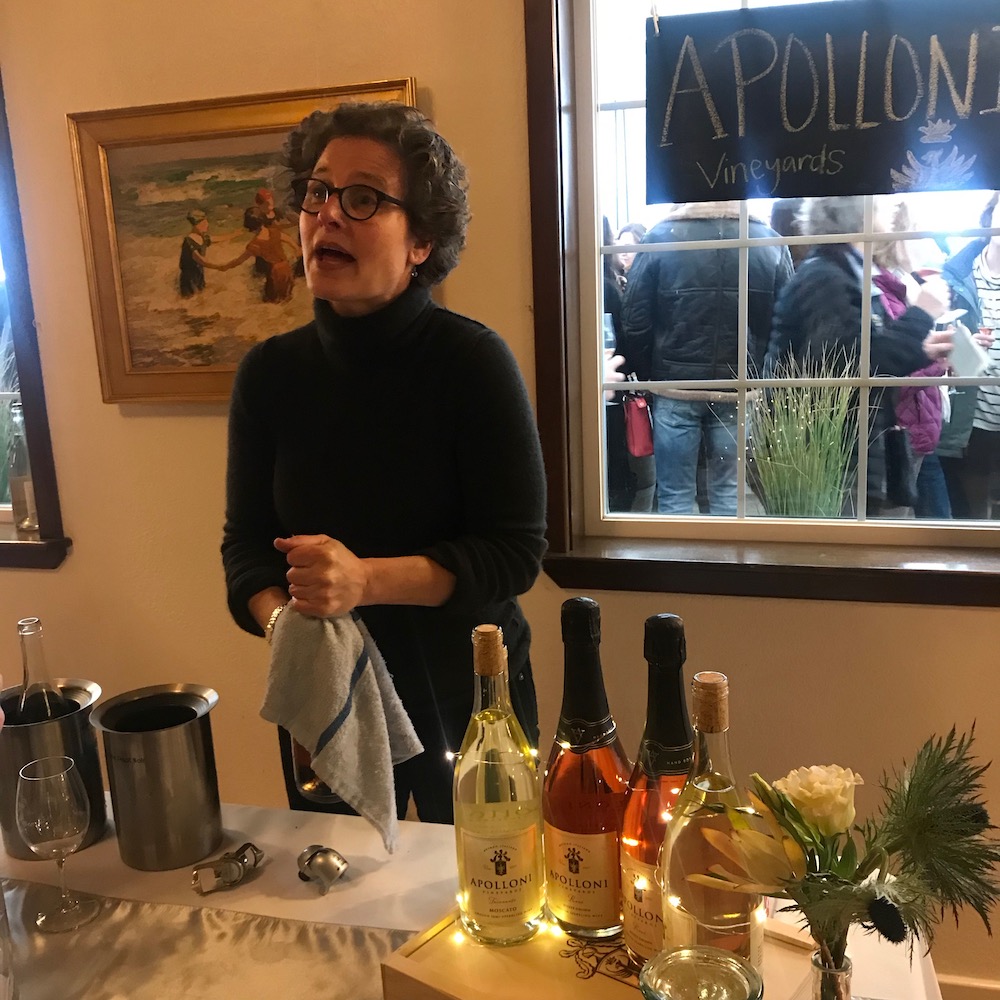 Laura Gordon, Apolloni Vineyards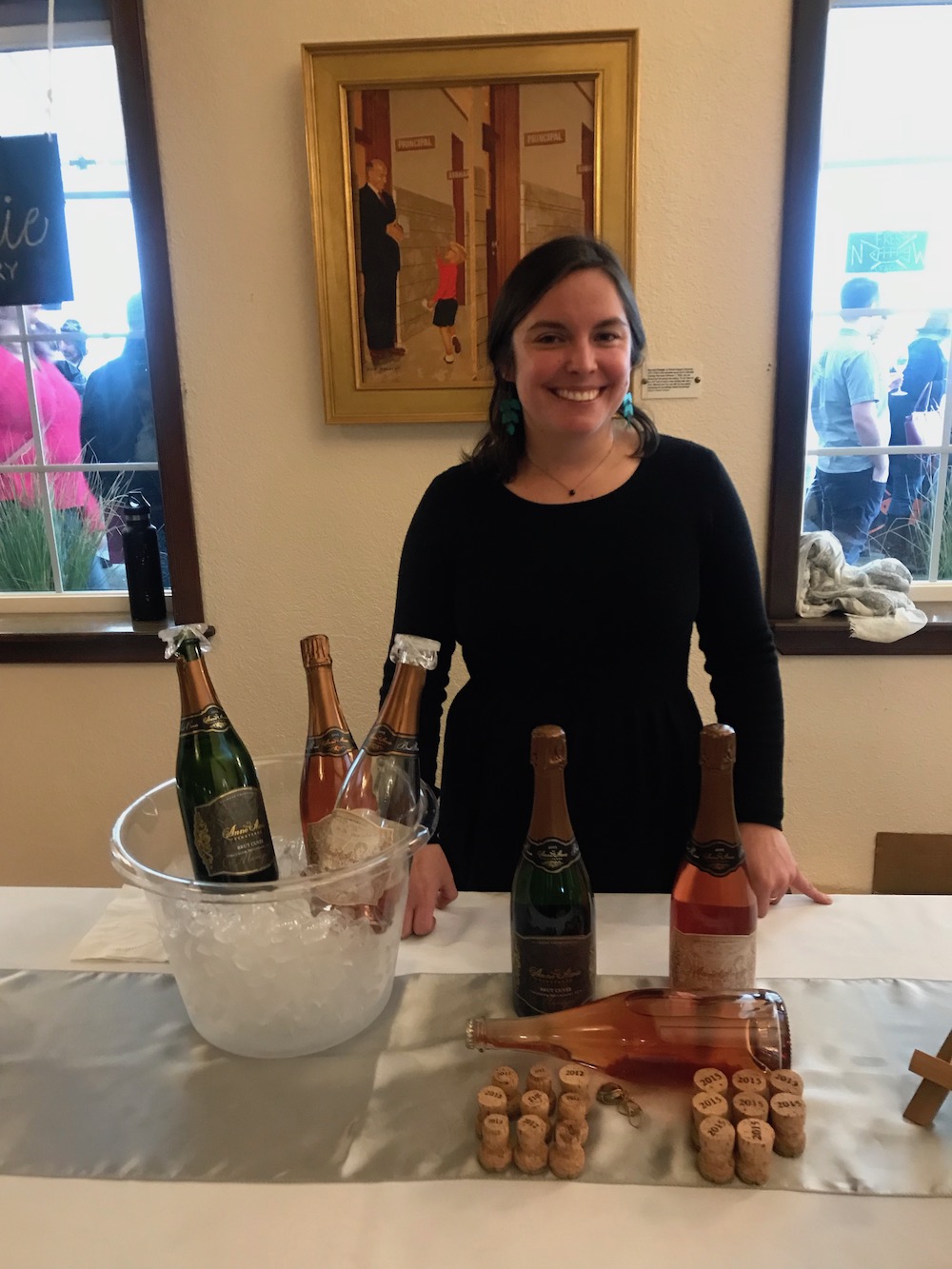 Gabriela Vignes, Anne Amie Vineyards