UC Davis Winemaker Chik Brenneman to Retire March 5
University of California, Davis (UCD) winemaker Charles "Chik" Brenneman will retire from his position at the UCD Teaching and Research Winery March 5 to pursue other winemaking opportunities and to have more time for personal interests. Brenneman joined the Department of Viticulture and Enology (V&E) as staff winemaker in 2006, when the department offices and teaching winery were still located in Wickson Hall on the UCD campus. Wickson had housed winery and lab facilities dating to 1939, and the winery had become largely outdated for effective research and the training of modern winemakers. Contributing his background and knowledge from the commercial winemaking sector, Brenneman became an integral team member to help plan, build and operate the new, state-of-the-art LEED Platinum Teaching and Research Winery that opened in 2010 at the new Robert Mondavi Institute, and the adjacent Jackson Sustainable Winery Building that opened soon after.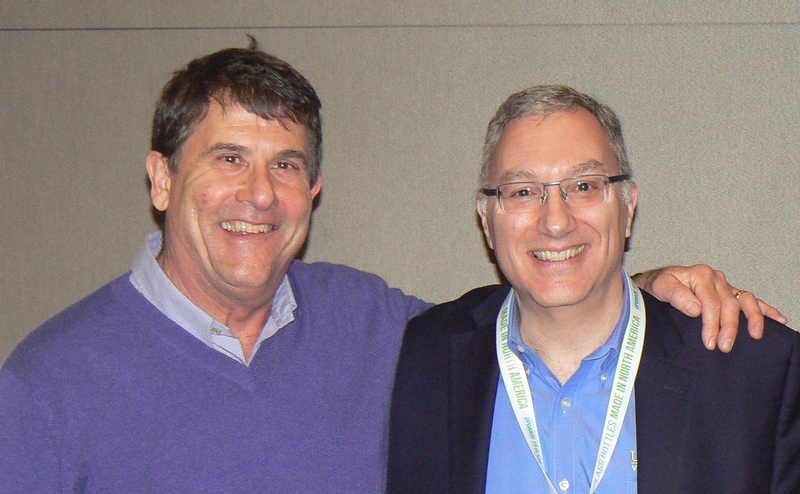 Retiring UCD winemaker Chik Brenneman (L) was recognized for his contributions by Viticulture & Enology Department chair David Block (R) at UCD's 2019 Unified Symposium alumni reception. Photo: Ted Rieger

Background
Brenneman holds a B.S. degree in biological sciences from California State University, Sacramento and had a previous career as a clinical lab scientist in the medical and veterinary fields before entering the wine industry. He later earned a master's degree at UCD in food science with a concentration in enology. Brenneman gained winemaking experience at both small and large California wineries--Amador Foothill Winery, and Terre Rouge and Easton Wines in the Sierra Foothills, and later at Robert Mondavi's Woodbridge Winery in Lodi, where he was production lab manager.
Work at UCD
Brenneman was involved in the planning process to build the new Teaching and Research Winery beginning with meetings in 2008 along with V&E Professors Roger Boulton, David Block, and Andy Waterhouse. Construction began in 2009, and the new winery crushed its first harvest in 2010. Explaining the challenges, he said: "It's one thing to put ideas and plans on paper, it's another thing to translate those into an operational facility. Roger and I worked closely with the building teams, and we had weekly meetings with the architect and builder to make sure our requirements translated into physical realities in the winery."
Brenneman said, "Being involved with building the winery, and to be a part of building this program, was the opportunity of a lifetime. It was an honor to have the department and university administration entrust me with being a part of this."
Once in operation, the new winery had the ability and capacity to ramp up research and production. Brenneman worked with faculty and department researchers to set up trials and collect data to investigate a wide range of issues and practices of industry concern. "This facility is a testament to the idea, 'if you build it, they will come.' The ability to control for variables and do multiple replicated fermentations has enabled us to attract and perform research projects we wouldn't have seen otherwise," Brenneman said. The winery's annual processing and production has grown from 30 tons in 2010, to nearly 100 tons in 2018. While he believes every research project he's been involved with has had merit, he cited some highlights.
Smoke taint research is a newer ongoing project. "In 2017, we felt we were done with the harvest, then the Napa/Sonoma fires occurred. With Dr. Anita Oberholster, we took on new unexpected work on speculation related to grape smoke exposure, and it's one of the projects where I've felt we've been really connected with the industry to help with an important need."
In another ongoing project, the winery produces wines from new Pierce's Disease resistant cultivars from Professor Andy Walker's grapevine breeding program to evaluate their quality. "By the time we see even 25-50 kilograms of fruit from any of these newly developed cultivars, there are so many years of work by so many people going into the process, so to be able to see the wines that come out of this project has been very rewarding," Brenneman observed.
He also takes great pride in teaching and working with students to prepare them for life outside the university. Understanding the imperfections of winemaking in the real world, as part of each of his teaching classes, Brenneman set up hands-on equipment and winemaking challenges for students to identify, troubleshoot and correct problems they will encounter in commercial wineries. Citing another highlight, he helped implement and oversee the winery's student intern program that allows several students each year to get in-depth winery experience working through the summer and a full harvest.
In 2017, Brenneman received a UCD Award of Distinction as an outstanding staff member within the College of Agricultural and Environmental Sciences. A published comment at the time from V&E faculty members Linda Bisson, David Block, Roger Boulton, Hildegarde Heymann and Andy Waterhouse, who worked closely with him, reveals the value of his contributions: "Chik has provided a level of enthusiastic participation and effective contributions far beyond that expected of his position as we planned, constructed, equipped, started and operated the new LEED Platinum Teaching and Research Winery and Jackson Sustainable Winery Building."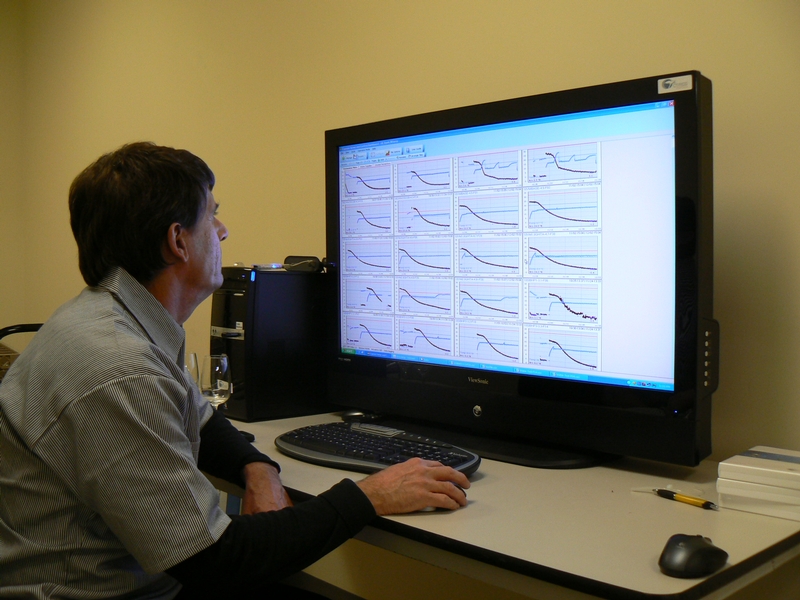 UCD winemaker Chik Brenneman examines graphs of fermentation curves for one of the numerous winemaking research projects he helped oversee at the Teaching and Research Winery. Photo: Ted Rieger

Winemaker/Partner at Baker Family Wines
Brenneman will return to commercial winemaking, in a situation similar to where he began, with a small family winery with ties to the Sierra Foothills. In 2013, he teamed up with Dusty Baker, former Major League Baseball player, and more recently Washington Nationals manager, to form B&B Wine Co. that produces Baker Family Wines.
Brenneman's relationship with Baker dates back to his time at Woodbridge Winery when Baker was serving as a Woodbridge brand ambassador. Brenneman later helped design and plant a small vineyard on Baker's property in Placer County, from which they later produced wine for personal use. In 2014, with Brenneman as winemaker, they released their first commercial wines made at a facility on Treasure Island in San Francisco. Baker Family Wines is moving to a new winemaking facility in West Sacramento and will open a tasting room there this year. Current production is 800 cases. With more time to focus on the operation in a larger facility, Brenneman hopes to double production in the future. Syrah is produced from Baker's vineyard, and grapes are sourced from other growers in the Sierra Foothills and Sonoma County for current wines.
In addition to work at Baker Family, Brenneman may also provide consulting. "I've received some interest already in my availability for other projects," he noted. Although he will remain active professionally, Brenneman said he also hopes to spend more time with his wife, Polly, and have more time to go fishing.
UCD is evaluating applicants to replace Brenneman and plans to announce its selection for a new winemaker in the near future.