Delicato, Riboli and Precept Show Golden Growth: Nielsen recognizes large producers with biggest gains amid slowing growth trend
Sacramento, Calif. – Amid a decelerating wine sales environment, The Nielsen Co. reminded wine industry members at last week's Unified Wine & Grape Symposium that the American market "is still the envy of the world, and it's something we should be proud of."
Danny Brager, senior vice president of beverage alcohol practice for the market research firm, presented Nielsen data that confirmed a slowing growth rate but also discussed other data showing that multiple price tiers and many companies are still growing well.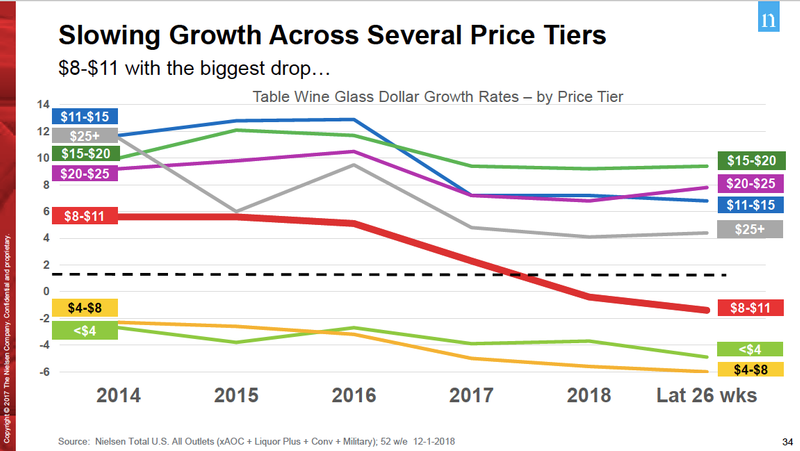 Brager announced that the gold medal companies in Nielsen's "Best of the Best for 2018" analysis were three based in the U.S.: Delicato Family Vineyards, Riboli Family Wines and Precept Wine, all showing case volume gains of more than 100,000 cases and double-digit percentage gains in both cases and dollars. The silver medal winners, with more than 100,000-case growth but percentage gains not quite as large as the gold medal winners, were Deutsch Family and Jackson Family Wines.
Individual hot brands
The hottest individual domestic and import brands in the Nielsen data were those with the best year on year dollar increases. This list represents brands, not whole companies as above. See the parent company or importer affiliation in parentheses:
1. Josh, California (Deutsch Family)
2. 19 Crimes, Australia (Treasury Wine Estates)
3. Bota Box, California (Delicato Family Vineyards)
4. Stella Rosa, Italy (Riboli Family Wines)
5. Black Box, California (Constellation Wines)
6. LaMarca, Italy (E. & J. Gallo)
7. Robert Mondavi Private Selection, California (Constellation Wines)
8. Meiomi, California (Constellation Wines)
9. Kim Crawford, New Zealand (Constellation Wines)
10. Dark Horse, California (E. & J. Gallo)
11. Ruffino, Italy (Constellation Wines)
12. Decoy, California (Duckhorn Wine Co.)
13. Butter, California (JaM Cellars)
Nielsen measures a large portion of wine sales in the U.S. and Brager summarized the market's performance in 2018 as one in which "rising tides lift all boats, but the tide is now receding. The tail winds are not as robust as in the past. Alcohol consumption long-term is flat and almost 50% of regular wine drinkers say they're making efforts to reduce."
The growth rate in dollars dipped to slightly above 2%, according to Nielsen, while volume growth was negative, meaning the number of cases sold shrank compared to 2017. Brager also showed more positive numbers from market research firm bw166, which reports on the entire U.S. market. Volume grew by 1.2% to nearly 410 million cases in bw166's analysis.
Sizing Up the Competition
Competition from spirits, craft beer, non-alcohol beverages and increasingly from cannabis presents a challenge for wine producers, Brager said. "We're in a war of market share. We're in a battle for the hearts and minds and dollars of consumers."
Wine and spirits are both gaining share against beer, as wine servings grew from 14% to 18% market share in the past 15 years, according to bw166, while spirits increased from 28% to 34%. Beer's share of servings slipped by more than 10 points to 48% in 2018.
California wine's share of volume has dropped from 66% to 60% over 15 years, while imports grew from 26% to 32% and wine from other states stayed flat at 8%.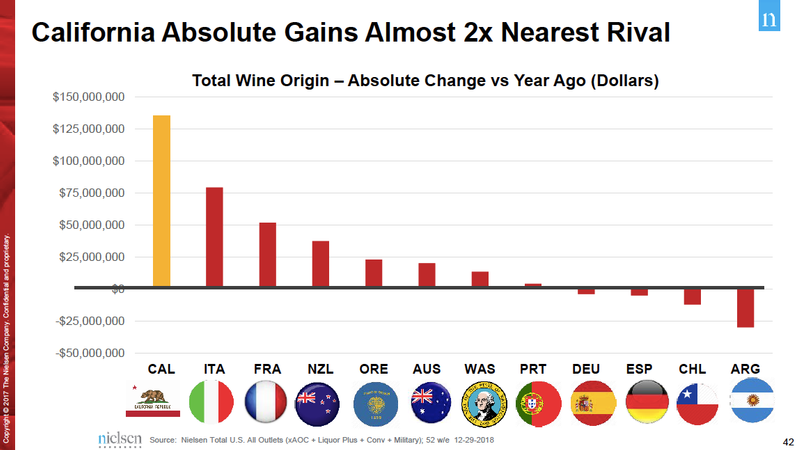 Brager said the premiumization trend in wine sales has continued as consumers trade up to more expensive wines while those under $11 per bottle are largely shrinking in sales. Red blends and Cabernet Sauvignon are big and getting bigger. Cabernet Sauvignon is poised to replace Chardonnay as the top-selling varietal in 2019, he said.
He urged wineries to not simply wait for demand to grow. "With wine growth slowing, we've got to fight for our share to stay healthy. We've got to innovate and give consumers what they want."