Unified Symposium Tech Talk
Understanding and leveraging data within the wine industry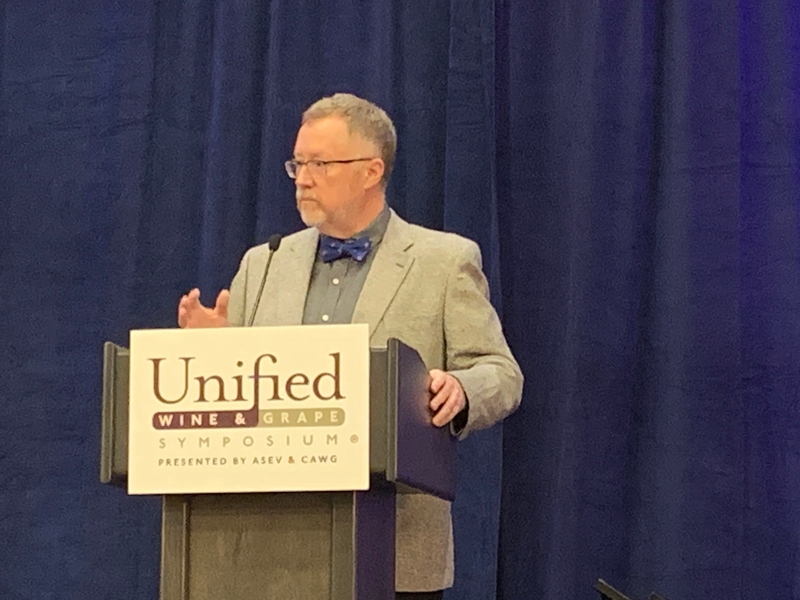 Unified Wine & Grape Symposium Program Development Committee Chairman Tom Collins moderated Thursday's General Session
The last day of this week's Unified Wine & Grape Symposium began with a fast-paced TED talk-style discussion surrounding technology in the wine industry — how it affects grapegrowing, winemaking and marketing practices today and how to prepare for innovations of the future.
With so many technology advances already in place and many more yet to come, what all panelists agreed was that understanding what tools are needed for your specific business and how they will help improve your business is of the utmost importance. Will Thomas, viticulturist for Ridge Vineyards — Lytton Springs, put this most succinctly, stating that, regardless of one's sector in the industry, one must
Find a tool that makes the most sense for the job you are doing: know what you want to measure, what your goals are and find something that targets that.
Take the time to understand the tool: study the pieces that make up the tool and take advantage of all those working parts
Know that there is such a thing as a saturation point: It is possible to have "too many tools in the kitchen," as it were. Be selective in your technological decisions.
Technology in the vineyard and winery

Rodrigo Maturana, VP of marketing and International Business for Fetzer Vineyards, discussed some of the successes he's seen with the technology put in place at Fetzer. The winery is the world's largest winery certified as a B-corporation. The certification defines itself as "people using (a for-profit) businesses as a force for good."
According to Maturana, implementing technology in the vineyard and winery has helped them achieve this goal. "We view technology as a complement to other assets in our business, integrating technology with the right people, products and processes to align with our values," he said.
In the field, Fetzer has implemented APANA water management system, installing 30 smart water meters that transmit water flow patterns via the cloud to a virtual 24-7 water manager. This allows them not only to regulate water usage in the vineyard, but the software as a service (SaaS) also allows the winery to pinpoint any leaky faucets or valve malfunctions as they occur. Monitoring water this way, Fetzer was able to reach their goal of reducing overall water usage by 25% as of 2018.
And because water use also affects energy use, Fetzer has also reduced its overall energy output by over 20%.
Nick Dokoozlian, vice president of viticulture, chemistry and enology at E&J Gallo Winery, pin-pointed labor as a key area where the wine industry will absolutely need technology in the next three to five years. According to Dokoozlian the top three viticultural practices (canopy management, pruning and harvesting) make up about 58% of the total labor costs in the Central Valley and nearly 67% in California's coastal wine regions.
"Mechanized production systems and applications are currently available and being utilized," he said. "The future focus is to leverage this technology to reduce costs and improve quality of those mechanized practices."
Dokoozlian speculated that as technology in the vineyard advances, there will be a decrease in the need of specialized labor to run them — anything from automated tractor guidance to geospatial block level views of vine water status. And the rigorous algorithms that accompany these tools will allow vintners to analyze the data and tell them things about the vineyard they couldn't otherwise know.
David S. Ebert, Silicon Valley professor of electrical and computer engineering at Purdue University, had a slightly different opinion: "'We will always need humans," he said. "We cannot replace the expertise of vineyard managers and our growers."
The shift in labor we will need to see, according to Ebert, is from the current manual farm labor toward technically skilled farm labor. "Is that a bigger problem?" he asked, pointing out that techy tools will inevitably malfunction and will need a live person to attend to them.
Ebert also said the industry is currently in a state of "data-overload," and it's only going to get worse. Tools in the vineyard and winery can gather a lot of data, but that data needs to be leveraged and applied. "Explainable AI is key," Ebert said, but added this is 10-plus years away from being a reality. Right now and for the foreseeable future, is people, the human brain, that will need to interpret, dissect and utilize data properly. "Digitization cannot replace growers but it will empower them and winemakers," he said.
Technology for marketing

"Wine itself is scientific, advanced and thoughtful. It's in the marketing that we struggle," said Paul Mabray, CEO of Emetry.io.
Indeed, advanced technology and leveraging data in the vineyard and winery to produce quality wines is only truly successful if those vintners can get their product into the hands of the consumer.
Dr. Benoit Lecat, professor of wine business at California Polytechnic State University, San Luis Obispo, dictated the evolution of wine marketing: In the 1990s it was all about getting people into the tasting room, "brick and mortar;" in the early 2000s, with the introduction of e-commerce, it became "click and mortar;" today, with the popularization of social media, a winery's online presence and ability to be eye-catching is all the more important.
"The digital age has changed the way consumers communicate," he said, but pointed out that the wine market is slow to glom on to this evolution. According to Lecat, wine consumers that are active on social media, are most social with friends and family — not wineries or wine brands. The industry is missing out on the conversation.
He said that these online "wine-socials" make up about 25% of wine consumers; 42% are Millennials (born after 1980); and 72% are female; and 54% allocate more of their alcohol consumption to wine.
"There's no need to reinvent the wheel," said Lecat, referring to engaging with the wine consumer. His simple advice is for wineries and wine brands to understand the new (online) environment, the importance of differentiation on the (virtual) shelf and to be flexible in adapting the brand's message to the desired target audience.
Andrew Adams, editor of Wines Vines Analytics Report, discussed how this new digital publication will provide wine industry professionals with the data they need to reach the modern consumer. "The report will provide tools and information to make the best possible choices for your company," he said.
Subscribers to the report will receive access to the company's data services, which includes a distributor market database. The database not only includes a complete list of distributors, but dictates which markets they cover and which brands they already have. "You can use that to try to find a niche opportunity in the wholesale market where your brand can be the most competitive," Adams said.
In addition, Wines Vines Analytics is offering analytical modules. Users can use the data supplied by the company to generate information more specific to their sector of the wine industry. The intention, Adams said, is to give the wine industry professionals accurate data tools to help better position their wines in front of the consumer.