The Chardonnay Style Spectrum: Vintners and Marketers Discuss the Evolving Style of California's Greatest Grape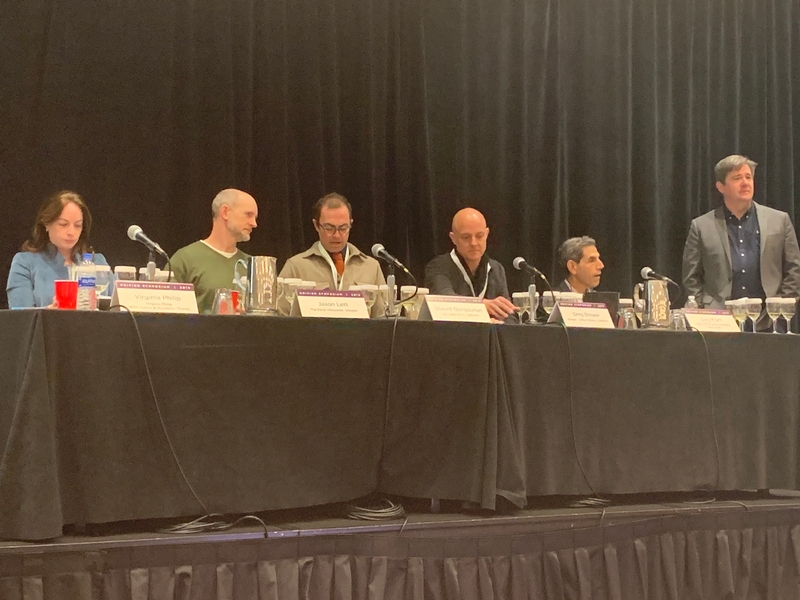 Left to right - Virginia Philip, Virginia Philip Wine Spirits & Academy; Jason Lett, The Eyrie Vineyards: Shaunt Oungoulian, Les Lunes Wine, California; Greg Brewer, Brewer – Clifton Winery: Gary Fisch, Gary's Wine and Marketplace: and Ray Isle, Food & Wine Magazine
"Essentially any country that produces wine produces Chardonnay in some context," said Ray Isle, executive wine editor of Food & Wine Magazine, and moderator of the Chardonnay seminar and tasting at the 2019 Unified Wine & Grape Symposium (UGWS). The geographical range of the white grape is vast — and so too are the winemaking styles and flavor profiles that go along with it.
But American Chardonnay — and more specifically California Chardonnay — has garnered over-simplistic generalizations: "oaky," "butter-bomb," "hedonistic." But, as panelist Greg Brewer, winemaker at Brewer-Clifton winery, pointed out during the discussion, the grape has a skeletal transparency; the variety's characteristic is quite quiet.
The tasting revolved around Chardonnays that showcased the more hushed tones of the Chardonnay, those that expressed a sense of terroir and provided a more well-rounded perspective on what Chardonnay can be, given different winemaking methods.
Isle brought to the table a Nyetimber 2010 Blanc de Blanc ($75) from Sussex England. "We often don't associate England with wine and, when we do, it doesn't have a good reputation," he said. But today, Isle said, Chardonnay is one of England's most planted grapes — and thrives well due to the shift toward a warmer climate during the September harvest season.
The Chardonnay for this wine was planted in combination chalk and green stone soils. Isle quoted the winemaker's comments on the importance of the chalk soil. "It is my impression that when (wine grapes) are grown in chalk the acid perception is different. Not that the acid is lower, but it's how it progresses on the palate." Indeed, the acidity in the Blanc de Blanc was strongest in the beginning and subsided during the length of the tasting, leaving the impression of a low-acidity wine.
Virginia Philips, Master Sommelier and owner of Wine Shop & Academy who sells wine in both retail and restaurant spaces, brought Francine et Oliver 2016 Savory Chablis ($33). From a retail perspective, in her store, Phillips finds that sales between California and Burgundy Chardonnays are split almost evenly. "People are asking more and more for Chablis," she said, speculating that it's a part of the shift away from the "stereotypical" perception of Chardonnay, but also in consumers' overall wine knowledge. "The shift started ten years ago," she said. "The difference is that ten years ago people would ask for Chablis without knowing what it was. Today, more people understand Chablis as an alternative expression of Chardonnay.
The Francine et Oliver 2016 Savory Chablis was made with 35-year-old vines, aged in combination 25% stainless steel and neutral French oak. The wine was light, if not slightly textural, exuding both fruit-filled aromatics and a mineral backbone.
Jason Lett, second generation winemaker of The Eyrie Vineyards, told Oregon's Chardonnay story with his bottle of Eyrie Vineyard 2017 Estate Chardonnay. When his father, founding winemaker David Lett, began his grapegrowing and winemaking career he was inspired by the wines of Burgundy — specifically Pinot Noir, which is what brought him to Oregon. "He was looking for a climate that would be analogous of Burgundy," Lett said.
Lett stressed the importance of clonal selection (indeed, the backbone of the Estate Chardonnay is grown from the Draper selection, what Lett calls "a pure reflection of French material"), as well as clonal variety ("It was when a new generation of winemakers brought new clonal selections that Oregon's Chardonnay story was revitalized). But, ultimately, Lett concluded that Oregon's Chardonnay story is not a story of clones, it is a story of climate.
"Why do we make Chardonnay in Oregon? Because we feel it has the best climate for it," he said.
The Eyrie Vineyard 2017 Estate was aged in neutral French oak barrels, fermented with indigenous yeasts, and aged sur lies for 11 months without stirring. The result is a smooth Chardonnay that provides a bit of body, a rounder front palate, a textural backbone and over-riding floral and citrus aromas.
Shaunt Ougoulian, winemaker for Populis Wine, featured his Les Lunes 2017 Barra Vineyard Chardonnay from Mendocino, Calif. Ougoulin said his intention as a winemaker is to appeal to the younger generation, the Millennials, who have been identified as wanting to be healthier, buy local, enjoy a sense of place but are looking for something outside the usual Napa-Sonoma suspects.
Ougoulian said he works with cooler climate vineyards and encourages leaf protection in the field in order to get the grapes to a full maturity but also preserve the acidity. He doesn't utilize sulfur, and encourages all native yeast fermentation in order to achieve texture in his final product.
And the final product is, in fact, a bit funky. Ougoulian's wine was the only one that presented cloudy in the glass and an initial aroma that was somewhat volatile. However, as the wine opened up, one could finally smell the fruit in the wine. The palate was soft, almost giving that perception of the "classic California" Chardonnay, but because of a clean line of acidity and a consistently funky background, the wine was anything but ordinary.
Last to present was Gary Fisch of Gary's Wine and Marketplace, whose business spans five separate locations on the east coast and conducts 75% of its business in wine retail. What Fisch brought to the table was a perspective on current consumer trends. For him, California Chardonnay is his second best seller (behind California Cabernet Sauvignon). And while many retailers, sommeliers and restaurateurs may hear the consumer cry of "no oaky Chardonnay!" when Fisch dissected his Chardonnay market, the best-selling Chardonnays were all oak-driven California wines.
"There are no French wines even in the top 25," said Fisch. "It's not until you get into the top 50 and beyond that you start to see more 'interesting' wine segments," he added, referring to foreign — predominantly French imports.
What Fisch literally brought to the seminar's tasting table was his top selling Chardonnay — Kendall Jackson Vintner's Reserve Chardonnay. Tasting it blind against the other offerings, it certainly stood out as the stereotypical expectation of Chardonnay. As Fisch said, it's not site specific, it's not mineral-driven, it's certainly not complex. But consumers enjoy it. "We're not putting it in people's baskets," he said.
Yes, Chardonnay has a wealth of expressions — driven just as much by terrior and climate as by the winemaker's stylistic choices during production — and there is a time, an occasion and a consumer for each.