DtC Hits Record of More Than $3 Billion
Oregon, Sonoma County wineries continue to find success in channel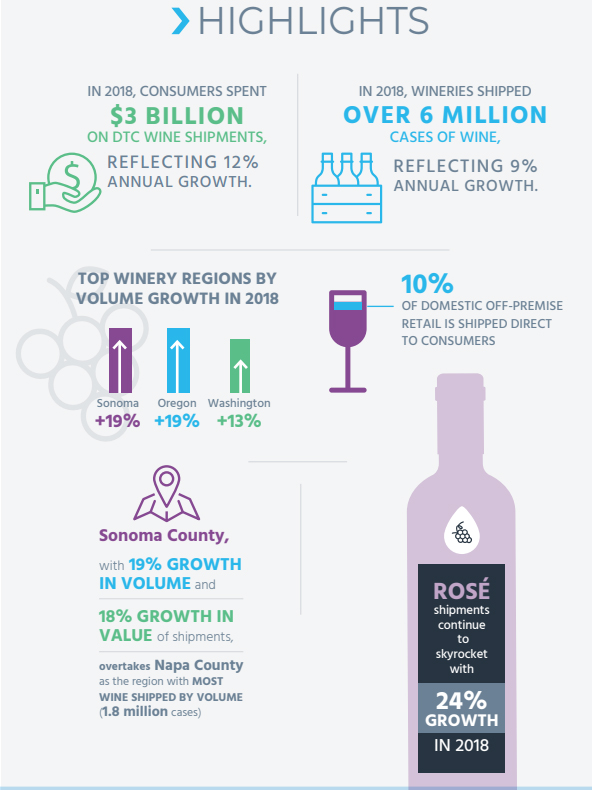 San Rafael, Calif.—One of the fastest-growing sectors of the U.S. wine market continues to enjoy record-setting sales growth as direct-to-consumer sales grew by 12% to surpass $3 billion in 2018.
The sales growth comes with a 2.4% increase in the average bottle price of wines shipped, indicating consumers' willingness to buy wine at higher price points. Total shipments by volume in 2018 came to more than 6 million, which is a 9% increase over the previous year.
Those are two key findings in the 2019 Direct to Consumer Wine Shipping Report put together each year by Sovos and Wines Vines Analytics. The report is based on an algorithm developed by Wines Vines Analytics to leverage the company's database of more than 10,000 wineries in the United States. By drawing on anonymous shipping data from Sovos, the annual report — and regular Wine Industry Metrics reports by Wines Vines Analytics — provides the industry's most accurate numbers on direct-to-consumer wine shipments.

"The direct-shipping channel has matured into a mainstream option for wineries to meet growing consumer demand," said Larry Cormier, general manager of ShipCompliant by Sovos, in a press release. "As buyers continue to prefer direct shipping of all the products they buy, this channel must rely on organic growth, not new states opening for shipments. As a result, we anticipate strong but slower growth in the years to come."
10% of off-premise sales value

Strong DtC shipment numbers come at a time when sales in traditional off-premise channels such as grocery stories have declined slightly in volume while gaining in value. According to the latest figures on the total U.S. wine market by Wines Vines Analytics, consumers spent more than $70.5 billion on 408 million cases of wine in 2018. The total value of domestic wines sold off-premise is nearly $30 billion and of that direct-to-consumer shipments account for 10%.
By value, total DtC shipments have more than doubled since 2012, when the total value was
$1.5 billion. In the same period, total volume grew at a similar rate from about 3 million cases to 6.3 million in 2018.
Consumers' new-found love of rosé can be seen in the DtC sector as the wine type recorded a 24% increase in total shipment volume, coming in at No. 8 of the top wine types or varietals sold DtC. This is a big change for a wine that is more sensitive to the rigors of shipment than other varietals. In 2011, rosé was the least common type of wine shipped DtC.
Shipments by wineries in Napa County retained a dominant share of total shipment value, but Sonoma County wineries have continued to gain by volume over their neighbors in the North Coast of California.
Napa County shipments account for more than 45% of all shipment value, but in the past year Napa's shipment volume grew by just 1.6%. As volume growth lagged in 2018, the average per-bottle price increased by 7.1%, the largest annual price increase in the entire DtC market.
"This may be an early indicator of what's to come for the whole channel in 2019, as price increases have historically been followed by flat or declining prices the following year," said Chet Klingensmith, publisher and president at Wines Vines Analytics. "With competition from independent wine clubs and online liquor stores increasing, wineries must stay cognizant of how pricing affects consumer demand."
Oregon, Sonoma County top performers

The average bottle price of shipments from wineries in Sonoma County decreased 0.8%, but volume surged past Napa County to grow by nearly 20% and Sonoma County now accounts for more than 30% of total market value.
Oregon wineries claim a 5% share of total DtC shipments by value and volume but enjoyed sales volume growth similar to Sonoma County's. The state's wineries saw better DtC sales growth than those of any other major region in California or the rest of the United States. Consumers are not just buying more Oregon wines, with value increasing 20% and volume up 19%, but at higher prices, with the average increasing 1.4% to $39.70. Six bottles of every 9-liter case shipped out of the state are Pinot Noir, as Oregon's most-planted variety also accounts for 54% of its total shipments and 59% of the value increase in 2018.
In the DtC market overall, Cabernet Sauvignon, Chardonnay, Pinot Noir, red blends and Zinfandel accounted for 60% of total shipment volume, as they have for the past eight years. Pinot Noir shipment volume increased by 10.5%, taking the second-place spot away from red blends. Cabernet Sauvignon retained the largest share of total shipment volume at 16.3%.
California is the source for the majority of DtC wine shipments, and the state's consumers receive the largest share. California accounts for 30% of volume and 32% of value of all shipments. By volume, the next two biggest markets for DtC shipments are Texas, which accounts for 8.2%, and New York at 6%.
The entire report, including more information such as shipments by price, monthly shipment data and more analysis on specific markets, can be found at: http://www.shipcompliant.com/dtcreport19/
The Direct to Consumer Wine Shipping Report is an annual collaboration between Sovos and Wines Vines Analytics, examining shipment trends from wineries to U.S. consumers. The proprietary data included is derived from an algorithm measuring total DtC shipments based on millions of anonymous direct-shipping transactions filtered through the ShipCompliant by Sovos system and paired with Wines Vines Analytics' comprehensive data on U.S. wineries.