Federal officials approve Van Duzer Corridor AVA in the Willamette Valley
There are now seven sub AVAs in the Willamette Valley. With the creation of the new AVA, TTB clarified the boundaries of the existing neighboring Eola-Amity Hills viticultural area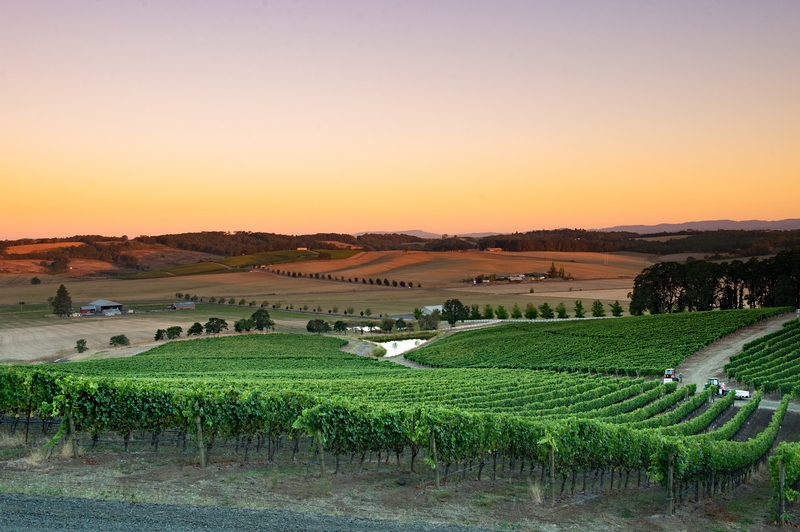 Van Duzer Vineyards, foreground, and Huntington Hills, midground, are in the new Van Duzer Corridor American Viticultural Area in Oregon. The Alcohol and Tobacco Tax and Trade Bureau recently approved the new sub AVA in the Willamette Valley. Van Duzer Vineyards is in the foreground. Photo courtesy Carolyn Wells-Kramer.
Federal officials have approved the newest American Viticultural Area in the Willamette Valley, a process that began more than six years ago on behalf of wineries and growers in the region.

The new Van Duzer Corridor AVA is effective Jan. 13, according to the Alcohol and Tobacco Tax and Trade Bureau. The rule was published Friday in the Federal Register.

"It's finally approved," said Florent-Pierre Merlier, winemaker for Van Duzer Vineyards recently. "It's been a long process."

The new sub AVA, a 35.9-square-mile triangle, is home to six bonded wineries and 18 vineyards, Merlier said. He expects more vineyards to be developed.

The Van Duzer corridor's oceanic influence creates warm days and cold nights. This creates a wine that is more balanced, Merlier said. The winds begin around 2 p.m. They dry out the vineyards, decreasing the risk of Botrytis.

"We understood early on this area was special," he said.

There are now seven sub AVAs in the Willamette Valley. With the creation of the new AVA, TTB clarified the boundaries of the existing neighboring Eola-Amity Hills viticultural area.

Ian Burrows, owner/winemaker at Aerea Vintners LLC in the Willamette Valley, has purchased grapes from Jeff Havelin, the grower who spearheaded efforts to create the new sub AVA. He wholeheartedly support the creation of the new sub AVA.

"It's excellent quality," he said of the Van Duzer Corridor fruit. "It deserves recognition for being an exceptional and unique area within the Willamette Valley," Burrows said.

Burrows wrote the TTB in support of the new rule. "We were excited to hear that a proposal to delineate differences between the grapes grown in that area of the Willamette Valley apart from those within nearby Eola-Amity Hills, was under way," Burrows told the TTB.
"The ability to label a wine with even greater specificity assists with our efforts of consumer education and potentially increases the value of the bottled product," he said in written comments posted to the TTB.

Generally speaking, Burrows also supports uniting the Willamette Valley with stronger policies than those in place, including stricter farming practices.

Kevin O'Brien, senior vice president at Zepponi and Co., said there "has been some activity in the Van Duzer market, but not at the same pace as other areas in the Oregon market."

"I would speculate that pricing will increase for planted and plantable land in the area in that the AVA should allow for more premium end product pricing due to the recognition of its unique terroir," O'Brien also said. "As the prestige of the area increases it is fair to expect more development to meet increased consumer demand. We continue to remain bullish on the Oregon wine market and foresee continued investment in the state."