Growers, Suppliers Offer Vineyard Mechanization Tips During Lodi Meeting
Focus on High Wire Trellis Systems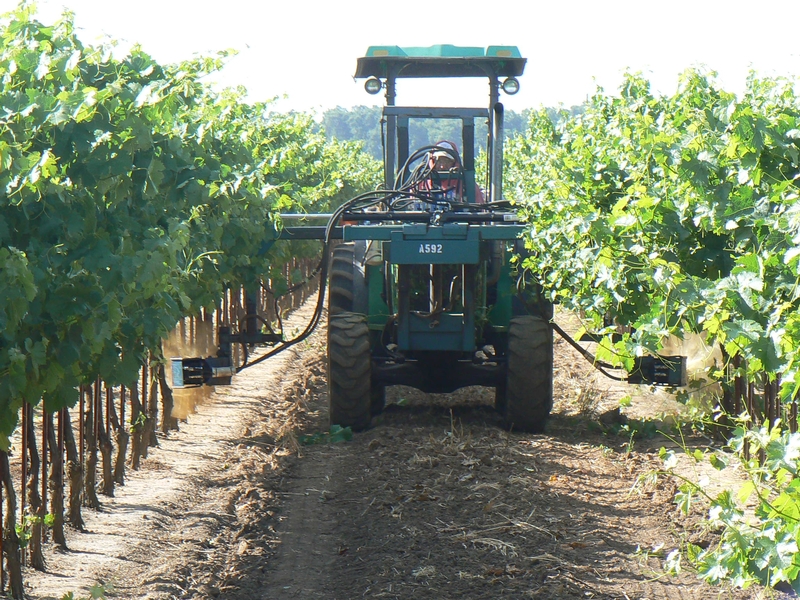 Mechanical suckering at a Trinchero Family Estates Vineyard in the Lodi AVA. Photo:Ted Rieger


Uniformity in vineyard development and proper trellis installation are key factors for successfully establishing mechanized vineyards according to experienced growers who have transitioned to mechanization. The Lodi Winegrape Commission (LWC) held a "Vineyard Mechanization Showcase" meeting December 11 that offered advice from vineyard managers, along with updates on new products and technologies from equipment manufacturers and suppliers. The half-day meeting drew 150 attendees and was organized by LWC grower communications and sustainable winegrowing director Dr. Stephanie Bolton, and LWC research and education committee member Keith Striegler, grower outreach specialist with E & J Gallo Winery.

Optimizing High Wire Trellis Systems

Based on trellis system research trials and comparisons showing increased yields and improved grape and wine quality, many Lodi growers have developed new and replanted vineyards in recent years with high wire trellis systems designed for mechanized box pruning, also called "high cordon machine pruned" (HCMP) trellis systems. These high wire systems commonly involve establishing a vine cordon on a single trellis wire at a height ranging from 66 inches to 72 inches above ground level and maintaining a hedge, or pruned box, from 8- to 12-inches wide along the established cordon of each vine down the row. Striegler moderated a panel of vineyard managers providing tips for high wire trellis system optimization based on their experiences with these systems.

Kelly Brakel, vineyard manager with LangeTwins Family Winery and Vineyards, has installed and managed high wire trellis systems in Lodi area vineyards since 2012. LangeTwins now farms 600 acres with high wire and will develop more acreage. Brakel said, "We're still learning and experimenting to improve our practices and results." Brakel said high wire has worked successfully for varieties such as Cabernet Sauvignon, Chardonnay, Gewürztraminer, Petit Verdot, Pinot Noir and Sauvignon Blanc; but he feels it may not be as well-suited for Zinfandel and Petite Sirah.

Due to increased stress and impacts from machine operations, and to accommodate higher crop loads, Brakel emphasized the importance of building higher strength and durability into the trellis system with strong materials, and securely fastening wires and irrigation drip lines to prevent movement and sagging. LangeTwins now uses a more secure "H-brace" system to anchor vineyard row end posts, and places more in-row steel line posts for anchoring wires to install longer rows that make better use of plantable space. These higher strength trellis installations require higher upfront costs for development, and hand labor is needed in the early years for vine training.

The company's standard is to set the cordon wire at 66 inches and the dripline hose at 24 inches above the ground. They order and plant "uber" vines from the nursery to train vines onto the cordon wire faster and to improve efficiency for mechanical suckering around vine trunks. "Vineyard floor uniformity, as well as vine, hose and trellis uniformity are key to high-wire systems," Brakel said. He advised, "Be prepared for larger tonnages, as these systems result in many clusters." With higher crop comes the need for higher inputs and Brakel suggests being responsive to vine nutritional and water needs. He's seen crop loads set as high as 20 tons/acre that had to be reduced to 14 tons/acre. He also suggested, "Negotiate your grape contracts to accommodate the full crop load of the vineyard."

Matt Frank, viticulturist with Trinchero Family Estates (TFE), said his company installed its first HCMP vineyard in 2009 and now has 2,000 acres in production with varieties that include Chardonnay, Cabernet Sauvignon, Rubired, Primitivo and Syrah. "We plan to double our acreage for mechanized pruning over the next five years," Frank said. All vineyards are on a standard spacing of 6-feet x 10-feet with cordons on a single wire at heights ranging from 66 inches to 72 inches, with the lower height cordons used for lower vigor varieties. Frank said, "We pre-prune early with a Collard Cane Trimmer to remove all brush, then follow-up with a box pruner to keep a tight box hedge around the cordon."

Frank noted that HCMP systems have been used in Australia for 30 years. Some viticulturists have expressed concerns about these systems due to the higher number of pruning cuts and wounds exposed to fungal infections, so Frank recommends applying a fungicide or sealant to the pruning wounds to improve vineyard longevity. TFE's comparisons of HCMP vineyards with hand-pruned vineyards over several years show comparable yields and Brix levels, but with significantly lower costs per acre for mechanically pruned vines. Frank said, "The winemakers like the fruit coming off of these vineyards."

TFE has been expanding mechanical and chemical suckering of vines in spring and early summer in recent years with 2,015 acres suckered in 2018, and a 2019 target of 3,000 acres. Sucker removal commonly requires three passes. The first mechanical pass is with an Oxbo rotating brush tool that removes suckers at the base of vine trunks at a rate of 2 acres/hour. The second and third passes are chemical suckering with herbicides such as Venue and Shark using shroud-covered spray units for drift control. Frank recommends suckering early when suckers are smaller and less rigid.

Randy Kazarian, owner of Kazarian Vineyard Development based in Clovis, develops and manages vineyards in the South San Joaquin Valley where large tonnage production is needed to compensate for lower crop prices paid per ton. Addressing the economic aspects of installing high wire trellises and mechanized management, Kazarian says he works with grape buyers to set up 20-year contracts, and he considers many factors (contract terms, grape varieties, yields, long-term prices and costs, etc.) in order to make a vineyard development work and be sustainable. Varieties he's successfully planted with high wire include Chardonnay, Cabernet Sauvignon, Grenache and Rubired. He cautioned: "With these systems, it's not going to look like it did before. Your winery buyers and the winemakers you work with have to understand the benefits of the new system and be behind this."

Pete Opatz, viticulturist with Silverado Premium Partners has developed vineyards in the North Coast, Central Coast and Central Valley. His first experience with high wire mechanization was the conversion of an existing Chardonnay vineyard in Monterey County that helped guide the company's current practices. He explained, "Yields went up from 6 to 7.5 tons/acre and we ended up preferring the grape and wine quality better as a result of better sun exposure, and we had a better balanced vine."

He advised, "Keeping the pruning box as tight as humanly possible is very important, and keep shoots off the bottom of the cordon." His goal is to maintain a high box with all spurs pointing up. He noted that windy conditions in some locations will limit the height of the trellis and cordon. He emphasized the importance of vineyard floor maintenance to provide solid and even ground for machine passes and best results, and being aggressive with fertility and water to maintain good canopy and light interception for higher yields and crop maturation.
In closing comments, Striegler summarized common themes from the day's discussions and his own experiences:
The vineyard must be set up properly for mechanization to be successful, and designed as a system, with rows and trellises as straight and as uniform as possible.
It's better to design for long rows than for short rows for more efficient use of space and fewer equipment turns.
Don't skimp on trellis materials and supplies, you don't want the installation to break down from the impacts of mechanical equipment.
Use good and clean plant material, because these systems are not designed for easy vine replacement and rogueing.

Looking to the future, Striegler observed: "With mechanization, we're not trying to replace labor, we're trying to get the job done, because adequate manual labor won't be there in the future. There is a lot of work being done on research and development with robotics, but that still has a long way to go."

The LWC Mechanization Showcase was an overview, classroom-style meeting and small trade show featuring a dozen vendors for growers to learn about new opportunities and technologies to expand and improve vineyard mechanization operations. The LWC will follow-up in 2019 with a series of vineyard demo days to focus on specific operations and include: mechanical pruning, mechanical and chemical suckering, and mechanical leaf removal.