North Coast spot market prices trending downward - case sales remain sluggish
December 07, 2018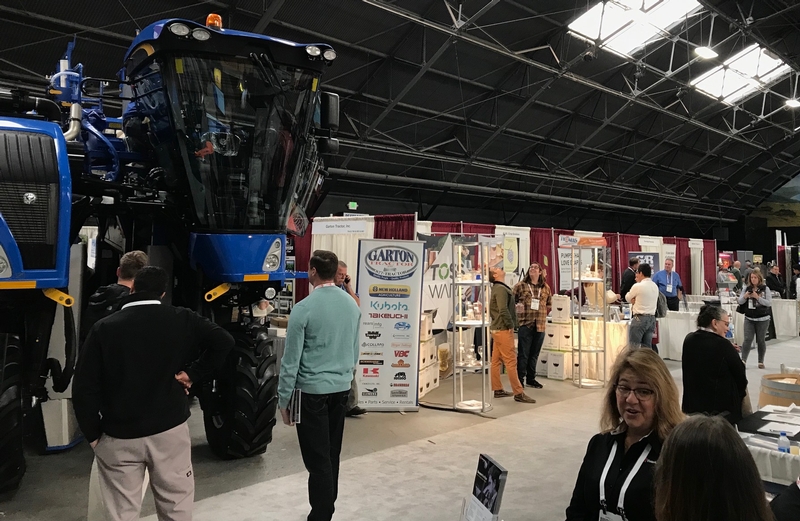 The 7th annual North Coast Wine Industry Exo was held at the Sonoma County Event Center at the Fairgrounds in Santa Rosa. Photo by Kerana Todorov/Wine Business Monthly

North Coast grape prices on the spot market are trending downward after a big 2018 harvest as wine case sales remain sluggish, wine industry experts said Thursday.

"Sorry if it sounds like doom and gloom but it is what it is. Case sales continue to have an impact on the supply side," said Bryan Foster, Turrentine's national sales manager of strategic brands. Foster was among the speakers at the 7th Annual North Coast Wine Industry Expo & Conference in Santa Rosa, a trade show that drew about 3,000 visitors.

Forty-eight percent of California's 25 top producers have experienced volume shipments decreases between January and August, Foster said. Those who reported increases in shipments are nimble and doing some innovations. For example, Vintage Wine Estates, which purchased Layer Cake and other brands over the past year, had wine shipments that increased by 32 percent.

Wineries that shipped less wine included Wente, Bronco Wines Co. and C. Mondavi and family.

Nielsen's data over 52 weeks through July indicate wine sales increased by 1.7 percent in dollar sale but shrank by 0.1 percent in volume.

Consumers are changing as boomers age. Millenials are very conscientious about what they consume, Foster said. The next generation that's coming of age does not drink as much. "That's the other scary thing looming," Foster said.

Shopping is also evolving. Consumers are not shopping in traditional grocery stores; they are looking at other channels such as Costco, Foster said. "The retail channel blurring is a big deal," he said.

Brian Clements, vice president/partner at Turrentine, showed a series of slides with spot grape prices trending downward in the North Coast with slower wine sales, a big crop and a large inventory of North Coast bulk wine. "We're in a transitional phase," Clements said.
For instance, he anticipates downward pressure on pricing for Sonoma County Pinot noir grape prices.

Negociants and private label producers forced out of the market in the last five years when grape prices skyrocketed are coming back in the market as prices fall, Clements said. "There is always opportunity," Clements said.
"That's how we get out of these things. Of course, we don't need a big crop this year. We need good sales through the holidays."

"It's a normal cycle," Clements said. "We've all been here before and we're going to walk our way through this," he said. "Put your seatbelts on and have fun with the ride."

In a separate panel, Dale Stratton, vice president of strategic insights at Constellation Brands Inc., said today's consumer in a "total beverage alcohol consumer," referring to wine, beer and spirits. The trend will continue. "As you go younger it is more prevalent that that occurs."

Premiumization is across the total beverage alcohol landscape and is expected to continue, he said.

Today's consumer needs an experience," Stratton said. "It has to be personalized in today's world," he said. "And technology can enable a lot of that."

Retailers personalize offers by leveraging shopper cart data and using other tools. "They're trying to capture every experience they can."

Retailers are putting restaurants and wine bars into their spaces, he said. He has even seen a micro-brewery in a grocery store.

"The complection of America is changing," he also said. "That's going to impact what they drink, how they drink, when they drink why they drink." The division of wealth determine what you buy. It also speaks to where you buy it – and how you buy it."
Big retailers are going to continue to look for other places to buy, Stratton said. But there will also be new retailers. There will be a resurgence of local wine shops, he said. They are going to be able to "hit the personalization, hit the experience, and really learn how to win in that space."

Social clubs offering high-end food, where people can bowl or throw darts, is another trend. "It's very much about an experiential outing and being there as a gathering place," Stratton said.

On-premise establishments also focus on social responsibility and wellness and driving that through their menus. The number of taprooms is growing.

Stephanie Peachey, vice president, Direct to Consumer and Brand Strategy at Kosta Browne, addressed customer engagement, storytelling and customer experience.

"I think with all these industry changes, we actually have the opportunity to grow by paying attention to consumer trends," Peachey said.

Among other points, she stressed the importance of listening to the consumer. Kosta Browne this summer opened a tasting room in Sebastopol. "People want to engage," Peachey said. "It was what our customers wanted. They want to have a connection with our brand."