Foundation Plant Services Finds 21 Red Blotch-Positive Vines at Russell Ranch
Annual FPS Grape Meeting Provides Industry Update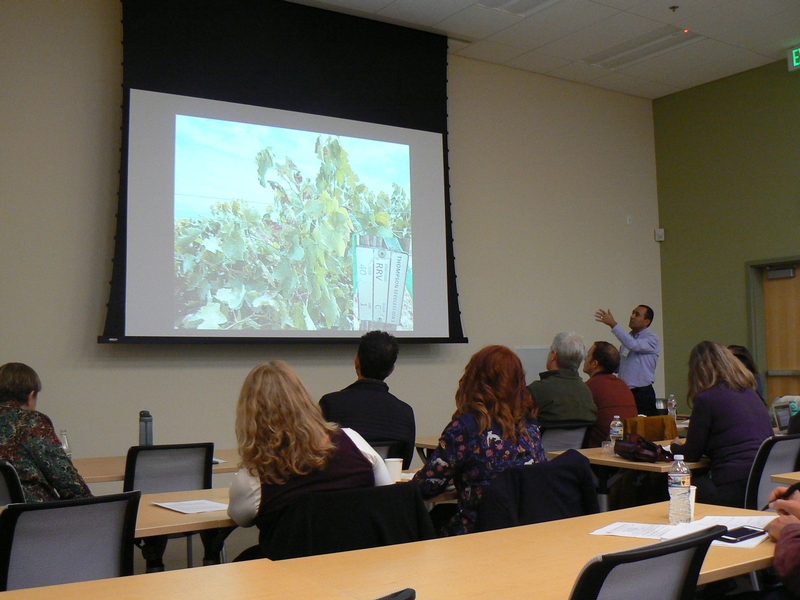 FPS diagnostic and research lab director Maher Al Rwahnih shows a Thompson Seedless vine that tested positive for red blotch virus in 2018, during his presentation at the annual FPS Grape Meeting in Davis
(Photo: Ted Rieger)

During annual virus testing at its Russell Ranch Foundation Vineyard for 2018, UC Davis (UCD) Foundation Plant Services (FPS) found 21 vines that tested positive for grapevine red blotch virus (GRBV), the causal pathogen of grapevine red blotch disease. The test findings were presented by FPS diagnostic and research laboratory director Dr. Maher Al Rwahnih at the annual FPS Grape Advisory Committee meeting December 4 at the FPS facility in Davis.

FPS instituted a new management policy to perform annual composite testing for GRBV and for grapevine leafroll associated virus-3 (GLRaV-3) for every vine at the Russell Ranch Foundation Vineyard after five grapevines tested positive for GRBV in 2017. No vines tested positive for GLRaV-3 in 2018 out of the 4,406 total vines at Russell Ranch. FPS also tested all 4,075 vines at its older Classic Foundation Vineyard with no vines testing positive for either GRBV or for GLRaV-3 in 2018.

FPS Foundation vineyard blocks serve as the source repository for certified, virus-free and true-to-variety clean grapevine plant material distributed to nurseries under the California Department of Agriculture's (CDFA) Grapevine Registration and Certification (R&C) Program. The Russell Ranch Vineyard was developed beginning in 2011 to meet the National Clean Plant Network's "Protocol 2010" standards for clean plant material that exceeds the California R&C Program's requirements, and requires testing for 38 different grapevine viruses and diseases. The Classic Foundation block has source material dating to when it was first planted in 1992. It does not meet the same level of standards established under Protocol 2010 for material planted at Russell Ranch. FPS inspection and testing practices for GRBV and GLRaV-3 in Foundation blocks exceed the CDFA R&C Program requirements.

All 21 of the GRBV-positive vines have been removed from the Foundation vineyard. In addition, FPS sent letters to industry customers who purchased material sourced from the affected vines based on sales and distribution records from 2013 to 2018. FPS has offered supplemental vine material and testing services to validate the status of propagated vines now in the possession of nursery customers. Nurseries under the CDFA R&C Program with plant material testing positive for GRBV will be required to remove and destroy all infected material. Joshua Kress, CDFA Nursery Program supervisor also announced to attendees at the December 4th meeting, "Anybody who received a letter from FPS, you will be receiving a call from us, and we will be visiting these nurseries for inspecting, sampling and testing of vine material."

The Russell Ranch Foundation field vines testing positive for GRBV in 2018 that have records of past sales to nursery customers were the following varieties/clonal selections: Chardonnay 28.1 and 96.1, Cabernet Sauvignon 49.1, Clairette blanche 4.1, two vines of Pinot Noir 123.1, Primitivo 6.1, Riesling 49.1, Sweet Scarlet 1.1 (table grape), two vines of Thompson Seedless 02A.1, Valley Pearl 1.1 (table grape), and Zinfandel 17.1 and 18.1. Other vines testing positive for GRBV in 2018, but with no record of past sales to nursery customers, were the following varieties/clonal selections: Pinot Noir 82.1, Sangiovese 15.1, Shiraz 6.1, Syrah 6.1, Teroldego 6.2, and two vines of Thompson Seedless 02A.1.

Vector Control

FPS has performed virus testing at Russell Ranch since 2013. GRBV was first found at Russell Ranch after a visual inspection in September 2017 showed red leaf symptoms on one Syrah vine. In 2017, there were also signs of the presence of the known GRBV vector, the three-cornered alfalfa hopper (3CAH) (Spissistilus festinus). FPS implemented more frequent visual inspections during the 2018 growing season, that include inspections for the vector biweekly from April through June, and weekly from July through October. In addition, FPS is applying contact insecticides for vector control, and spraying vine canopies with Surround, a kaolinite clay material that acts as a barrier and feeding deterrent. In 2018, no signs of the vector were observed until October 9, when leaf petiole girdling was found, an indicator of 3CAH feeding activity. To date, the 3CAH is the only confirmed red blotch vector, but researchers continue to evaluate other possible "candidate" vectors.

It is believed that the 21 GRBV-positive vines found in 2018 are new infections, however, Al Rwahnih said it is possible these vines, or some of them, were infected in a previous year, but did not test positive until this year, because virus distribution is uneven and variable within a vine, and virus levels vary during the season. As part of its vine sampling and testing procedures, FPS is evaluating both the seasonal variation of virus titer levels within a vine, and the variability of virus distribution within a single vine by testing different vine parts (leaves, canes, petioles) to obtain best results. Testing of vine samples collected from June through October indicate that more accurate test results are obtained from later season samples, with the greatest variation occurring in June and the least variation in October.

Following the first five red blotch finds at Russell Ranch in 2017 and suspected vector transmission, FPS staff surveyed properties in a two-mile radius surrounding Russell Ranch to locate possible sources of GRBV in nearby grapevine material. Grapevine material at four properties was collected for testing that showed one or more GRBV-positive vines from three sites. The property owners were contacted and cooperated with removal of the infected vines.

FPS has also been regularly testing its older Classic Foundation Vineyard (with field material dating to 1992) for GRBV since 2013. In 2017, one vine of Pinot Noir 47, tested positive out of 4,088 total vines. This was the first red blotch positive vine found in the Classic Vineyard since 2014. It was previously reported that nine vines tested positive for GRBV in 2013, and 6 vines tested positive in 2014 in the Classic Vineyard.

Al Rwahnih summarized, "As part of our commitment at FPS we will continue to maintain the highest testing standards for our Foundation vineyard materials, and we will make every effort to keep you informed as soon as possible as new information becomes available."

In addition to improving vine testing, FPS is considering other measures to improve vineyard practices and protection if the vector and infection risk become an ongoing problem at Russell Ranch, including the possible use of screen houses to protect vines from vectors.