Climate Change Shifts Global Wine Map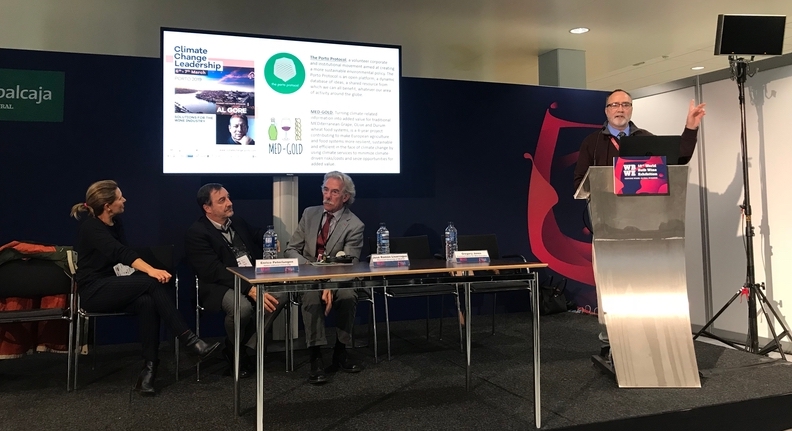 Greg Jones, right, directs the Center for Wine Education at Linfield College in Oregon. Enrico Peterlungen (middle)

is with the department of agricultural and environmental sciences at University of Udine in Italy. Jose Ramon Lisarrague (seated right) is a professor of viticulture with the Technical University of Madrid. Natalia Posadas-Dickson (left) is with the
World Bulk Wine Exhibition
.

The planet is warmer than at any time in recorded history and continued warming is very likely.

Climate variability has been more pronounced in the last 15 to 25 years than in the past 100 years with wider swings, more record extremes, and increased severity. Modeling is projecting increases of variability will occur on top of changes in average climate temperatures.
Many wine producing areas are seeing changes in soil moisture, with drought frequency and salinity issues in drier areas growing grapes. Heat stress affects quality and vine fruitfulness. Earlier budding increases frost risk. Higher humidity from a warmer environment increases disease pressure, increasing thunderstorm and hail frequency in warmer climates.

Three climate change and wine specialists discussed opportunities for understanding impacts, reducing vulnerability, and adapting to a changing environment during last week's World Bulk Wine Exhibition, a two day show that drew 250 exhibitors and 6,500 professionals to Amsterdam - the biggest fair in the world devoted to the global bulk wine business.

Warming Affecting Ripeness
Climate change is affecting vineyards around the world, with each degree Celsius of warming causing ripening to occur five to ten days earlier, Greg Jones, director of the Evenstad Center for Wine Education at Linfield College in Oregon said.

Climate modeling of the world's wine regions at the middle of the century is indicating a two-to-four, degree Celsius warming will occur on top of warming that's already been recorded in the last 50 to 100 years, Jones, a climatologist whose family operates Abacela, a winery in Oregon's Umpqua Valley, said.

"We really need to understand the nature of these changes and what they mean physiologically to a growing grape vine."
"We know that if you look at the basic ripeness clocks in the wine grape process - sugar acid and phenolics, along with flavors - are typically out of balance today, or more challenging to find in a perfect kind of Goldilocks scenario."
Horticultural crops need to cool for dormancy to be effective for growth the next year. Jones said changes are occurring in this regard with heat stress affecting quality and vine fruitfulness.

Many wine regions have already experienced conditions that models had indicated would be average conditions in 2050 Jones added. "My question is, is it that our models are not projecting well enough, or are we already there?"

Jones doesn't neccesarily forsee a big difference in the volume of wine produced as warming occurs, but does expect modifications in quality, with agriculture moving towards new regions. "We still don't know now what will really happen," he said. "We can forecast that extreme events will happen: modifications of a high temperatures and low temperatures."

Powdery Mildew Increasing

Enrico Peterlungen with University of Udine said the harvest in northeast Italy occurs ten days earlier than it did twenty years ago, with increasing temperatures and increasing degree days but the same levels of rainfall hitting the region over the course of fewer days. The area is particularly affected by climate change because of it's proximity to the Adriatic Sea. "The events of high rainfall are increasing: That is really a problem,"Peterlungen said.

A warmer atmosphere brings higher humidity. Modeling indicates powdery mildew is likely to increase with warmer temperatures. Having resistant or tolerant varieties is therefore going to be more important moving into the future.

A University of Udine breeding program used new tools to produce powdery mildew tolerant cultivars with selections from Hungary, Germany, and France. The program produced ten new varieties, five whites, five reds with a character that isn't distinguishable from "normal" wines, Peterlungen said. "They are very distinct but are resistant or highly tolerant."
Managing Change
Professor Peterlungen and Professor Jose Ramon Lisarrague from the Technical University of Madrid discussed apects of vineyard management that growers need to consider moving forward.
Managing a changing climate will potentially involve changes in soil management, traditional trellising systems, optimizing canopy geometry, row orientation, pruning, and in many locations, increasing the use of shading materials. The supply and timing of availability of irrigation is already changing in many places. As water resources decline, growers will need to better understand grapevine water use efficiency and irrigation management.
New Initiatives
The March 2019 Climate Change Leadership conference in Porto will focus on solutions for the wine industry with two days of presentations and talks. Al Gore is the keynote speaker.
The Porto Protocol will be signed during the Climate Change Leadership conference.
MED-GOLD provides information to Mediterranean grape, olive, and wheat producers for better understanding year-to-year frameworks behind climate variability and change.