Free Flow Wines Honors 22 Keggy Award Winners
Keggy Awards recognize companies that use wine on tap and save bottles from landfill
Free Flow Wines hosted its first annual Keggy Awards a few years ago to recognize companies that use wine on tap – and thus saving bottles from entering landfills. It was a modest affair. Twenty people attended the event at the company's offices, 19 of who were employees, recalled Jordan Kivelstadt, co-founder and chief executive officer at Free Flow Wines.
Free Flow Wines has since grown into a packaging and logistics company that now fills more than 19,000 kegs a month with wine from more than 145 wineries. Each keg contains enough wine to fill 26 bottles.
On Oct. 11, the company hosted its fifth—and largest—annual Keggy Award at Pine Ridge Vineyards in Napa, handing out small-size stainless steel kegs to representatives of wineries, distributors and other companies that use Free Flow Wines services. Among the 22 winners were Southern Glazer's Wine and Spirits, King Estate Winery and Marriott International.
Since Free Flow Wines inception, Kivelstadt said the company has saved more than 17.5 million bottles from entering landfills—That's about 25.8 million pounds of waste diverted.
He and co-founder Dan Donahoe started Free Flow Wines in 2009 because it was a better way to serve by-the-glass, Kivelstadt said. "We also thought we could make a real impact on the environment," he added. 'We're doing that every day. It just keeps getting bigger and bigger and bigger."
The company has grown by 50 percent over the past seven years, with accounts that includes hotels, casinos and restaurants, according to the company. It now has about 80 employees.
The company cans wine as well. The company is canning 30,000 cases of wine a month, according to Free Flow Wines. "We're just growing, growing, growing with that too," said Kivelstadt.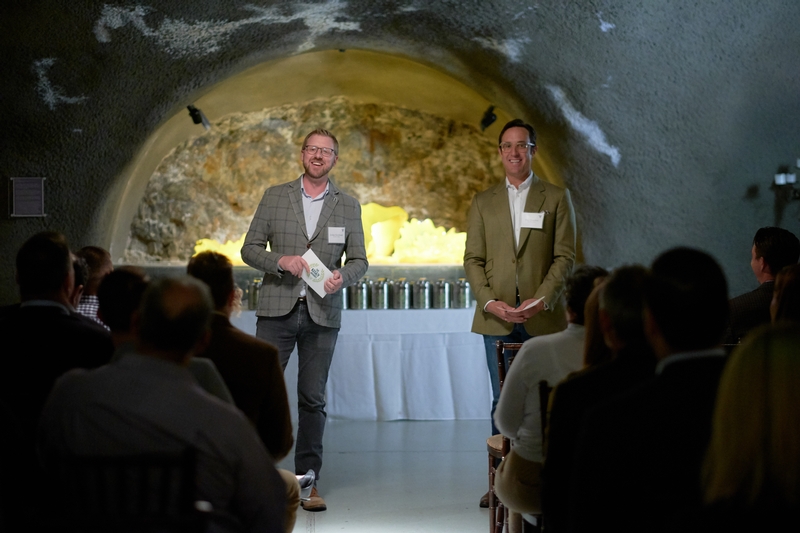 Jordan Kivelstadt (left) and Dan Donahoe (right) at the KEGGY Awards. Photo by Bob McClenahan
Donahoe, a winery and vineyard owner in Healdsburg, said he first encountered wine in a keg a decade ago when a restaurant owner in Atlanta, Ga. sent him dirty kegs at his Healdsburg winery requesting his Teira "Woods Vineyard" Dry Creek Valley Sauvignon Blanc. The order for three, 15.5-gallon kegs, was filled.
Todd Rushing, owner of Two Urban Licks in mid-town Atlanta, started serving wines on tap 17 years ago after seeing small stainless steel kegs at wineries. "He would literally send empty kegs to wineries – dirty kegs – and say 'fill them up.'" Donahoe said. "Then the Slanted Door in San Francisco asked me the same thing." Donahoe and Jordan then started the business in Donahoe's garage in San Francisco.
The company in January plans to relocate from Napa to Sonoma into 60,000 square feet of space. The new location at 14900 Carneros Lake Lane will be four times as big as its current headquarters in Napa. "We just keep growing and we need more space. We need faster equipment to fill more kegs so that we save more bottles," said Richard Bouwer, Free Flow Wines' chief operating officer. The new operation will feature faster filling lines. It will be able to process up to 1.2 million kegs and 5 million cases of cans annually, according to the company.
About 20 honorees received a Keggy Award on Oct. 11 for saving up to 1 million bottles from the landfill, according to Free Flow Wines. Keggy awards were handed to the following companies according to how many bottles they saved from landfills.
Winery award recipients:
1 million bottles category: King Estate Winery.
500,000 bottles category: Martin Ray and Angeline Winey.
100,000 bottles category: 3 Badge Beverage Group; A to Z Wineworks; Arcana; J. Lohr Vineyards and Wines; Jackson Family Wines; Michael Pozzan Winery; St. Francis Winery and Vineyards; Tablas Creek Vineyard; Trinchero Family Estates.
Distributor award recipients:
1 million bottles category: Young's Market Co.
500,000 bottles category: Republic National Distributing Co. - Florida; Wine Warehouse - California.
100,000 bottles: Southern Glazer's Wine and Spirits - Pennsylvania; Heritage Wine Cellars Ltd.; Republic National Distributing Co. – Virginia; Ruby Wines Inc.; Vintage Wines, a division of The Winebow Group - Illinois.
Ambassador award recipients:
Wendy Heilmann, director of wine and spirits, Pebble Beach Resorts; Daniel Hoffman, director, food and beverage programs, Marriott International.
People's Choice award recipient:
Prost! Wine Bar and Charcuterie, Frankenmuth, Mich.