UCD Oakville Field Day Highlights: Trellis Trials, Red Blotch Vector Update, Mechanization Tools
presentations by UC Cooperative Extension specialists, equipment demos from vineyard industry suppliers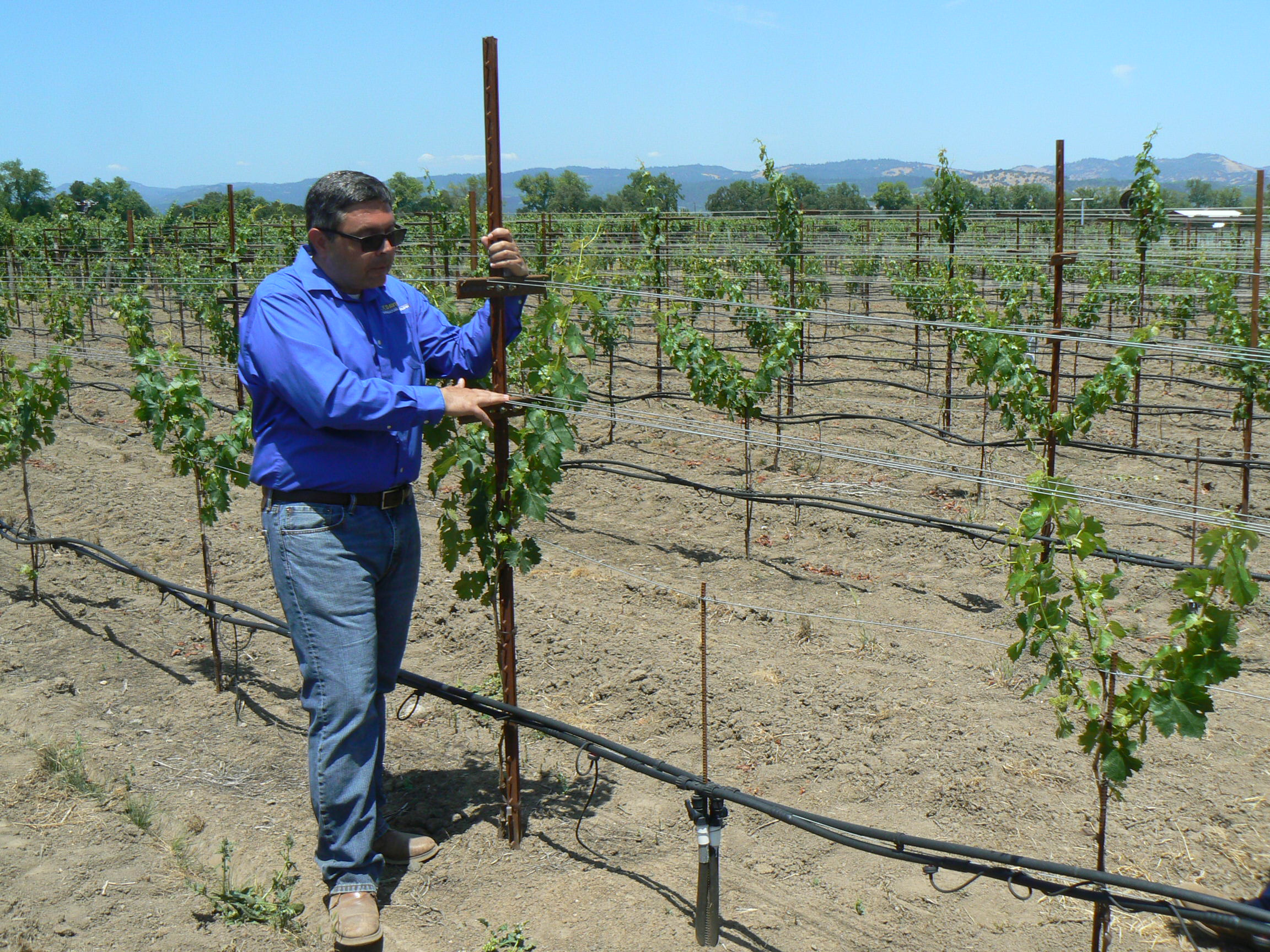 UCD viticulture extension specialist Dr. Kaan Kurtural explains a vineyard trial with six trellis types at
the Oakville Station Grape Day. Photo: Ted Rieger
The University of California, Davis (UCD) hosted its annual Grape Day at the Oakville Station experimental vineyard in Napa Valley June 6 with talks and presentations by UC Cooperative Extension specialists, and presentations and equipment demos from vineyard industry suppliers.

UCD viticulture extension specialist Dr. Kaan Kurtural showed a trial planted in 2016 with six different trellis systems designed for mechanical harvest in a 1-acre block at the experimental vineyard using Cabernet Sauvignon 08 on 3309 rootstock. The six trellis types include: a traditional vertical-shoot- positioned (VSP) trellis as a control; a single high-wire system designed for mechanized management; a high-quad system; a cane-pruned system with 12-inch cross arms for a sprawl-type canopy; and two versions of a relaxed VSP, one with a T-top post for a wider canopy.

Each trellis type is replicated seven times and will be evaluated using variable applied water amounts. Nitrogen (N) use efficiency will be evaluated with fertilizer applications containing the stable isotope Nitrogen-15, used for research purposes as its movement through the vine can be traced.

Kurtural said, "We plan to conduct the trial for up to seven years and collect information that will include traditional harvest data such as yield, sugar accumulation, and titratable acidity; in addition to data on secondary metabolites such as anthocyanins, flavonols and tannins." Vine rows are each planted with 20 vines, allowing each row and trial replicate to produce enough fruit to fill a standard "TJ" fermentor tank at the UCD Experimental Winery. Wines made for each trellis type and input treatment will be evaluated for wine chemistry and quality parameters.
Attendees at the UCD Oakville Station Grape Day learn about new vineyard mechanization tools from Pellenc.
Photo: Ted Rieger

Red Blotch Vector Research Update

In 2016, Spissistilus festinus, the three-cornered alfalfa hopper (3CAH) was confirmed as a vector of grapevine red blotch virus (GRBV) by UC researchers. Cindy Preto, a Ph.D candidate in the UCD Department of Entomology is with the research team working to understand the biology of the 3CAH and the role of grapevines, cover crops, and weeds in and around vineyards in sustaining 3CAH populations. Preto, who trapped and monitored 3CAH populations at Oakville Station, provided an update on red blotch vector research.

Researchers continue to evaluate other insects as possible vectors, in particular treehoppers of the genus Tortistilus. Preto said none of the species being evaluated has yet been confirmed by researchers to be a GRBV vector.

Researchers are also testing plants and weeds as reproductive and feeding hosts for 3CAH. Preto said, "We've been testing Vitis vinifera as a reproductive host, and yes, the 3CAH can reproduce on grapevines." She showed photos of slits on plant tissue in which 3CAH eggs are oviposited. In the test study, eggs were most commonly found on green apical shoots of vines including bracts and buds, petioles and other green shoot tissue. Normally, the 3CAH can grow from an egg to an adult in 35 days. "In this test, the nymphs did not progress to the adult stage," Preto said. "More research is needed. The 3CAH can lay eggs on grapevines, but it appears grapes are not a preferred host," she added.

The research group surveyed common weed species in California vineyards in Napa, Sonoma, Amador and Yolo Counties as potential reproductive and feeding hosts for the 3CAH. In addition, several common cover crop plant species were grown and tested in greenhouse studies. In one study, the following weeds were identified as 3CAH feeding and reproductive hosts: Spanish clover, birdsfoot trefoil, field bindweed, dandelion, and common groundsel. Vineyard weeds found to be non-hosts of 3CAH are Bermuda grass and sharppoint fluvellin.

Vineyard cover crop plants in the legume family found to be 3CAH feeding and reproductive hosts include: crimson clover, purple vetch, bell beans, magnus peas, blando brome, subterranean clover, woollypod vetch, and black medick. Non-host 3CAH cover crop plants are mustard and California red oats.

Preto said the 3CAH can be trapped in yellow sticky traps that growers place in vineyards to monitor insect pests, but these trap numbers are not a good representation of the populations present. She advised sweep netting of ground vegetation between and near vine rows as a better way to detect and monitor populations. She has collected 3CAH in sweep nets as early as February at Oakville Station. Napa Valley vineyard studies showed a strong temporal trend for 3CAH activity, as densities tended to increase and peak from about mid-May through July, along with some activity in March.

Mechanization Tools and Demos

Santa Rosa-based Pellenc America sales reps John Felice and Lance Vande Hoef showed two models of Pellenc Optimum multi-function tractors/mechanical harvesters (690 and 890) and new vineyard tool attachments. A new two-row vine trimmer for canopy management attaches to the front of an Optimum tractor using four hydraulic lines and one electrical connector.

A new, over-the-row, multi-nozzle air-jet Eole sprayer has an 800 gallon capacity and variable application capacity ranging from 20 to 200 gallons per acre. Eole sprayers can cover from three to six rows in one pass depending on model and row spacing and are designed to reduce spray drift. The sprayer tank has onboard agitation to provide a uniform spray mix.

Felice said the company has seen increased interest in trellising tools for wire lifting during the growing season and has sold ten wire lifters over the past year. "When vineyard managers had enough labor, it wasn't worth the cost of a special wire lifting tool, but now with labor availability problems, they can justify the expense," Felice said. The machine is designed to lift two parallel wires at a time and comes with a clip reel dispenser to attach plastic clips around the wires after lifting.

Pellenc's Disco pre-pruners and Visio and Precision Pruners can help vineyard operations minimize pruning tasks and labor requirements. Vande Hoef said the company has sold many pre-pruner tools to vineyards in Washington and in Lake and Mendocino Counties. Vande Hoef said, "You don't need a high-wire, box-hedged canopy design to mechanize with our equipment. We have a full mechanization solution to use with VSP trellis designs."

Thomas Clemens, president of Clemens Vineyard Equipment, Inc. in Woodland, CA showed two of the company's more popular tractor-mounted tools. The Clemens Leaf Remover draws vine leaves in between a roller and a perforated drum by a suction fan to remove the leaves from the vine and then eject them from the machine onto the ground. The Clemens Radius under vine weeder cultivates weeds between vines and under the vine row while using a spring activated arm to retract the cultivation tool to avoid vine trunks and trellis posts.

Steve Roland with the V-Mech California branch in Fresno demonstrated the V-Mech shoot thinner on the company's two-row tool carrier.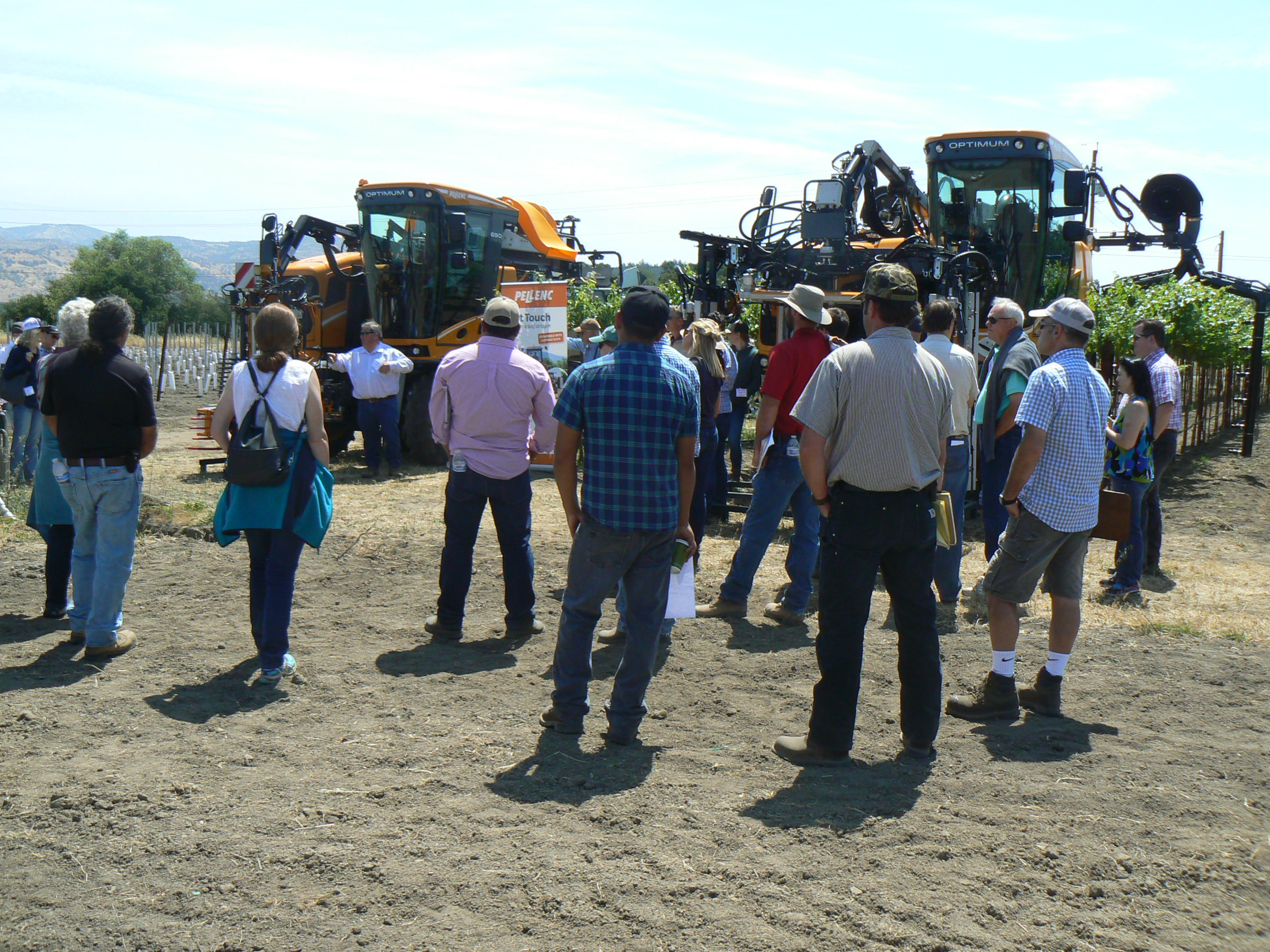 Pellenc sales rep John Felice explains new vineyard mechanization tools available to use with a Pellenc Optimum
tractor/mechanical harvester. Photo: Ted Rieger