Over 300 People Attend Roof Raising Celebration of Wallamette Wineworks in Folsom, California
February 20, 2018, Folsom, CA – Over 300 people joined for a Roof Raising Celebration of the Roundhouse building in historic Folsom, CA on Saturday, February 17, 2018. Guests posed for a photo commemorating the historic moment and toasted the vision for the Historic Folsom Station, future home to Willamette Wineworks.
"This culminates an 11-year effort by city leaders to create a vibrant living room for Folsom area residents, guests and tourists", said Jeremy Bernau, President of Bernau Development Corporation, owner of the mixed development.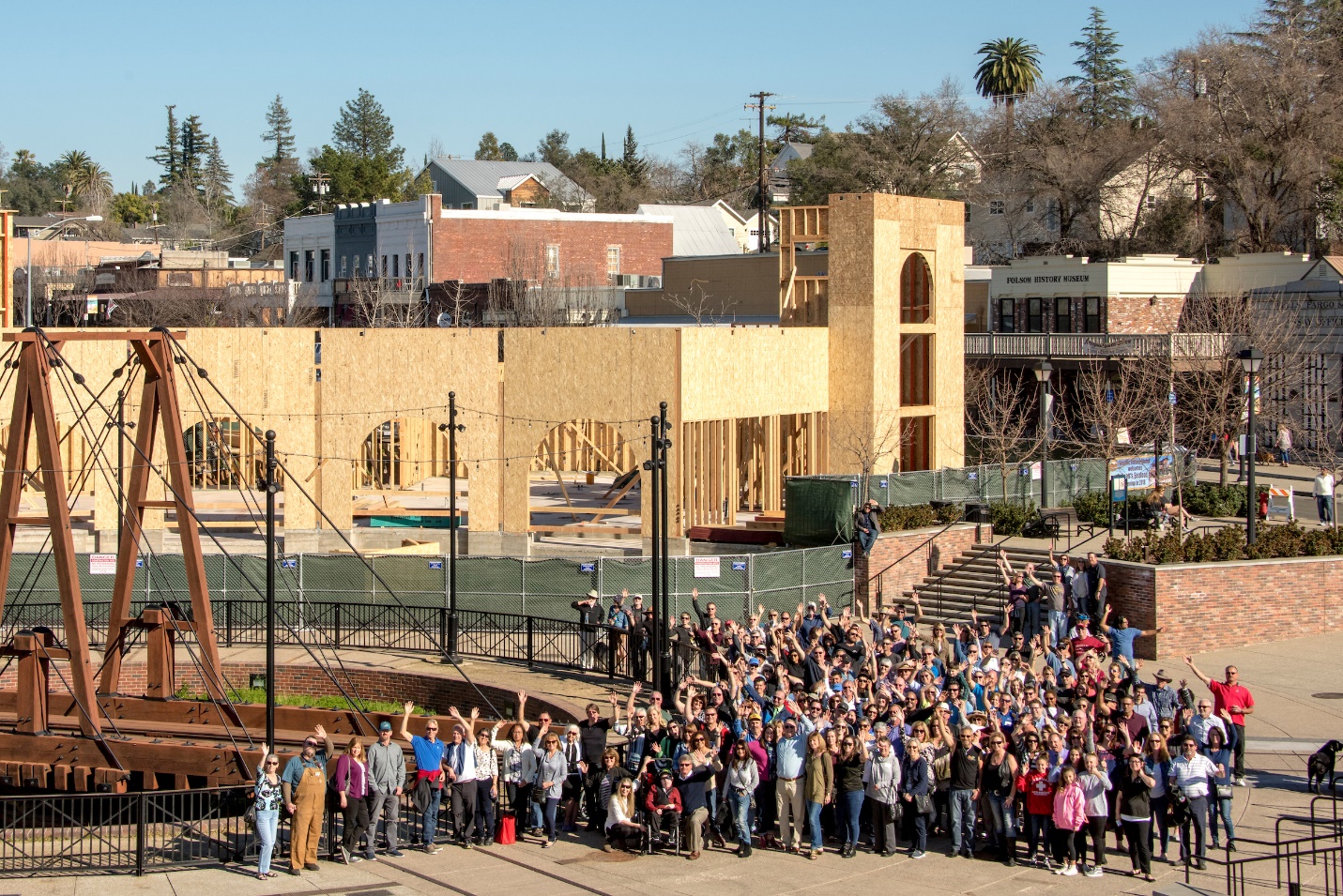 The Roundhouse, inspired by the original Sacramento Valley Railroad Roundhouse built on the site in 1869, will be occupied by Scott's Seafood on the first floor and Willamette Wineworks on the second floor. The Historic Folsom Station is home to a restored depot, railroad turntable, amphitheater, free public parking garage and four new mixed-use buildings including the Roundhouse.
Willamette Wineworks will feature food and wine pairings and a unique hands-on wine blending experience from barrel for guests, Wine Club Members and Owners to enjoy. Offering wines from their flagship Oregon winery, Willamette Valley Vineyards, the Wineworks will also debut their new brand, Natoma, focused on premium wines from California for the on-site blending and growler-fill station.
Willamette Valley Vineyards, America's leading community-funded winery with over 10,000 wine enthusiast Owners, is offering wine enthusiasts the opportunity to become Owners in the new experience, Willamette Wineworks, through Preferred Stock at an offering price of $4.65 per share earning a 4.7% annual dividend. The minimum subscription is $1,627.50 (350 shares) and is available through March 31, 2018. As an Owner, wine enthusiasts earn an annual dividend, Founder status, invitations to exclusive winery celebrations, savings on wine, and will be part of building a unique food and wine experience in their community. To learn more about the winery's investment opportunities, please visit www.wvv.com/ownership.
"Joining my brother in his Historic Folsom Station development and connecting our family's history to the area is a lifelong dream. We look forward to sharing our wine story through this new experience and being active members of the Folsom community," says Founder, Jim Bernau of Willamette Valley Vineyards.
A Grand Opening Celebration will be planned for fall 2018.
About the Bernau Family
Jeremy Bernau, a 20-year resident of Folsom, is the leader and builder of the mixed-use development of Historic Folsom Station. His brother, Jim Bernau is Founder of Willamette Valley Vineyards in Oregon. Their mother, Shirley, was raised in Folsom and resides nearby. Their grandparents resided in Folsom and were employed in Corrections at the prison in the '30s.
About Willamette Valley Vineyards
Established in 1983 by winegrower and Oregon native Jim Bernau, Willamette Valley Vineyards has gone from an idea to one of the region's leading wineries, earning the title "One of America's Great Pinot Noir Producers," from Wine Enthusiast Magazine. Jim's vision of organizing the support of wine enthusiasts to grow world-class wines through shared ownership has resulted in over 10,000 owners. The winery's Common (WVVI) and Preferred (WVVIP) are traded on the NASDAQ. The winery has collaboratively grown its estate vineyards through partnerships like the merger with Oregon wine industry pioneer, Bill Fuller of Tualatin Vineyards (established in 1973), the O'Brien's for Elton Vineyard (established in 1983) and Loeza Vineyard (planted in 2015). The winery sources all of its barrel-aged Pinot Noir from its estate-grown vineyards and sustainably farms nearly 500 acres in the Willamette Valley. www.wvv.com