"Women Who Paint Women" Celebrating the 21st Annual International Women's Day Presented at Madrigal's Sausalito Wine Tasting Salon & Gallery
Art Exhibit Continues California Artist Series with the Art of Five Talented and Diverse Bay Area Female Artists
February 14, 2018 Sausalito, CA - The highly popular International Women's Day celebrates women's achievements throughout history and across nations. Since its inception in 1997, the day has inspired hundreds of women across the world. Madrigal Family Winery Tasting Salon and Gallery is proud to host a dynamic exhibition that celebrates local women artists, each from a range of diverse backgrounds and styles, but all with a common theme of painting women using different media and themes. The Opening Artist Reception will be on Thursday, March 8th from 6:00 - 8:30PM with live musical entertainment by Cayleigh Goodson and Jordy Carrington. The exhibit will be on view from March 8th - April 14th, 2018.
We are proud to celebrate the work of these talented artists and all women who express themselves artistically. The artists in our exhibition are: Teri Vereb, Robyn Kralique, Simin Massoudi, Cynthia Tom, and Farnaz Zabetian.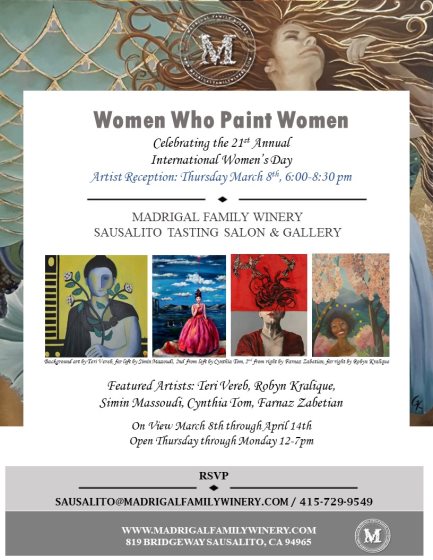 Teri Vereb
Artist Statement: I create paintings representing the human condition. Primarily I reflect the complex emotional nuances of women through the subtle expressions in their faces. Through each woman a unique story is told, but the common tale of vulnerability and insecurity binds them together as they strive to reveal a deeper strength.
I have been painting since I was 5 years old. I explored painting in all mediums, as well as print-making, costume design, and ceramics at the University of North Carolina-Chapel Hill where I received a Bachelor of Fine Arts in painting. After relocating to California, I was drawn to interior design, and found that the best education was experimentation and practical application of various creative mediums including glazing, plasters, concrete, molding paste, gold leaf, mosaic, and virtually anything that added texture or the appearance of texture to a surface. My passion for realism led me to hone my skills in Italy with masters of trompe l'oeil, ornamentation, faux marble, landscape, grotesque, and figure painting.
With the addition of the healing technique, Integrative Quantum Medicine, I am infusing my work in the decorative arts and fine arts with conscious and subconscious healing properties determined through IQM. The practice, which combines traditional and energetic Chinese medicine, qi gong, and quantum theory, allows me to connect with my clients on an energetic level and discern imagery that will enhance their portraits or murals with a strengthening quality.
My paintings primarily focus on people and illustrating their internal essence. I believe in the power of art to transform and heal through the most subtle influence of color to the most dynamic impact of emotional composition. The ultimate intention I have for my work is to impress a positive change on an individual which then begins to change the landscape of the collective human experience.
Simin Massoudi
Artist Statement: I first discovered the joy of painting in the 1970's. My imagination encouraged me to paint with fluid brush strokes and a palette of dynamic colors. The importance of imagination in the creation of art fascinates me. Imagination breaths visibility into that which was previously invisible. Reality is born from the union of imagination and creation. Tangible beauty is ordered from the disorder of chaos that surrounds me. My art seeks out in a few simple lines, the Visual language to express feelings within my heart. I love to paint people and to capture the essence of my subjects by means of those simple lines that express deep emotions. Emotions of love, longing, loneliness and sorrow are often in my work and also mirror the stages of my life. Each painting tells a story and is, as Picasso once said, "just another way of writing a diary".
Bio: A painter for over 40 years, Simin Massoudi's Iranian heritage evokes a seamless interweaving of East and West and consists of semi abstract figurative images and simplified forms using line drawings. Ms. Massoudi has exhibited her work in California, New York, London and Paris. Her paintings are also in many private collections in United States and Europe. Her work is also in the permanent collection at the Museum of Fine Arts in Amman, Jordan. The influence of the rich culture of Iran and the modern masters of the West can be seen in her work, which brings both worlds together in the balanced and dynamic harmony.
Farnaz Zabetian - Painter/Muralist
Farnaz Zabetian's strong fictional female characters are bold, unusual, and suggestive, pushing the boundaries forward.
Bio: Born in Tehran, Iran is a contemporary Iranian/American painter best known for her woman themed paintings which depict highly expressive female figures. Her latest production involves female figures combined with abstract figures and backgrounds.
Of this dual representation strategy Zabetian notes, "my effort is for my painting to be a manifestation of my attention to the events of daily life. My subjects are usually maltreated women, particularly from the part of the world that I come from.
Zabetian is much sought after drawing and painting instructor because of her steadfast commitment to the age-old discipline of working and creating compelling expression of the human condition. She has given painting/drawing seminars and lectures at various institutions and universities.
Zabetian's works can be seen in many private collections worldwide. She has also produced murals in many cities including San Francisco and New York.
www.facebook.com/farnazzabetianfigurativepainting/
Robyn Kralique
Raised by gypsies in the enchanted forests of Ohio, Robyn Kralique has always been fascinated by mythical and magical elements of art. Her work ranges from digital paintings to acrylic paintings, mixed media to murals. Robyn's art has been shown at the Society of Illustrators in New York, events at UC Berkeley, promotions for Food and Wine Magazine, and various collaborations with literary and musical artists. She has earned her BFA from the Academy of Art University in San Francisco. She invites you to follow her artistic journey on https://www.flickr.com/photos/robynkralique/
Cynthia Tom
Surreal images of women, the dresses they wear and the homes they live floating in landscapes that could only exist in our imaginations.
Cynthia's paintings demonstrate the depth, strength, playfulness and complexity of woman's spirit.
They say women are blessed with a 6th sense of knowing that comes from paying attention to the heart. This is where spirituality and creativity connect and magic can happen.
You can put yourself in different environments and dress up in different garments, your essential core remains the same.
Referred to as a Cultural Surrealism, Cynthia Tom uses visual art as a means to transform our souls. She is a visual mixed-media artist, painter and curator who plays with color, subject matter and whimsy to toss thought provoking questions in the air. A third generation Chinese American and native San Franciscan, she has been a professional artist for 20+ years, a curator for 10+ and working formally to heal and transform community through the arts for 6+ years. Her art is known as a source of inspiration for transformation, empowerment, spirituality and change, fostering dialog and building community in innovative ways.
Her work has been exhibited at the Legion of Honor in n Francisco, the De Young Museum, Rutgers's University, Los Gatos Museum of Art, Thoreau Center for Sustainability, SOMArts Cultural Center, Woman Made Gallery - Chicago, to name a few.
She lectures on her work, on issues related to women, feminism in the arts and Asian American women in the arts.
https://www.facebook.com/cynthiatomart/
Entrance to the Madrigal art and wine event is complimentary. RSVP to sausalito@madrigalfamilywinery.com
The Madrigal Sausalito Tasting Salon & Gallery is open from 12-7pm Thursday - Monday, and open 7 days a week from 12-7pm beginning March 1st. For information, contact Wine Salon Manager Patricia Gatti at (415) 729-9549 or pgatti@madrigalfamilywinery.com
Madrigal Family Winery Sausalito Tasting Salon & Gallery
819 Bridgeway
Sausalito, CA 94965
About Madrigal Family Winery
Located on Highway 29, halfway between Calistoga and St. Helena in the renowned Napa Valley, the Madrigal Family Winery continues the family tradition of viticultural leadership and wine production. Since the 1930s, the family has been building its reputation and earning recognition for their vineyard management program as well as their wines. Situated on 40 acres of estate vineyards, the state of the art Madrigal Winery specializes in Cabernet Sauvignon, Petite Sirah, Zinfandel, Sauvignon Blanc, and small lots of single vineyard and estate wines. Today, Madrigal Family Winery is run by Chris Madrigal, the family's 3rd generation.