Haykin Family Cider Opens February 1st
Husband-and-wife, award winning craft cider makers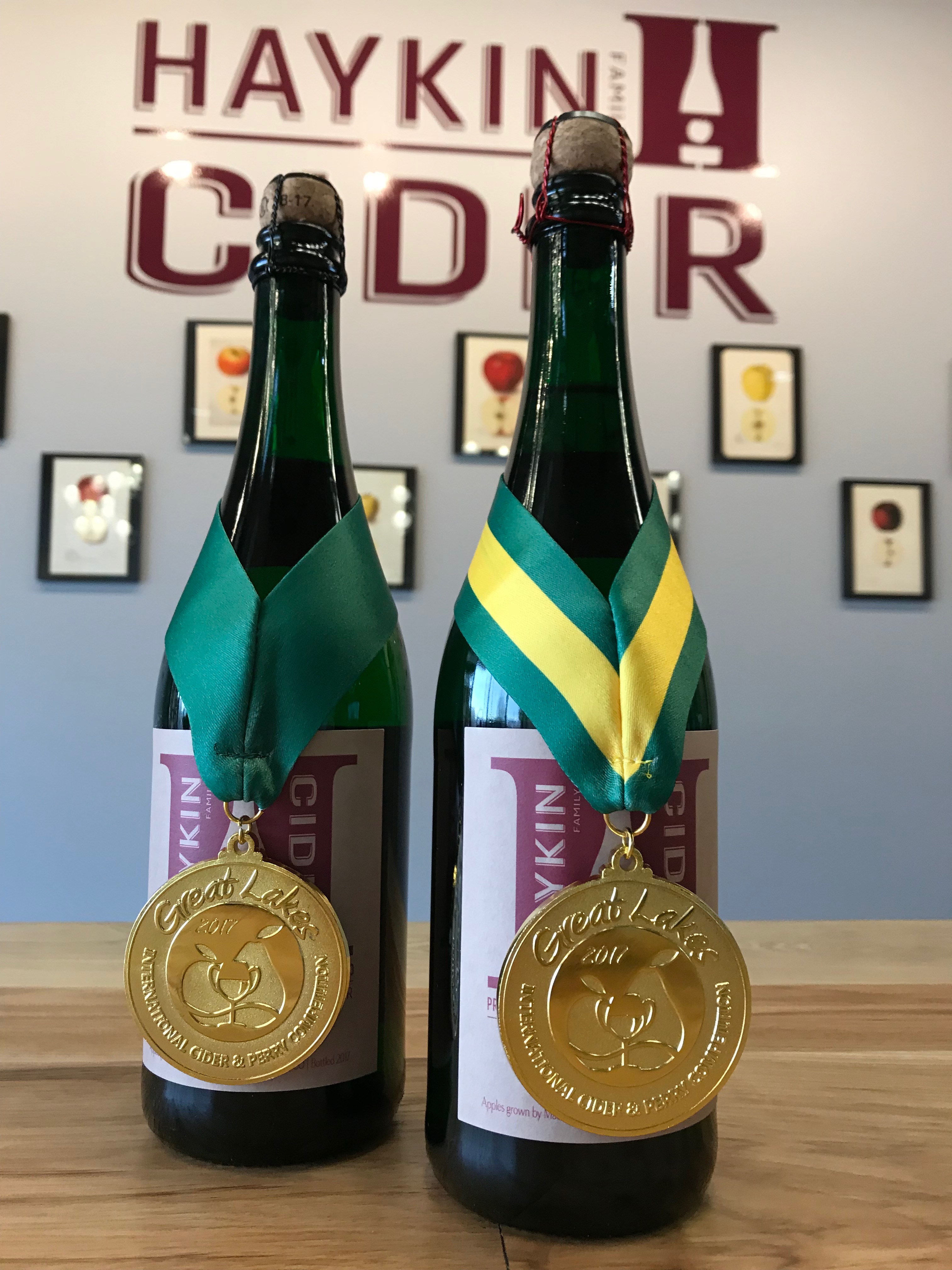 (Denver, CO) Today husband-and-wife co-owners, Talia and Daniel Haykin, will begin selling their award winning hard apple cider at their state-of-the-art production facility and tasting room. Located on the light rail line at 33rd and Peoria at 12001 E 33rd Ave, Unit D in Aurora, Haykin Family Cider is easily accessible from Aurora, Denver, Stapleton, and surrounding neighborhoods.
Haykin Family Cider is a small batch, craft product that will be available in limited supply; guests can enjoy tours, tasting flights and ciders on tap at the facility as well as purchase bottles to take home.
History
Coming from a love of sparkling wine, Daniel Haykin set out to make a similar product with apples. Produced in a 750ml champagne bottle and finished with a natural cork and wire hood, this product more easily resembles a classic sparkler—rather than beer-like versions currently on the market.
"We are just like a winery in many respects," shared Talia Haykin. "We only use apples and yeast and really try to showcase the individual apple like you would a grape varietal."
Says Daniel, "there was a beautiful tradition of apples and cider in the United States prior to Prohibition. In countries like England, France, and Spain their tradition is unbroken and so is the knowledge. In the United States, we are relearning the tradition and finding new expressions."
Taking it from tree to bottle, the Haykins process their own fruit as much as possible, having developed relationships with several Colorado apple growers. "We know the Colorado climate isn't always kind to growers, so our goal is to utilize mainly Colorado fruit but we have other sources, as well, if we need it. We know our growers well, appreciate them and their exceptional fruit, and want to showcase how incredible Colorado is for apples," said Daniel.
The Cider
Each cider is named for the apple varietal of which it is comprised. For the opening, the ever-changing tasting menu features two sets of flights – one from their tap and another from the bottle. On tap currently are Masonville Orchards Summer Apples, Ela Family Farms Harrow Sweet Pear Perry, Ela Family Farms Jonathan, and Opal. From the bottle there is Masonville Orchards Rome Beauty, Ela Family Farms Cox's Orange Pippin, and Masonville Orchards Ruby Jon.
Any of these can be enjoyed by the glass (8oz), in a small tasting glass (3oz), or in a flight. Additionally there are more than fifteen different varietals available by the bottle to be enjoyed in the tasting room or to take home.
The Space
This past fall, the Haykins began construction on their production facility and tasting room. The architects on the project were Kevin Wiegand and Paul Leasure of Leasure Wiegand Design, and the construction firm was L & D Construction, with David Schultz.
Upon entering the space, guests are greeted by an attractive wrap-around wood bar (designed and build by local artists at FinArt), emblazoned with the outline of an apple tree. With fifteen seats, guests are treated to a view of a cooler, out of which five taps draw their ciders, with batches of cider fermenting before guests' eyes. Over the bar are vintage-inspired glass light fixtures, giving the space a warm and inviting atmosphere. Featured along the entry wall are prints of vintage drawings from the USDA of different apple varieties from the turn of the last century.
For the actual production equipment, housed in the back of the industrial space, they custom-ordered and brought in equipment from Italy through a California winery supplier. It is essentially sparkling white wine equipment, making Haykin Family Cider stand out from other style ciders.
Awards
In 2017, Haykin Family Cider won "First in Class" for their Modern Sweet Esopus Spitzenburg cider at the Great Lakes International Cider and Perry Competition (GLINTCAP). "If there is a Super Bowl of ciders, this is it," said Daniel. In addition, they won two gold, six silver, and six bronze medals. The previous year, as amateurs, they won one gold, four silvers, and one bronze at GLINTCAP. Talia adds, "It's an amazing confidence booster to have your peers in the cider world say, 'I really like that!'" For further awards, check their website – www.haykinfamilycider.com/awards

Haykin Family Cider
12001 E 33rd Ave
Unit D
Aurora, CO 80010
Free Parking
HOURS:
Thursday and Saturday, 5:30 PM – 9:00 PM
They can accommodate parties and private events at other times

Haykin Family Cider is also available at Pearl Wine Company (1886 S Pearl St) and Proper Pour (the Source).
Haykin Family Cider is certified Kosher.
About The Haykins
One thing you will hear when you ask Daniel and Talia about their business is 'we don't plan to quit our day jobs.' Daniel is an investment advisor, in business with his father, and Talia is a marketing consultant, working for herself. They have one fulltime employee, Daniel's cousin (they aren't kidding about a family business), and plan to grow slowly. If you stop by the tasting room, you are likely to meet one of the Haykins or a family member.