Spanish Variety Mencia Sees First Harvest in California Vineyard
Grower, Winemakers Take on Challenge of New Variety
The first known commercial crop of California-grown Mencia, a red wine grape variety native to Spain, was harvested September 14 from Silvaspoons Vineyards near Galt, located in the Alta Mesa sub-appellation of the Lodi American Viticultural Area (AVA). The nearly 1-acre block of Mencia yielded 2.7 tons with 2.2 tons going to Ursa Vineyards in El Dorado County, and 0.5 tons going to PRIE Vineyards in Lodi.
Silvaspoons Vineyards owner Ron Silva, who takes great pride in his Portuguese heritage, has been a pioneer grower of Iberian grape varieties such as Verdelho and Alvarinho (Albarino). Silva began growing grapes 20 years ago and today farms nearly 300 acres of vineyards planted with 21 varieties that are sold to 37 different winery buyers. Other Iberian varieties he grows include Tempranillo, Souzao, Touriga Nacional, and Tinto Cao and he was an early commercial grower of Tannat and Torrontes. He noted that wines made from Torrontes and Alvarinho grown in his vineyard have received awards as Best of Show white wines at the California State Fair Wine Competition. "The soils and climate here are a lot like Portugal. That's why I think these varieties grow well here," he said.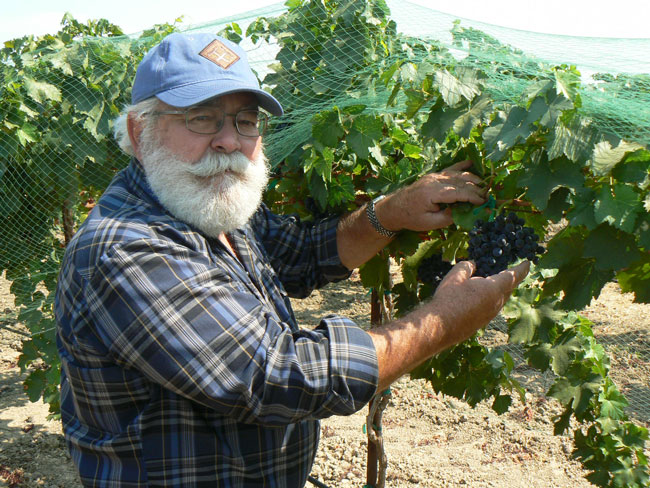 Grower Ron Silva shows a Mencia grape cluster in his Silvaspoons Vineyards prior to its first harvest in 2017.
(Photo: Ted Rieger)
In 2015, Silva planted 520 vines of Mencia clone 02 on Freedom rootstock purchased from Vintage Nurseries (now called Wonderful Nurseries) in Wasco, California. The vines are spaced 11-feet between rows and 6-feet within row and trained on a quadrilateral trellis system with 3-foot cross arms. Silva uses quad as his standard trellis system for nearly all of his wine grapes to help increase sunlight in the center of the canopy, which reduces powdery mildew pressure. Silvaspoons Vineyards are certified under the Lodi Rules for Sustainable Winegrowing program.
Mencia is a black Vitis vinifera wine grape most commonly associated with the Bierzo region (DO Bierzo) in northwest Spain, and also grown in the Ribeira Sacra and Valdeorras regions. In Portugal, the variety is known as Jaen and grown in the Dao and Beira Interior regions. At one time Mencia was believed to be, or related to, Cabernet Franc due to similar aromas and flavors, but DNA profiling has identified it as an individual variety.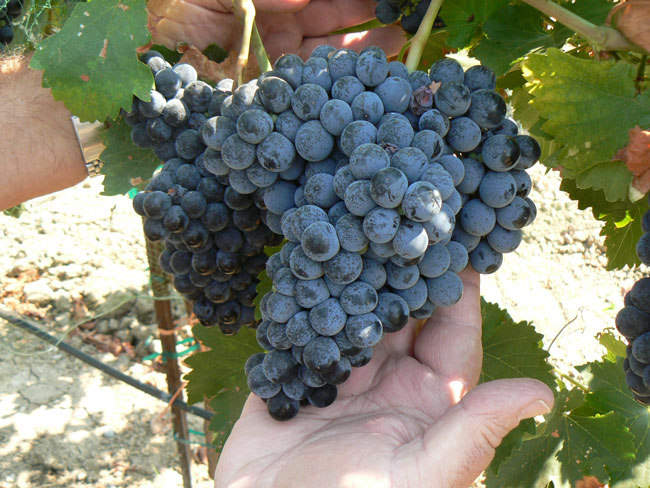 Closeup of a Mencia grape cluster in Silvaspoons Vineyards in the Lodi AVA.
(Photo: Ted Rieger)
Silva has made numerous trips to Portugal and Spain. He was introduced to Mencia at a restaurant in Spain at the suggestion of a waiter. He later sampled Mencias from several Spanish producers, and bought wines from a Spanish wine importer in Berkeley. Silva said, "The wines I've tasted have a European character, they are more austere and go well with food, generally range from 12.5% to 13.5% alcohol, and have good acid and tannin levels." Mencia has grown in popularity in Europe in recent years. It formerly was produced in a lighter style, but Spanish winemakers are increasingly producing it as a darker, aged wine with grapes from older, lower yielding vineyards.
Working with a new variety poses challenges, for growers and for winemakers. Without past experience to call on, there is a learning curve to manage each step of production. But Silva has been through this before. Verdelho was largely unknown before he grew it. Today he has 8 acres planted and sells his entire crop each year. In addition, some producers who originally bought Verdelho from Silva now grow their own for wine production. "There are always challenges with a new variety, which include marketing and selling a new wine varietal name to consumers, and not too many people in the wine industry want to put their toe in the water," Silva observed. He continues to evaluate new varieties and would like to plant more Iberian white varieties. Looking toward the future for Mencia, Silva summarized, "I'm excited to see what we'll do in California with this wine."
Mencia Plant Material

UC Davis Foundation Plant Services (FPS) imported Mencia selections in 2006 and 2008 from the Instituto Tecnologico Agrario de Castilla y Leon (ITACyL) in Valladolid, Spain. Registered FPS clones include: Mencia 01 (known as Castilla y Leon clone CL-51 in Spain); Mencia 02 (clone CL-94 in Spain); Mencia 02.1 (also CL-94) planted at Russell Ranch under Protocol 2010; and Mencia 03.1 (clone CL-79) planted at Russell Ranch. In addition, Mencia 04.1, with FPS provisional status planted at Russell Ranch, was donated from Casa Moreiras, S.L., Panton de Ferreira in Spain. Wonderful Nurseries obtained Mencia 02 from FPS in 2012 and 2013.
Making the Wine
Ursa Vineyards in El Dorado County in the Sierra Foothills AVA began purchasing grapes from Silvaspoons when the vineyard produced its first crop of Tannat, and later sourced other Iberian varieties such as Touriga Nacional and Souzao from the vineyard. Ursa winemaker Greg Stokes founded Ursa along with his wife and co-winemaker Deborah Elissagaray. Both worked at wineries in the Santa Cruz Mountains prior to starting Ursa Vineyards. Stokes was a grower relations manager for David Bruce Winery. He has also been a consulting winemaker for clients in California, Arizona, Georgia and Texas. About 2,000 cases/year are produced under the Ursa label. The Ursa facility also does small lot custom crush processing for other wineries and brands.
Stokes and Silva have been talking about the Mencia project since Silva decided to plant the variety. "Ron knows I like to work with unusual varieties, and as a small winery, he knew we would give it the individual attention it deserved," Stokes said. The grapes were picked at 23 degrees Brix. "We wanted to see it riper, but with the early September heat wave, the pH was going up and the grapes were starting to dehydrate," Stokes said. "Neither Ron nor I were familiar with the fruit, being our first vintage with the variety, but it tasted good on the vine, so we picked," he explained.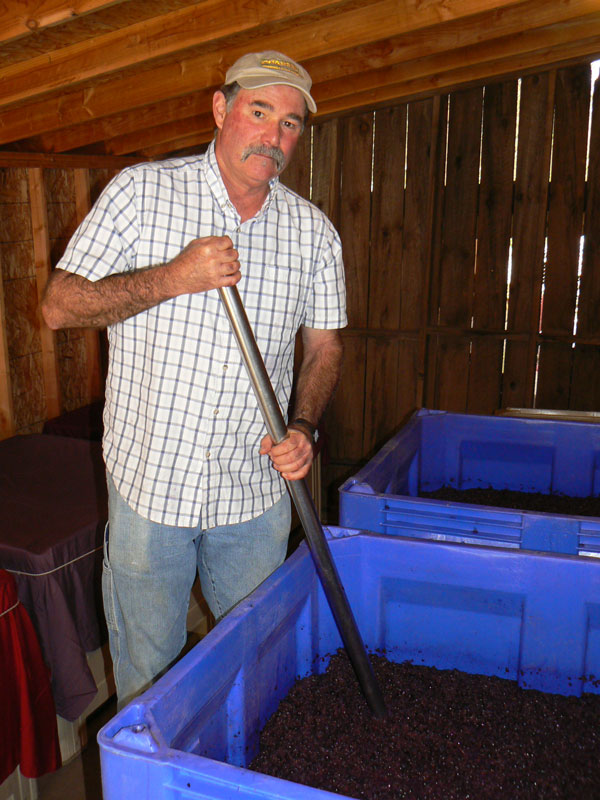 Ursa Vineyards winemaker Greg Stokes punches-down a bin of fermenting Mencia from Silvaspoons Vineyards at his El Dorado County winery. (Photo: Ted Rieger)
The grapes were transported to Ursa's winemaking facility near Placerville in El Dorado County, run through a destemmer/crusher and directly fed into two MACX plastic bins for fermentation. Stokes inoculated the must with a yeast he has used before--Lallemand's Uvaferm VRB, a strain from Spain's Rioja region commonly used with Tempranillo, Barbera, Sangiovese and Zinfandel. He expected fermentation to last 10 to 14 days. The fermenting must is punched-down by hand two or three times a day. "I try to go with a gentle, old world style of winemaking with minimal intervention," Stokes said.
Stokes says he is learning about the new variety as he proceeds, and will make adjustments as needed. After pressing, he expects to have enough wine to fill five barrels and is considering putting the wine into one new American oak barrel, one new Hungarian oak barrel, and three neutral French oak barrels. He normally ages red wine in barrel up to 18 months, but said, "This being the first crop, with grapes from young vines, we don't want to hit it too hard with oak, and we may bottle it earlier than we would wine from a mature vineyard."
Stokes is also the winemaker for Bending Branch Winery in Comfort, Texas. He ferments several grape varieties sourced from California at the Ursa facility that are later transported in barrel to Bending Branch for bottling and release under that label. Current plans are to bottle half the 2017 Mencia lot under the Ursa label to sell from California, and the other half under the Bending Branch label to sell from Texas.