Gruet Celebrates 30 Years of Harvest: Winery sees largest haul of New Mexico fruit in its history
Albuquerque, New Mexico – Aug. 31, 2017 – Celebrating 30 years of harvest as America's premier méthode champenoise sparkling wine from New Mexico, Gruet Winery set a new record by bringing in 340 tons of New Mexico fruit to its cellars.
"We've been working around the clock since early August and it is going to be a wonderful year for our wines," Winemaker Laurent Gruet said. "It is one of the best harvests I've seen in the last 10 years, with an incredible balance of acidity to sugar in the fruit."
This year, marks Laurent Gruet's 30th harvest in New Mexico. He and his family first settled in the region in 1984, bringing with them their traditional winemaking practices from Champagne. Often referred to as the sommelier's secret, Gruet is renowned for crafting exquisite sparkling wine with exceptional value.
This year's stand-out vineyard is the Tamaya Vineyard, which has produced the state's first Pinot Meunier. The vineyard is a joint partnership between Gruet and the Pueblo of Santa Ana.
"It is of spectacular quality," Gruet said. "We have separated it and are excited to see how it develops in the cellar. My hope is that we create the first single vineyard Pinot Meunier from this vintage."
The partnership between Gruet and Santa Ana Pueblo was forged in 2013 as part of an economic development plan to maintain the pueblo's history of working the land and to diversify their agricultural interests. Gruet and the pueblo's governing body worked tirelessly to secure funding, plant the 30-acre vineyard, and train members in the art of viticulture to produce the quality fruit necessary for inclusion in Gruet wines. Last year, the Tamaya vineyard produced about 70 tons of fruit. This year it nearly doubled, offering more than 120 tons of fruit in its second year.
"We put the work into these vineyards, carefully managing the development of both the canopy and the fruit," said Michael Dominguez, Operations Manager for Gruet. "We are extremely pleased with what is coming into the cellar and how the partnership evolved."
The inaugural harvest didn't disappoint and produced the incredible 2016 Tamaya Vineyard still rosé of Pinot Noir now available at Gruet tasting rooms in Albuquerque and Santa Fe at the historic Hotel St. Francis as well as at the Hyatt Regency Tamaya Resort & Spa and the Corn Maiden Restaurant on tribal lands.
In addition to harvest of the Tamaya Vineyard, Gruet winemakers and viticulturists have also been busy harvesting fruit from Luna Rossa Vineyard near Deming, New Mexico, which should yield about 193 tons of quality Pinot Noir and Chardonnay. The estate vineyard in Engle, New Mexico will also produce close to 20 tons of fruit, including a very small production Old Vine still Chenin Blanc for the tasting room.
All of the fruit from this year's vintage is perfect for producing the premium sparkling Gruet produces and sells nationwide.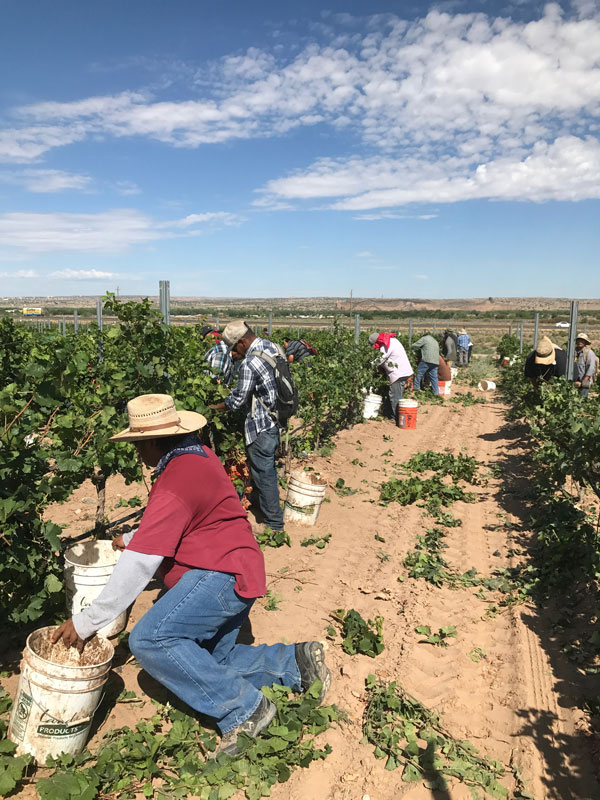 Gruet Winery – Founded in 1984, Gruet Winery specializes in Méthode Champenoise sparkling wines. Family driven, the New Mexico-based winery produces Pinot Noir and Chardonnay-based sparkling wines and a small collection of still wines, with roots originating from Gilbert Gruet's Champagne house in Bethon, France. More than 30 harvests later, Gruet Winery has achieved unprecedented acclaim and remains a favorite of the nation's top sommeliers. Learn more at www.gruetwinery.com.