30th Annual Auction of Washington Wines Presents Trade-Exclusive Private Barrel Auction
Twenty of Washington State's elite wineries present rare opportunity to acquire exceptional 5-case lots
This trade-only auction provides intimate access to winemakers and the opportunity to taste barrel samples of unique wine futures presented by top wineries from across the state prior to live bidding. The private barrel auction offers a rare opportunity to acquire distinctive, exceptional lots not available elsewhere. Washington state is one of the world's most dynamic wine regions, rooted in a semi-desert climate with extended sunlight, a shorter growing season and superior terroir. Retailers and restaurateurs covet exclusive rights to one-of-a-kind wines from highly respected and often allocated wineries and the opportunity to offer those wines to their top clients is the motivation to bid. The 2015 Private Barrel Auction wines are just hitting the market place at various retailers and restaurateurs and are listed on the website here. Proceeds from the Private Barrel Auction go directly to Washington State Viticulture and Enology program benefiting the sustainability of the entire Washington State wine industry.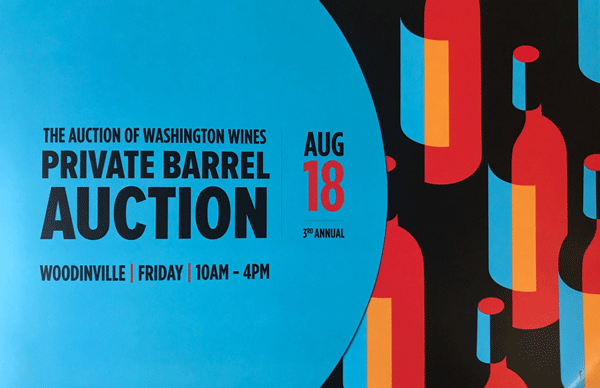 Attendance to the private barrel auction is limited to licensed members of the trade and media guests. Please visit the website to register here.
Participating wineries include: Betz Family Winery, Brian Carter Cellars, Chateau Ste. Michelle, Col Solare, DeLille Cellars, Dusted Valley, Fidelitas Wines, Force Majeure, Forgeron Cellars l The Walls, Januik Winery, L'Ecole No. 41 Winery, Leonetti Cellars, Long Shadows Vintners, Mark Ryan, Owen Roe, Pepper Bridge Winery, Quilceda Creek, Sleight of Hand, Va Piano Vineyards and Woodward Canyon.
WHEN: Friday, August 18, 2017
10:00 a.m. to 4:00 p.m.
WHERE: Novelty Hill-Januik Winery l 10:00am – 1:30pm
14710 Woodinville-Redmond Rd NE
Woodinville, WA 98072
Chateau Ste. Michelle Winery l 1:30pm – 4:00pm
14111 NE 145th St.
Woodinville, WA 98072
Ranked in the Top 5 US Wine Charity events by Wine Spectator in 2016, the Auction of Washington Wines celebrates its 30th Anniversary this year. The weekend line-up of events kicks off with The Winemaker Picnic on August 17, followed by the Private Barrel Auction (Trade) and the Winemaker Dinner Series on August 18, the Charity Run and the Gala Auction on August 19. Funds raised at the event series benefit uncompensated care, cancer clinical trials and autism services at Seattle Children's Hospital and Viticulture and Enology Research at Washington State University.
Day Schedule:
10:00 am – 12:00 pm, Novelty Hill-Januik Winery
Barrel tasting from twenty of Washington State's elite wineries.
12:00 pm – 1:30 pm, Novelty Hill-Januik Winery
Luncheon prepared by Novelty Hill-Januik Winery Chef Seth Fernald. Presentation with Bob Betz, M.W. l The State of Washington State Wine
1:30 pm – 3:00 pm, Chateau Ste. Michelle
Barrel auction live bidding with Auctioneer Ursula Hermacinski
3:00 pm – 4:00 pm, Sparkling Wine Post-Reception (optional)
2017 Private Barrel Auction sponsors include: Wine Business Monthly, Northwest Farm Credit, Chateau Ste. Michelle, Novelty Hill-Januik, Trysk Print Solutions, Tonnellerie Quintessence Bordeaux, Butler Valet and Esquin Wine Merchants.
About the Auction of Washington Wines
Since its inception in 1988, the Auction of Washington Wines has raised more than $37 million. The distinguished fundraising events give wine lovers the chance to support the Washington wine industry and families in the communities around the region. The 2017 events will take place August 17-19, 2017. Co-chairs for 2017 are Norm McKibben and Jean-Francois Pellet of Pepper Bridge Winery, Yahn Bernier of Valve Software and Beth McCaw of Washington Women's Foundation. Major sponsors include Chateau Ste. Michelle, Ferrari of Seattle, Bank of America, John L. Scott Foundation, The Seattle Times, King 5 TV, Tulalip Resort Casino, and Alaska Airlines Visa Signature Card.

About Seattle Children's Hospital
Consistently ranked as one of the best children's hospitals in the country by U.S. News & World Report, Children's serves as the pediatric and adolescent academic medical referral center for the largest landmass of any children's hospital in the country (Washington, Alaska, Montana and Idaho). For more than 100 years, Children's has been delivering superior patient care and advancing new treatments through pediatric research. Children's serves as the primary teaching, clinical and research site for the Department of Pediatrics at the University of Washington School of Medicine. The hospital works in partnership with Seattle Children's Research Institute and Seattle Children's Hospital Foundation. Together they are Seattle Children's, known for setting new standards in superior patient care for more than 100 years. www.seattlechildrens.org.

About Washington State University's Viticulture & Enology Program
The Washington State University Viticulture and Enology Program aims to strengthen the quality and reputation of the Washington wine industry. Proceeds from the Auction of Washington Wines fund research within the program.