Spring is in the Air --"Celebration of Persian New Year"
Art Continues Bay Area California Artist Series
February 28, 2017, Sausalito, CA – On Friday, March 24th, Madrigal Family Winery's Sausalito Tasting Salon & Gallery will open "Celebration of Spring and Persian New Year" the latest exhibit in its Bay Area Art and Wine series. The exhibition features traditional Persian art as well as the work of several local Bay Area Iranian American artists and is curated by Shiva Pakdel & Haleh Douraghy. An opening reception will be held on Friday, March 24th, 6-8pm. The exhibit is on view March 15 – April 18. Madrigal's Sausalito Wine Tasting Salon & Gallery is open daily from 12-7pm. Entrance to the Madrigal art and wine event is complimentary. RSVP to sausalito@madrigalfamilywinery.com For more information, contact Tasting Salon Manager Patricia Gatti at (415) 729-9549 or pgatti@madrigalfamilywinery.com
"We are so excited to host, what now appears to be the annual Norooz art exhibit, at our Sausalito tasting room for the second time, commented Chris Madrigal, Madrigal Family Winery's Founder & President. "It really seems to bring together so many great things like fabulous art, the New Year, spring time and our great diversity in the United States. I can't wait to see what Shiva Pakdel & Haleh Douraghy brought us this year!"
About Persian New Year (Norooz, New Day)
Norooz is the celebration of earth's renewal with the rebirth of spring. It is a secular custom that marks the first day of spring and beginning of the New Year in the Iranian calendar. Norooz is celebrated on the vernal equinox as the sun crosses the equator. This tradition, which dates back 2500 years, is celebrated by over 110 million people around the world who trace their heritage to the ancient Persians from the Balkans to the Black Sea and Caspian Sea regions, the Caucasus, Central and South Asia, and the Middle East. The vernal equinox in San Francisco, is on Monday, March 20, 2017 at 03:18 AM.
In the past few decades, Iranian art has gone through a great deal of transformation juxtaposing traditional and modern elements, the result of which is extraordinary. San Francisco Bay Area is home to a myriad of avant-garde Iranian-American art organizations and artists representing this amazing transition.
Please visit the Madrigal Artist series facebook page at: https://www.facebook.com/events/1758974904418435/ and the Madrigal Sausalito page at: https://www.facebook.com/MadrigalFamilyWinerySausalitoTastingRoom/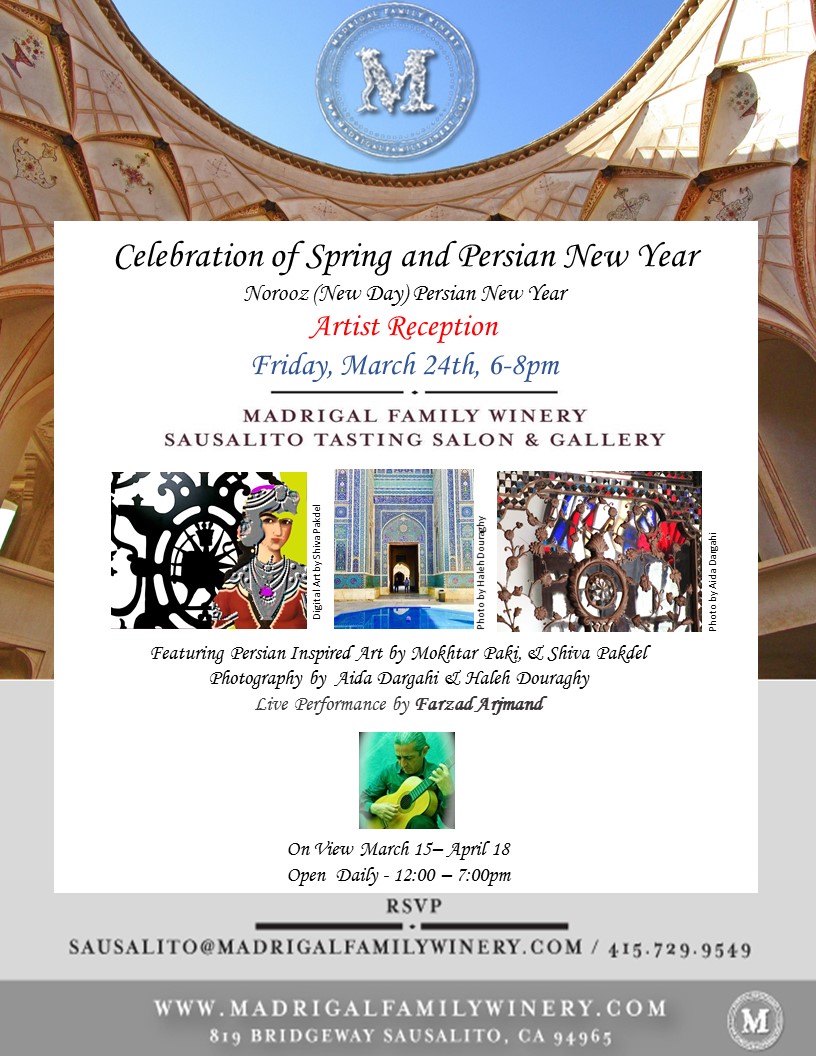 About Madrigal Family Winery
Located on Highway 29, halfway between Calistoga and St. Helena in the renowned Napa Valley, the Madrigal Family Winery continues the family tradition of viticultural leadership and wine production. Since the 1930s, the family has been building its reputation and earning recognition for their vineyard management program as well as their wines. Situated on 40 acres of estate vineyards, the state of the art Madrigal Winery specializes in Cabernet Sauvignon, Petite Sirah, Zinfandel, Sauvignon Blanc, and small lots of single vineyard and estate wines. Today, Madrigal Family Winery is run by Chris Madrigal, the family's 3rd generation.