Madrigal Family Winery's Sausalito Tasting Gallery Continues Bay Area California Artist Series with "fem·i·nine intuition" by Surrealist Cynthia Tom
October 26, 2016, Sausalito, CA – On November, 11th, Madrigal Family Winery's Sausalito Tasting Salon & Gallery will open "fem·i·nine intuition", the latest exhibit in its Bay Area Art and Wine series. The exhibition features the work of the Bay Area native Cynthia Tom and is curated by Shiva Pakdel. An opening reception will be held on Friday, November 11th from 6:00 – 8:00 pm. The exhibit is on view from November 8th to December 12th.
"At Madrigal, we love the idea of taking a second look, even a third, and spending time to contemplate the mysteries around us," remarked Chris Madrigal, Madrigal Family Winery's Founder & President. "We've always believed in the importance of individual expression and the need to take time to enjoy life's pleasures. Our Sausalito Gallery and Tasting Salon, like our winery up in Calistoga, is a place to relax, sip a glass of wine and look around."
Cynthia Tom's paintings demonstrate the depth, strength, playfulness and complexity of woman's spirit. "They say women are blessed with a 6th sense of knowing that comes from paying attention to the heart," remarked Tom. "This is where spirituality and creativity connect and magic can happen. You can put yourself in different environments and dress up in different garments, your essential core remains the same. These paintings celebrate your core, your essence and what you bring to humanity."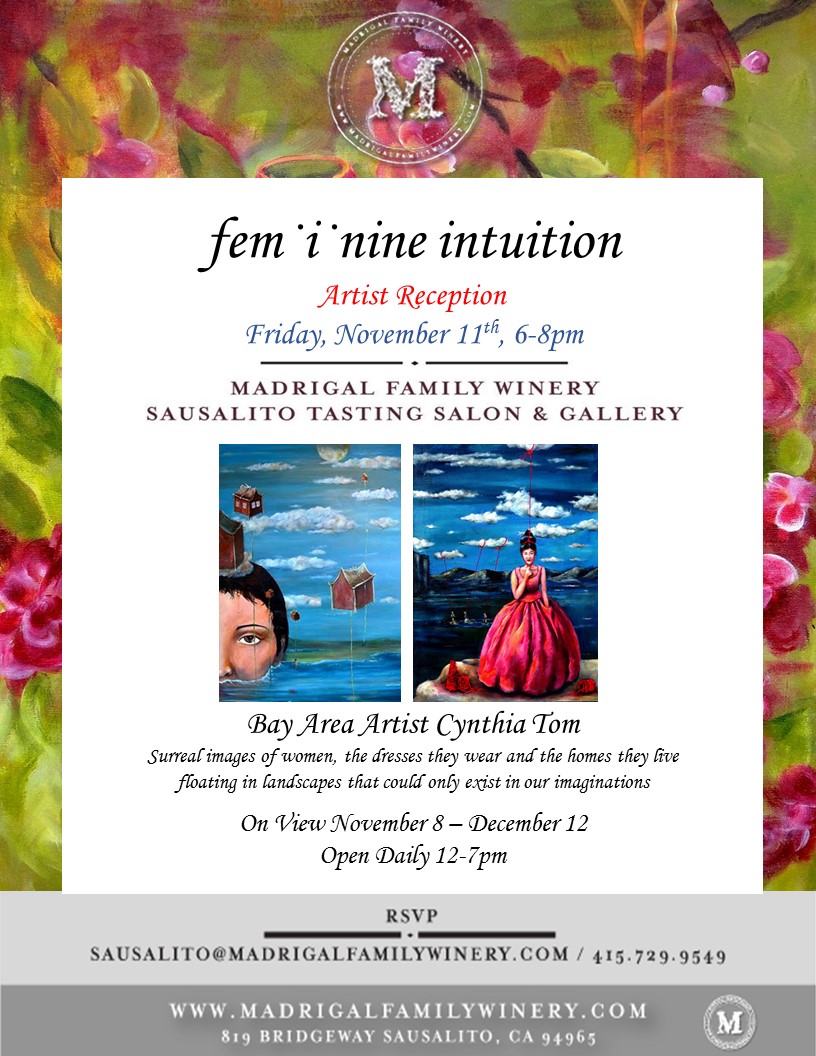 About Cynthia Tom
Referred to as a Cultural Surrealism, Cynthia Tom uses visual art as a means to transform our souls. She is a visual mixed-media artist, painter and curator who plays with color, subject matter and whimsy to toss thought provoking questions in the air. A third generation Chinese American and native San Franciscan, she has been a professional artist for 20+ years, a curator for 10+ and working formally to heal and transform community through the arts for 6+ years. Her art is known as a source of inspiration for transformation, empowerment, spirituality and change, fostering dialog and building community in innovative ways.
Her work has been exhibited at the Legion of Honor in San Francisco, the De Young Museum, Rutgers's University, Los Gatos Museum of Art, Thoreau Center for Sustainability, SOMArts Cultural Center, Woman Made Gallery - Chicago, Photo Cris Matos Gallery Route One – Pt. Reyes, California Institute of Integral Studies, Yerba Buena Center for the Arts, Chinese Culture Center, Towers Gallery, to name a few.
She lectures on her work, on issues related to women, feminism in the arts and Asian American women in the arts. She has won numerous awards for her art and leadership, including the ABC/KGO Profiles in Excellence leadership award, The SOMArts Commons Curatorial Fellowship, recognized nationally by NPR Radio. She has been featured in the New York Time's SF Arts Monthly, SF Chronicle, Psychology Today, the Marin Independent Journal, DigitalJournal.com and on KPFA and KPOO radio.
Her art is included in text books: Women Artists' of the American West, Univ of Purdue, Susan Ressler; Asian American Art in Post-Colonial Times – University of Padua, by Dr. Laura Fantone, Professor SF Art Institute.
Entrance to the Madrigal art and wine event is complimentary. RSVP to sausalito@madrigalfamilywinery.com
The Madrigal Sausalito Tasting Salon & Gallery is open from 12-8pm daily. For information, contact Tasting Room Manager Patricia at (415) 729-9549 or pgatti@madrigalfamilywinery.com
About Madrigal Family Winery
Located on Highway 29, halfway between Calistoga and St. Helena in the renowned Napa Valley, the Madrigal Family Winery continues the family tradition of viticultural leadership and wine production. Since the 1930s, the family has been building its reputation and earning recognition for their vineyard management program as well as their wines. Situated on 40 acres of estate vineyards, the state of the art Madrigal Winery specializes in Cabernet Sauvignon, Petite Sirah, Zinfandel, Sauvignon Blanc, and small lots of single vineyard and estate wines. Today, Madrigal Family Winery is run by Chris Madrigal, the family's 3rd generation.
Madrigal Family Winery Sausalito Tasting Salon & Gallery
819 Bridgeway
Sausalito, CA 94965
www.madrigalfamilywinery.com