Courtwatch: Coppola versus Copa di Vino Trademark Suit
Coppola in court multiple times over trademark issues in recent years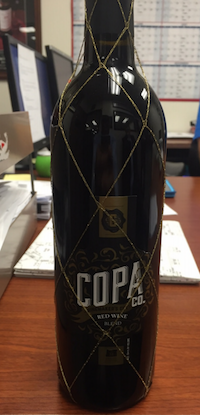 Francis Ford Coppola is accusing an Oregon vintner of producing a wine label that looks way too much like one of his, according to a federal complaint filed this week.

GMYL LP – a limited partnership based in San Francisco that represents Coppola's trademarks names and logos – alleges Copa di Vino violated trademark rules when it named a new red wine blend "Copa Co. Winemaker's Cut," according to the complaint filed in California.

The company alleges that's confusingly similar to GMYL's labels "Coppola" and "Director's Cut," according to the complaint. GMYL's registered trademark names include "Coppola" and "Francis Ford Coppola Director's Cut."

The flagship of GMYL's Diamond wine collection is Coppola's Claret, which features a rectangular black label with the "Coppola" name and gold designs and a bottle wrapped in gold netting.

GMYL objects to the overall look of the black label for the Copa's new wine, including its rectangular-shaped black label with its grape and grape vines gold design, according to the complaint. Copa's bottles are also encased with a thin gold netting.

In addition, Copa di Vino founder James Martin of The Dalles, Ore., allegedly tried to spur sales by selling the new Copa Co. wine to a "major retail grocery chain" where GMYL's wines are also sold, according to the court filing.

Copa Di Vino is primarily known for its production of wines by the glass. Martin gained publicity for his appearances a few years ago on ABC's "Shark Tank," a show that gives entrepreneurs the opportunity to pitch ideas to a shark tank.

Martin is well aware of GMYL's brands, according to the complaint filed Tuesday. In 2011, Martin approached Francis Coppola Winery LLC, a company affiliated with GMYL, for a potential business partnership, according to the complaint. Martin signed a mutual non-disclosure agreement but the venture did not materialize, according to the court filing.

GMYL and its affiliates have sold "Coppola" wines since 1990 and "Director's Cut" bottles since 2006. Both are "high quality wines" that have won critically accolades and publicity, the complaint noted.
GMYL is requesting a jury trial in this case.

The company has been in court multiple times over trademark issues over the years. Coppola also has been in court over the use of the word diamond or diamond-shaped labels.

In March, GMYL settled a lawsuit after Cinema Wine of Spain and its New York importer, Tri-Vin Imports Inc., agreed not to import, distribute, market, advertise or sell Cinema Wine, according to the court order. Cinema Wines sold wine with a label designed as a film strip wrapped around the bottle, allegedly like Coppola's Cinema wine, according to court records.

In another lawsuit filed in 2013, GMYL sued Coppola Foods a company based in England and owned by Ernesto Coppola of Italy, according to court records. Both companies sell pastas, sauces and olive oils.

The case did not go to trial after the defendant agreed not to use "Coppola," "Coppola Salerno," and/or other trademarks owned by GMYL's Coppola trademarks.