Innovative Case Study Provides a 21st Century View on the Status of California's Women Winemakers
The "best guess" scenario calculated from those wineries with open positions suggests a ceiling effect of 20 percent.
April 23, 2015
SANTA CLARA, CA, April 2015 — An innovative case study published by Dr. Lucia Albino Gilbert, Ph.D., Professor of Psychology at Santa Clara University, and her husband, John Gilbert, Ph.D., also a professor there, provides insights into the slow but steady progress of women moving into lead winemaking positions at California's established wineries. Gilbert's first study showed that only 9.8 percent of California's 3400+ wineries have lead women winemakers. A subsequent study provided evidence that despite the small number of California wineries with lead women winemakers, their wines are more highly acclaimed, proportional to their representation in the field.
The current study assessed the progress of women winemakers by investigating the same set of wineries at two time periods—1999 and 2014. Two approaches to assessing progress were used. The results of the study will be presented at the Association of Psychological Science meeting in May 2015.
Data Source for Study Included 480 Recognized Wineries
Wineries for the case study were those included in James Laube's (1999) book, Wine Spectator's California Wine. "Laube's carefully researched book provided us with a comprehensive list of major wineries in California, together with their winemakers and owners, in 1999. Most of these established wineries were located in Napa Valley and Sonoma/Marin. Studying this same set of wineries in 2014, fifteen years later, provided a case study of the progress of women winemakers among these recognized wineries," states Dr. Gilbert.
First of Two Approaches Used to Assess Women's Progress
The first approach was based on all 480 wineries in the case study and compared the proportion of wineries having lead women winemakers in 1999 and 2014. As hypothesized, the overall percentage of wineries in the case study with women as lead winemakers was significantly higher in 2014: 14.7 percent vs. 10.0 percent in 1999.
Second Approach Used to Assess Women's Progress
In order for women winemakers to move into the lead winemaker positions for the wineries included in the case study, such positions needed to be available. Thus, the second approach took into account position availability and provided a "best guess" scenario for the expected progress of women winemakers in the next decade.
Two categories of wineries limited the number of available winemaker openings among the 480 established wineries in the study: Wineries whose winery owner was also the lead winemaker in 1999 and 2014, and wineries that retained the same winemaker over the 15-year period (see pie chart graphic below). In both categories, most winemakers were male.
The best guess scenario used data from only those wineries with available positions. The percentage of these wineries that hired a woman as the lead winemaker was higher than the percentage calculated using the first approach, but still was only 20.5 percent.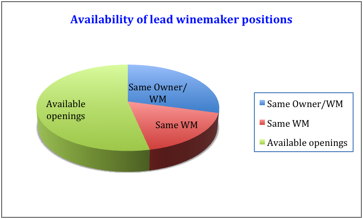 The researchers next investigated the pattern of "gender" hiring in available positions. As can be seen from the graphic below, the most frequent pattern was a change from one male winemaker to another male winemaker: 69 percent. The second most frequent pattern was a change from male winemaker to female winemaker: 21 percent. Least frequent was a change from female to male winemaker: 9.3 percent.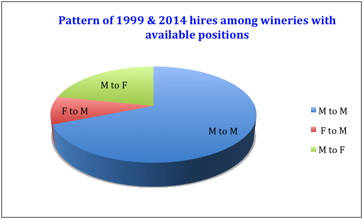 Significance of Study's Findings
First, the study provides clear empirical evidence that women winemakers are making progress among the established California wineries reviewed by Laube (1999). Consistent with the underlying theory that women winemakers' recent acclaim would open doors for other well-qualified women, both the Napa and Sonoma/Marin regions in the case study showed considerable increases in the number of lead women winemakers from 1999 to 2014. Women winemakers in these regions have received particular recognition and visibility. For example, 10 of the 12 women in the list of "Top 100 Most Influential U.S. Winemakers" (Cervin 2014) are located in Napa or Sonoma, as are all three women inducted in the Vintners Hall of Fame.
A second significant contribution is using the availability of lead winemaking positions to provide a best guess scenario for the near-term progress of women winemakers in California. This approach indicated that if one considered solely those wineries that had an open lead winemaker position in the period from 1999 to 2014, only 20.5 percent hired a winemaker who was female.
Third, the study examined the pattern of lead winemaker appointments among those wineries with available positions. The pattern that emerged made evident that the opening-of-doors for women competes with the long-standing traditional practice of hiring men, with male lead winemakers hired much more often when positions did become available. In addition, winemaker longevity at a particular winery decreases the number of possible open positions, and still today many more men than women hold these positions.
It is important to note that the 480 wineries in this case study were taken from Laube (1999) and thus are not representative of California's 3,400+ wineries today.
In Spite of Progress, Number of Lead Women Winemakers Remains Small
In this case study, as in the other earlier two studies on California women winemakers (Gilbert, 2011, Gilbert & Gilbert, 2012), the number of lead women winemakers (including owner/winemakers) remains relatively small. "As the empirical data from the current study make clear," states Dr. Gilbert, "progress appears steady, but not dramatic, at least among the major wineries in California that were included in Laube (1999). The glass ceiling is far from being smashed."
Phyllis Zouzounis, owner/winemaker at Deux Amis Wines and winemaker at many other wineries in Sonoma County, attests to the challenges of being a woman in a male-dominated field. "In the 1980s and '90s, it was very hard for a woman to be accepted as a winemaker or even work in production," said Zouzounis. "Today it seems to be better, but the numbers in the study surprise me. I would have thought they would be higher."
Zouzounis was included in James Laube's (1999) book, Wine Spectator's California Wine as winemaker at Mazzocco Winery and again in the 2014 set of wineries in Dr. Gilbert's recent study, as were Merry Edwards, winemaker at Liparita Cellars in 1999, and Celia Welch, formerly winemaker at Hartwell Vineyards and Staglin Family Vineyard, who also commented on the study.
"It was good to read this informative paper, and actually see a positive increase in the numbers on a winery by winery basis," said Merry Edwards, winemaker and co-owner of Merry Edwards Winery Russian River Valley.
"All of California's wine professionals should recognize and appreciate Dr. Gilbert's study, which carefully quantifies the inclusion of women winemakers into California's wine industry," commented Celia Welch, winemaker and owner, Corra Wines and consulting winemaker at several other wineries in Napa Valley. "Her thorough analysis of this subject is unique, and shows encouragement in recent trends. I am grateful for Dr. Gilbert's years of research on behalf of women pursuing professional careers in fields that were—and are still—predominantly male."
Downloadable PDF of full study at website: http://www.womenwinemakers.com/ under "Our Studies."