Sonoma County Wineries Push the Envelope on Innovative Wine Tourism Experiences
Sonoma County wineries have always shown creativity when it comes to developing unique wine tourism experiences for visitors. For example, it was almost 10years ago now that Benziger Vineyards became one of the first wineries in the country to launch a tractor tour through the vineyards to teach visitors about biodynamics.
Food & Wine Pairing Experiences
When it comes to unique food and wine pairing activities, Sonoma wineries have created some over-the-top experiences. J Winery's Bubble Room treats visitors to a three-course food and wine pairing in an exquisitely decorated private room; St. Francis Winery delights customers with a five-course pairing that has been said to "rival Michelin star restaurants;" and Mayo Family Winery wows tourists with a seven-course pairing that has been praised by the Wall Street Journal.
Wine & Water Experience
But in the last few years, even more innovative wine tourism experiences have surfaced. Probably one of the most unusual is Francis Ford Coppola Winery's Pool Cabinet Package where for $125, four people can lounge by the pool in a private cabana all day and sip wine flights.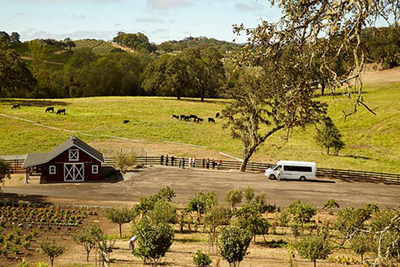 Jordan Winery Estate Tour.
Photo Credit: Jordan Winery
Wine at The Top
Another exclusive experience that has recently opened to wine tourists is Jordan Winery's Estate Tour & Tasting ($120). Here visitors spend three hours touring the 1,200 acre estate, including tasting fruit and vegetables in the chef's garden, a food and wine pairing at the fishing lake, forays in the various vineyards, and encounters with animals such Texas Longhorn cattle, donkeys and chickens. The highlight of the tour is a second food and reserve wine pairing in a private pavilion at the very top of the Mayacamas Mountains with a 360-degree view of Sonoma County.
According to Lisa Mattson, communications director at Jordan Winery, "When we were creating this new tour, we benchmarked some great wine tour experiences at other wineries in Napa and Sonoma. We found that no one was offering a luxury oriented tour that allowed people to explore the beauty and bounty of the land. Because we have such a diversity of agriculture on our property, we are able to offer visitors something very special."
Pushing the Envelope on Wine Tourism
These types of innovative wine tourism experiences are important for more mature wine regions such as Sonoma and Napa, which need to continually strive to keep their "brand fresh." For the jaded wine tourist who says, "I've already done Napa and Sonoma," new and unique experiences like these are important to luring them back. (Though you would think the fact that these two valleys have more than 800 wineries between them would be enough!)
Furthermore, it is these types of fun and creative activities that often remain in the memories of wine tourists longer than just a traditional wine tour and tasting. By encouraging the visitor to linger longer in a relaxed and enjoyable setting, more brand awareness and loyalty can be built. And if the visitor joins the wine club, they are often allowed to bring friends back to experience the unique activity at a discount. Even more clever!
About the Author: Dr. Liz Thach, MW is the Korbel Professor of Wine Business at Sonoma State University where she conducts research on wine tourism, marketing, consumer behavior and strategy. She can be contacted at: Liz@lizthach.com or Liz.Thach@sonoma.edu