Opus One CEO Pearson Discusses Luxury Brand's International Market Focus
Featured Speaker at UCD Lecture Series
David Pearson, CEO of Opus One in Napa Valley, discussed the luxury brand's new initiatives as well as its objectives to expand international sales volume and increase U.S. pricing to match higher international prices, during a talk on April 30 at the Robert Mondavi Institute (RMI) at UC Davis (UCD).
Pearson presented his talk, "Lessons Learned in a Life With Opus One," to an audience of UCD students, faculty and industry attendees as part of the Walt Klenz Lectureship Series, an endowed program begun in 2005. It is sponsored by Treasury Wine Estates (formerly Beringer Blass Wine Estates), with lectures by wine business leaders, and named in honor of former Beringer CEO Walt Klenz, who introduced Pearson. The lectures are presented by the RMI and the UCD Department of Viticulture and Enology.
Building and Maintaining a Luxury Brand
Pearson's talk included a business presentation Opus One has been giving to distributors and negociants, and he used it as a case study on how a 35-year-old luxury wine brand remains fresh and successful. Pearson reviewed Opus One's history, which started in 1978 as a joint project between Robert Mondavi and French winery owner Baron Philippe de Rothschild. Their primary goal was to make a single red wine in a French fashion in California, and create the first U.S. and California wine to exhibit the characteristics of a true Grand Cru wine. Many of the original goals continue today: the pursuit of absolute quality, a global market presence and success with top wine buyers, critical recognition from the press and trade, speculation and re-selling of the wine on secondary markets and at auction, and creating demand in excess of supply.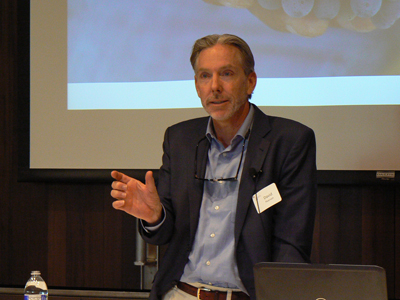 In 2004, Mondavi began selling winery properties, and Constellation Brands became owner of Mondavi's flagship Oakville winery and a 50 percent owner of Opus One. Under a 2005 ownership accord between Constellation Brands and Baroness Philippine de Rothschild, each company would maintain 50 percent ownership, but Opus One would have operating independence in the areas of vineyard management, domestic and international sales, and administration.
When Pearson became CEO in 2004, the company was selling into 65 countries through exclusive relationships with sales agents. Pearson helped launch a new international-market focus by terminating those arrangements, and Opus One now provides allocations every year to 22 negociants who specialize in Bordeaux sales, who are free to sell wine where they want. "In the international market, there is no three-tier system, wine can be sold to anyone. Negociants can create a stock market effect. We found there was latent demand globally for Opus One, and this move has been very successful," Pearson explained.
He showed a graph of U.S. sales statistics indicating a decline in Opus' domestic sales since 2004, but said, "Volume is not the most important factor in the luxury market, it's pricing. Opus does not ever lower its price and we don't ever intend to." In 1997, export sales accounted for 18 percent of Opus sales—a high percentage for California wines at the time—but today, exports are 50 percent of sales.
In 2011, Opus opened an international sales and marketing office in Japan that also oversees Hong Kong and the growing Asian market. Japan currently accounts for almost 50 percent of Opus One's export market, but Pearson expects export sales to become more globally diversified in the future.
As an indication of demand and brand strength, Pearson cited the "Top 100 Most Searched for Wines" list from WineSearcher.com. Based on the number of Internet searches during a recent evaluation period, Opus One had reached #7 on the list, and was the first U.S. wine and first non-French wine on the list.
Production and Technology Initiatives
New production initiatives include an optical sorting machine to sort destemmed grape berries to enhance quality, and a yeast isolation project evaluating 10 different yeast strains from the vineyards for special characteristics. Opus One is gradually replanting its 169 acres of Napa Valley vineyards, planted with five red Bordeaux varieties in four parcels, with the goal of having vines that produce for 30 to 40 years.
New packaging includes a Near Field Communication (NFC) chip in the back label that serves to prevent counterfeiting, can be scanned with a smart phone to provide a consumer with wine information, and enables tracking of the bottle anywhere in the world. As a counterfeit measure to prevent refilling the bottle, a unique patented ink is now used on the capsule that will indicate whether the capsule has been replaced.
Pearson said social media and direct marketing have changed how business operates, and Opus One has adapted how it interacts with customers. He noted that "word of mouth" is always important and is a positive aspect of social media that helps the brand. With new media, he said, "We may no longer control our brand, but we can participate in the conversation." Recent annual statistics show the Opus One website had 173,000 visitors, and social media logged 40,000 mobile visitors. After receiving 90,000 actual visitors to the winery in Oakville in 2007, Opus One decided this was too many and placed an annual limit of 60,000 visitors, all by appointment only.
Pearson's Insightful Tidbits
"Selling Opus is easy. The trick is selling it well—to the right person at the right time, and maintaining your margins. That's what the luxury market is about."
"Wine makes us slow down, it teaches us the value of patience."
Observing that wine is being made and consumed all over the world today, he said, "This is an exciting time for wine and the wine business. As Robert Mondavi used to say, 'the best is yet to come,' and I firmly believe that. But where we're going, I have no idea."