Wine Tourism for History Buffs -- Do You Really Know the Historic Wine Regions of America?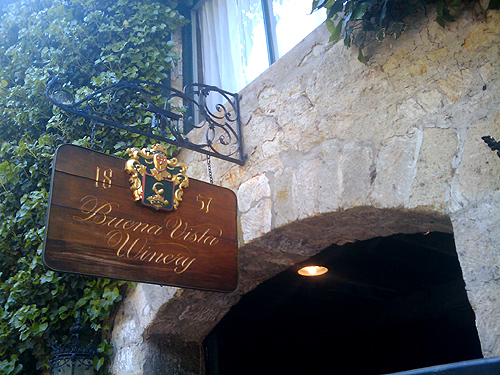 Wine tourism is growing around the world. Research shows that consumers are lured not only by the opportunity to taste new wines and enjoy beautiful vineyard settings, but also by complimentary motivations such as architecture and wine, the culinary aspects of wine, history and wine, and even eco-tourism and wine. One area that has seen increasing growth in the US is wine tourism linked to American history. This is part of the reason that the Biltmore Estate in North Carolina is the most visited winery in the US, welcoming more than 600,000 visitors per year.
A Mini-American Wine Quiz
Most people are aware that all fifty US states have a winery, but many do not know the true historic American wine regions. Here is a mini quiz to test your knowledge:
Which American wine region was the first to plant successful vineyards with vitus vinifera vines? a) California, b) Florida, c) Texas, d) New Mexico, e) Virginia
What is the name of the oldest continually operated winery in America? a) Wollersheim in Wisconsin, b) Buena Vista in California, c) Brotherhood in New York, d) Val Verde in Texas, e) Stone Hill in Missouri.
Which wine region produced a famous sparkling pink Catawba wine that was very popular in Europe and was cited in the 1851 Great Exhibition of London catalogue as "the chief seat of wine manufacture in the US?" a) Virginia, b) New York, c) Arkansas, d) California, e) Ohio
Oldest American Wine Regions
Some Americans will remember that Ponce de Leon arrived in Florida in 1513. As many Spanish and French Huguenot settlers followed they were amazed at the profusion of native American grapes, and records show they made muscadine wine as early as 1565. However, it was in New Mexico, first settled by Juan de Oñate in 1598, that the first vitus vinifera vineyards were planted in 1629 by Spanish missionaries bringing cuttings of the "mission grape." It wasn't until 1769 that the first Spanish settlement in California was established in San Diego, with mission grapes planted with the development of the California mission system.
Oldest American Wineries
Though Thomas Jefferson attempted to establish a winery and plant several vitus vinifera vineyards in Virginia in the late 1700's and early 1800's, he was not successful due to attacks of black rot and phylloxera. Therefore many of the early East Coast and Midwest American wineries used native American or hybrid grapes, such as the Concord, Niagara, Norton and Catawba. Today, the oldest continually operated winery in America, the Brotherhood Winery in New York established in 1839, continues to use a few of these grapes, but has now expanded to include the classic vitus vinfera grapes and is especially well-known for its exquisite Rieslings.
The location of other historic American wineries may surprise some wine buffs. In 1842 Count Agoston Haraszthy from Hungary established a winery in Wisconsin (named Wollersheim winery today) before heading to the west coast to establish California's oldest winery Buena Vista in 1857. However a few years before this, Stone Hill Winery was started in Missouri in 1847 and Meiers Winery in Ohio was launched in 1856. Other famous historic American wineries include Renault Winery of New Jersey established in 1864, Wiederkehr Wine Cellars and Post Famile Vineyards both started in 1880 in Arkansas, and the Val Verde Winery of Texas set-up in 1883. The oldest continually operated sparkling winery in California is Korbel Champagne Cellars founded in 1882.
The American wine region that produced the famous sparkling Catawba that was the "toast of London" in 1851 was Ohio where Nicholas Longworth started a very successful winery outside of Cincinnati. Today, Meiers Winery of Ohio continues this tradition of producing pink Catawba wine.
American Wine Tourism Grows in Importance
Almost 4.5 million people visit Napa Valley each year to taste wine and enjoy the beautiful countryside and amazing winery architecture. This growth in wine tourism is happening across America. According to Tom Blackwood, Director of Retail Operations for Buena Vista Winery in California, "We are seeing more visitors who have stopped at Wollersheim Winery in Wisconsin, learned about Count Haraszthy, and have come to Buena Vista to learn about his historic wine journey."
This trend has inspired Brian Murphy, Director of Expedia CruiseShipCenters , to launch a new Mississippi riverboat cruise entitled the "History of Wine in America." It is a 9 day cruise Oct. 27 to Nov. 6, 2012 sailing from St. Louis to St. Paul beginning with a welcome wine dinner at the historic Stone Hill Winery in Missouri. Both Buena Vista and Wollersheim wineries will be on board to feature their wine in a historic tasting that will include character actor George Webber as Count Harazathy. The cruise will also include tastings of other historic American wineries: Brotherhood in New York, Meiers from Ohio, Val Verde from Texas, and Wiederkehr from Arkansas.
Conclusion: Books on American Wine
In summary, wine tourism in America appears to be enjoying positive growth. Indeed, the number of US wineries continues to grow as well, with 7116 wineries in 2011, an increase of 278 wineries or 5% over the previous year. For more information on the history of American wine, see "The American Wine Guide" by Kevin Zraly, "American Vintage: The Rise of American Wine" by Paul Lukacs, and "A History of Wine in America: From Prohibition to the Present" by Thomas Pinney.

ABOUT THE AUTHOR: Dr. Liz Thach, MW is the Korbel Professor of Wine Business and Management at Sonoma State University in California. For more information on wine tourism, please contact her at Lizthach@aol.com. For more information on the History of Wine in America riverboat cruise contact Brian Murphy at NorthBay@cruiseshipcenters.com. Liz will be one of the wine educators on board the American History wine cruise.
Other Online References
http://www.nmwine.com/history.html
http://www.brotherhood-winery.com/
http://wine.appellationamerica.com/
http://www.wineamerica.org/
http://www.ecoastwines.com/node/98
http://www.biltmore.com/media/news-release.asp?id=24
http://www.monticello.org/site/house-and-gardens/vineyards