Seattle Couple Begin New Website to Offer Consumers More Choice in Grower Champagnes
Bryan and Abby Maletis have begun to import grower Champagnes and sell them via www.Fatcork.com.
Bryan Maletis is the son of Columbia Distributor's owner Ed Maletis, who runs the largest beer, wine and soft drink wholesaler in the Northwest. Bryan Maletis said he used his own savings to fund the operation. He said, "The family business has nothing to do with this. It was a small start-up cost that my wife and I were able to handle with our savings. No VC's, no investors, just our dream."
The two are importing from 12 growers with a total of 39 cuvees, basically 2-5 cuvees from each grower.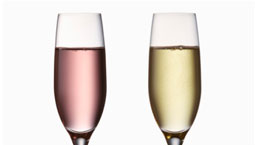 Maletis claimed, "The only grower we work with that is currently imported into the US is one called Grongnet, the other 11 are exclusive to us. We have set up an importer entity called A & B Trade to handle the import side of things, while Fat Cork handles the retail business."
Pricing is on-line, and ranges from $40-$200, with a median price of about $52.
Seattle locals can make an appointment to stop by and purchase in person. The site is more a small warehouse than a retail shop, and is kept at a constant 55 degrees. Fatcork is using UPS to ship to states where direct shipment is allowed.