2015 Survey of American Wine Consumer Preferences
by Dr. Liz Thach, MW and Dr. Kathryn Chang
November 11, 2015
As the world's largest wine market since 2010 (Wine Institute, 2015), the United States has become a focus for most major producers of wine. But the American wine consumer has many diverse tastes and buying preferences, and some of these can change quickly based on popular television shows and movies, or new trends in dining and beverage consumption.
So what does the American wine consumer prefer today, where do they purchase wine, why do they drink it and how do they interact with wine on social media? These are just a few of the questions that are explored in the annual American Wine Consumer Preference Survey launched by Sonoma State University (SSU) and the Wine Business Institute.
About the Survey and Sample
First conducted in 2014, this is the second annual survey, and was launched in May 2015. It was developed by SSU researchers who contracted with Survey Sampling International to collect household panel data from wine drinkers across the nation.
The final sample included 1,072 American wine consumers (59 percent women and 41 percent men) with all 50 states represented. In terms of age, 27 percent were younger Millennials between the ages of 21 and 29; 29 percent were older Millennials aged 30 to 37; 23 percent were Gen Xers aged 38 to 49, and 21 percent were Baby Boomers aged 50 to 68. Ethnicity was 65 percent Caucasian, 13 percent Hispanic, 11 percent African-American and 11 percent Asian.
The median annual income of the sample was $50,000 to $69,999, but 18 percent made over $100,000 per year. The sample was highly educated, with 60 percent of those surveyed having a college degree compared with 32 percent of the U.S. population (US Census, 2014). In terms of marital status, 59 percent were married and 48 percent had children under the age of 18 living at home.
Wine Consumption Frequency and Preferred Varietals
The sample enjoyed drinking wine because 56 percent reported they consume wine daily or several times per week, making them "High Frequency Wine Drinkers," according to Wine Market Council (2015) segments. The remaining 44 percent are considered to be "Occasional Drinkers."
Respondents were given a list of the 12 most frequently purchased wine varietals in the U.S., based on Nielson scan data (2015). The chart below illustrates their responses to the question: "What are some of your favorite wine varietals? Check all that apply."

Graph 1: Favorite Varietals by percentage of Respondents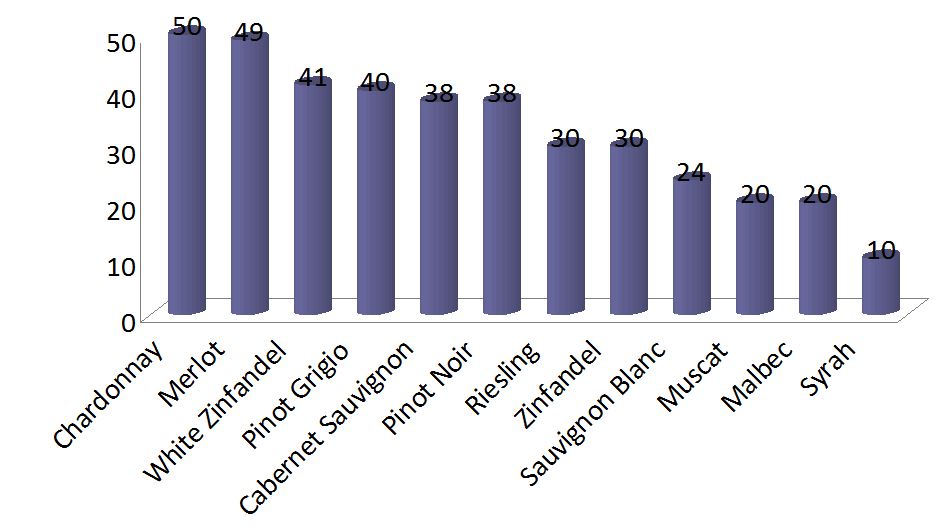 Americans Love Fruity Red Wines
In addition to varietal preferences, respondents were asked to select their favorite types of wine. The highest scoring was red (74 percent), followed by white (72 percent), rosé (43 percent), sparkling (42 percent), dessert (19 percent) and fortified (8 percent). A question about wine style was also added: How do you prefer your wine to taste? Check all that apply. The results, illustrated in Graph 2, show that fruity, semi-sweet, and smooth were preferred styles by the majority of the consumers.

Graph 2: Favorite Wine Styles by percentage of Respondents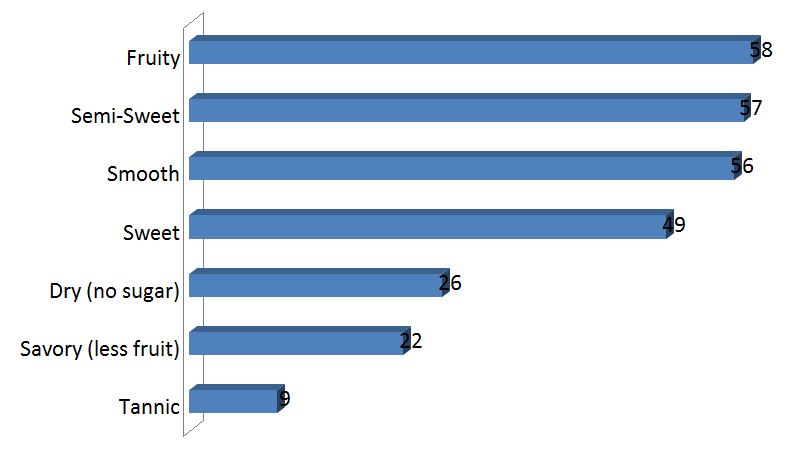 Wine Knowledge and Reasons to Drink Wine – "I Like the Taste!"
When asked to describe their level of wine knowledge, only 4 percent of the sample rated themselves as wine connoisseurs or experts, but 21 percent said they had advanced knowledge, meaning they considered themselves to know more about wine than most people. The majority ranked themselves as having intermediate wine knowledge, at 57 percent of respondents, and 18 percent identified themselves as wine novices.
The largest majority of respondents reported that the reason they drink wine is because they like the taste, followed by relaxation and socialization reasons. (See graph 3)

Graph 3: Reasons Americans Drink Wine by percentage of Respondents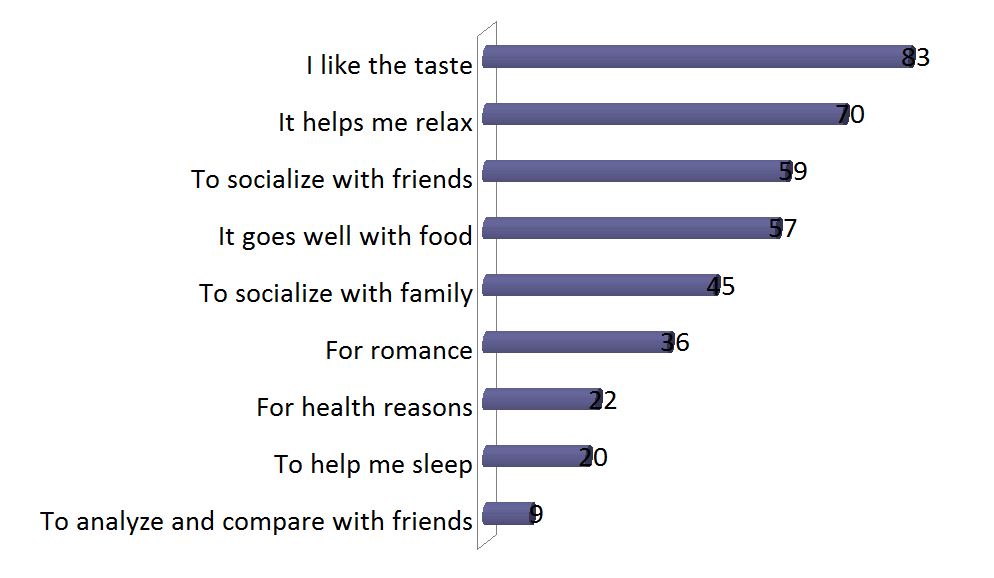 Decision-Making on Which Wine to Purchase
When making a decision on which wine to purchase, the two most important factors American consumers use are price, selected first by 72 percent of the sample, followed by brand at 67 percent (See Graph 4). Respondents were asked: When making a decision on which wine to buy, I usually consider. Check all that apply. Less important considerations were varietal, selected by 36 percent of respondents, and then country at 35 percent.

Graph 4: Wine Purchase Decision Making by percentage of Respondents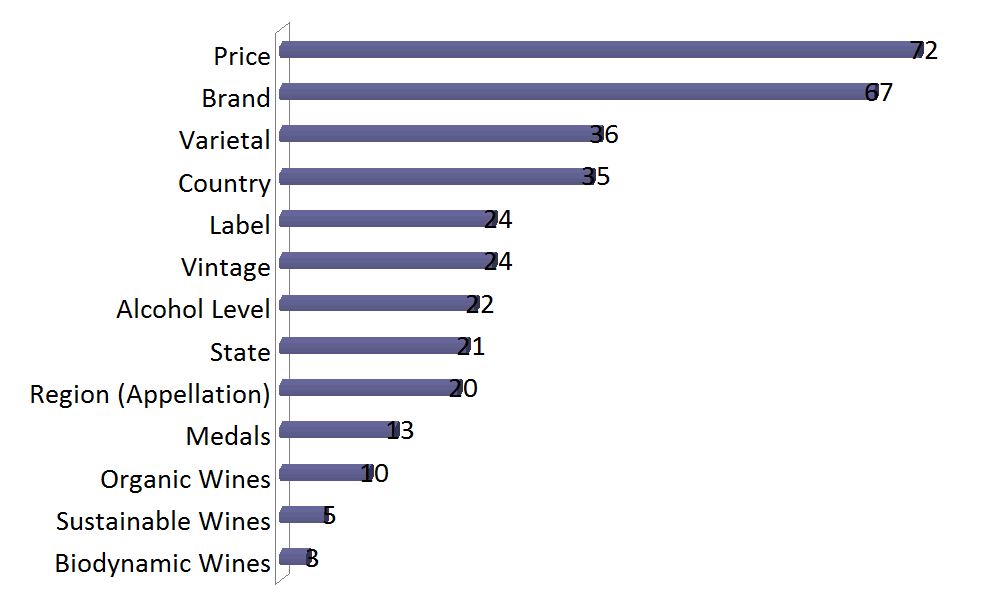 Since country was identified as the fourth most important decision factor for purchasing wine, the data were analyzed further to examine country preferences. Wine made in the U.S. was the most popular with 95 percent of the sample reporting they have purchased U.S. wine in the last year. This was followed by Italian wine at 50 percent, French wine at 44 percent, Spanish wine at 32 percent and Australian wine at 26 percent.
Once again, the categories of organic, sustainable and biodynamic wines showed up last in the decision-making process. This may be due to the fact that previous research shows that many Americans already consider wine to be a natural drink, whereas others are confused by the many environmental and organic certifications advertised (Sullivan, 2010).
Wine Shopping Locations & Price
In terms of preferred shopping location for American wine consumers, buying in a wine or liquor store is the most common. This makes sense because it is still not possible to purchase wine in grocery stores in all 50 states. Participants were asked to rate how often they purchase wine at these locations with possible responses of Never (0), Rarely (1), Sometimes (2), Often (3), and Almost Always (4). In this study, 30 percent of the respondents said they purchase wine in a wine/liquor store almost always, which caused the overall rating to be 3.73, whereas only 17 percent said they almost always purchase wine in a grocery store, resulting in an overall rating in that category of 3.12. Online wine sales are still quite small with only 6 percent of the sample reporting they almost always purchase wine online.

Graph 5: Most Common Location to Buy Wine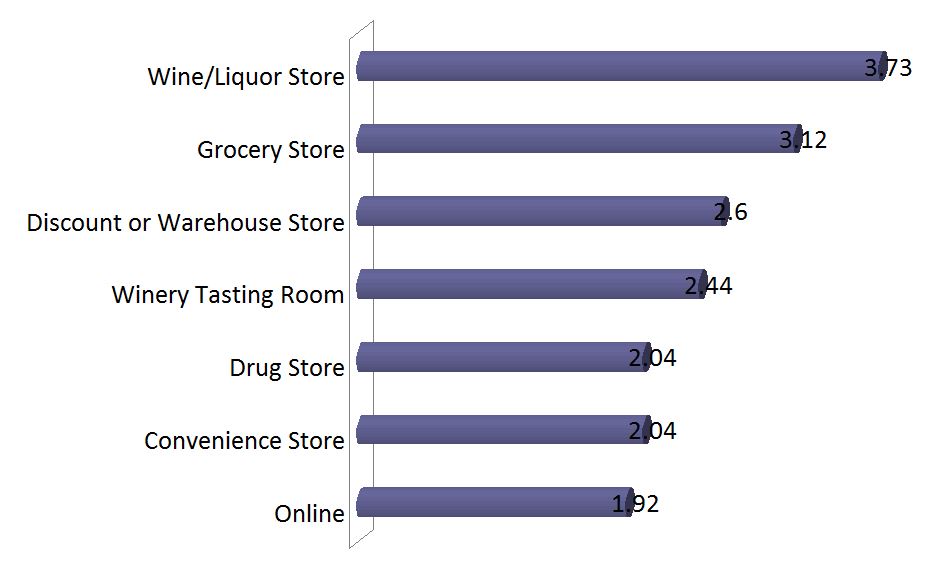 In terms of pricing, when buying a bottle of wine to drink at home, the most common price was $10 to 15 per bottle at 32 percent of the sample. However 19 percent will spend $15 to 20, and 14 percent will spend more than $20 per bottle to drink at home. When buying wine in a restaurant, the most common price was $26 to 35 at 23 percent of the sample, but 16 percent will spend $36 to $45, and 12 percent will spend more than $46. A surprising 24 percent reported they only buy wine by the glass at a restaurant, with 51 percent spending $7 to $10 per glass, 15 percent spending $11 to $15 per glass and 5 percent spending more than $15 per glass.
Wine Tourism in the U.S. and Abroad
American wine consumers appear to enjoy visiting wineries as tourists, because 58 percent reported that they had visited wineries in other regions to taste wine. When asked to select which states they had visited wineries, California was identified by 61 percent of the sample, followed by New York at 30 percent, Washington (23 percent), Oregon (20 percent) and Florida (18 percent).
Favorite American Wine Tourism Destinations
Top 5 Wine Tourism States Visited by American Wine Drinkers
California (61 percent)
New York (30 percent
Washington (23 percent)
Oregon (20 percent)
Florida (18 percent)
Top 5 Wine Tourism Countries Visited by American Wine Drinkers
Italy (44 percent)
France (42 percent)
Spain (28 percent)
Germany (20 percent)
Canada (16 percent)
When visiting wineries internationally, Americans first go to Italy (44 percent), followed by France (42 percent), Spain (28 percent), Germany (20 percent) and closer to home: Canada at 16 percent and home to more than 700 wineries (Gordon, 2015).
American Consumer Perceptions of Wine and Health
Moderate consumption of red wine is said to provide health benefits such as reducing heart disease and increasing longevity (Vasanthi et al, 2011). The sample appears to agree with this perception. When asked which types of wine they thought were most healthy, about 89 percent of respondents indicated red wine, followed by white wine (34 percent), rosé (18 percent), sparkling wine (10 percent) and fortified wine (6 percent). When compared to other types of alcoholic beverages, 82 percent of respondents considered wine to be healthier to drink than beer and 83 percent reported they thought it was healthier to drink than spirits. Regarding sulfites in wine, however, 58 percent reported that they believe the sulfites can give some people headaches.
Wine Social Media and App Usage
Wine is regarded as an "experience good" in that wine purchase of a specific brand is a personal choice and usually made after tasting. However, many consumers do not have that choice and often rely on experts and friends to help them to decide which wine to purchase. Nowadays, they are more likely to use social media search engines to seek expert advice on wine purchase (Newman 2010; Breslin 2013).
When asked which social media platforms they used, the results show that Facebook is the most popular at 84 percent of the sample, followed by YouTube (47 percent) and Twitter (45 percent). Only 6 percent of respondents do not use any social media platforms (See Graph 6). Of those who regularly use social media, 44 percent of the sample used it to discuss wine, 47 percent looked up wine price, 54 percent tried to get wine information, and 51 percent asked friends for wine recommendation.

Graph 6: Social Media Use by Percentage of Respondents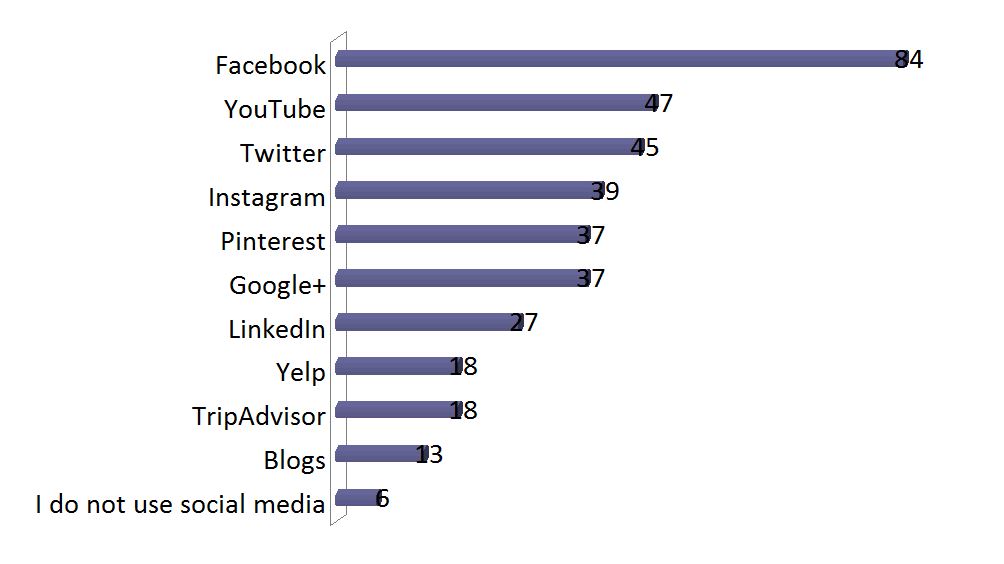 With mobile commerce predicted to grow 48 percent in the U.S. to $90 billion by the end of 2017, (Forrester, 2012), it is worthwhile to track smartphone usage of wine drinkers. According to the sample, 90 percent now own a smartphone and 43 percent use it to check prices on wine.
Smart Phone & Wine App Usage
Have a Smart Phone = 90 percent
Have wine apps on your smart phone = 26 percent
Use wine apps to help you decide which wine to buy = 25 percent
Use apps to get coupons on wine = 28 percent
Use your smart phone to check prices on wine = 43 percent
Of the 26 percent that used wine apps, the most popular was Vivino at 17 percent of the sample, followed by HelloVino and WineSearcher at 15 percent, and Delectable at 11 percent.
Implications – What Does This Mean to Wine Marketers?
The American wine consumer has both a predictable and contradictory personality. For the past decade Chardonnay has been the favorite varietal of the country, but overall Americans drink more red wine than white wine. They can easily be influenced by Hollywood and dining trends, as was the case with the movie Sideways and the desire to drink more Pinot Noir, but they have not given up their love for the smooth tannins of Merlot, now often bottled as a "Red Blend." Though many loudly profess they only drink dry wine, the statistics show that fruity, semi-sweet, and smooth are more important.

American wine drinkers have also embraced smartphones, social media and wine, though only a small percentage buys wine online. This may have to do with the fact that regulations make it complicated to ship wine to a residential home. Moreover, the average cost of wine purchased online is higher than the $10 to $15 bottle price most Americans are willing to pay.
So what does this mean to wine marketers? Clearly knowing your segment of American consumers and their likes/dislikes is crucial. The connoisseur segment for example, is willing to pay much more for wine and may prefer dry/tannic styles. However when concentrating on the average American wine drinker, this study has several clear take-aways:
Craft wines to match preferred taste styles (which should be fruity, smooth and perhaps a little sweet)
Focus marketing messages on the relaxation and social benefits of wine. (It is not legal to mention the health benefits that Americans perceive about wine.)
Adopt social media platforms to interact with your consumers.
Make sure your wine/winery is accessible via mobile phone websites and wine apps.
If selling nationally, make sure your wines are available in wine/liquor stores
Consider adding a lower-priced tier to match the popular $10 to $15 price point, or the $15 to $20 category.
Encourage wine tourism by working with local associations to promote your region to more visitors.
Research methods to sell less-expensive wine online at low shipping rates, similar to what is happening in China where wine e-commerce is much more popular.
Future Questions for the Survey: If you have suggestions on additional questions that should be added to the 2016 survey, please let the authors know. The survey is launched each May. WBM
References
Breslin, K. (2013). Presentation on Constellation Digital Marketing in 2013. San Francisco, CA, November 2013.
Fact Book (2014). Beverage Alcohol State Facts & Regulations. Norwalk, CT: The Beverage Information Group.
Forrester (2012). US Mobile Payments Forecast, 2013 To 2017. Forrester.com. Retrieved on 9/14/15 at http://www.slideshare.net/MobileCapture/mobile-payments-43760465
Gordon, J. (2015). Number of North American Wineries Grows 7 percent.Wines & Vines, Jan. 27, 2015. Retrieved on 9/14/15 at http://www.winesandvines.com/template.cfm?section=news&content=145325
Newman, K. (2010) "How Wine Lovers Use Social Media: Wine and social media have created an incredible force within the industry".Wine Enthusiast. Retrieved on 9/14/15 at http://www.winemag.com/March-2010/Wine-Online-How-Wine-Lovers-Use-Social-Media/
Nielson. (2015). Off-Premise Wine Sales. Wine Business Monthly. April 2015.
Sullivan, M. (2010), "For California vintners, it's not easy being green. UCLA Newsroom, Retrieved on 9/14/15 at http://newsroom.ucla.edu/portal/ucla/for-california-vintners-it-isn-154669.aspx
US Census. (2014). Educational attainment. Retrieved on 9/4/15 at http://www.census.gov/hhes/socdemo/education/data/cps/2014/tables.html
Vasanthi, H. R., Parameswari, R. P., DeLeiris, J., & Das, D. K. (2011). Health benefits of wine and alcohol from neuroprotection to heart health. Frontiers in Bioscience (Elite edition), 4, 1505-1512.
Wine Institute. (2015). 2014 California Wine Sales Grow 4.4 percent by Volume and 6.7 percent by Value in the U.S. Wine Institute Press Release, May 19, 2015. Retrieved on 8/28/15 at http://www.wineinstitute.org/resources/pressroom/05192015
Wine Market Council (2015). Research. Retrieved on 9/3/15 at http://winemarketcouncil.com/research
by
Dr. Liz Thach, MW (Liz@lizthach.com) is the Distinguished Professor of Wine and Dr. Kathryn Chang (changkat@sonoma.edu) is an assistant professor of accounting at Sonoma State University in the School of Business and the Wine Business Institute.