Pandemic Trends Still at Play in Off-Premise, DtC 
March 22, 2021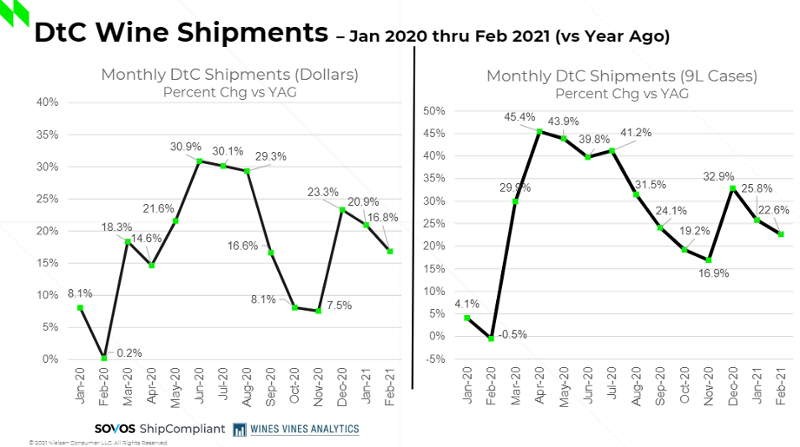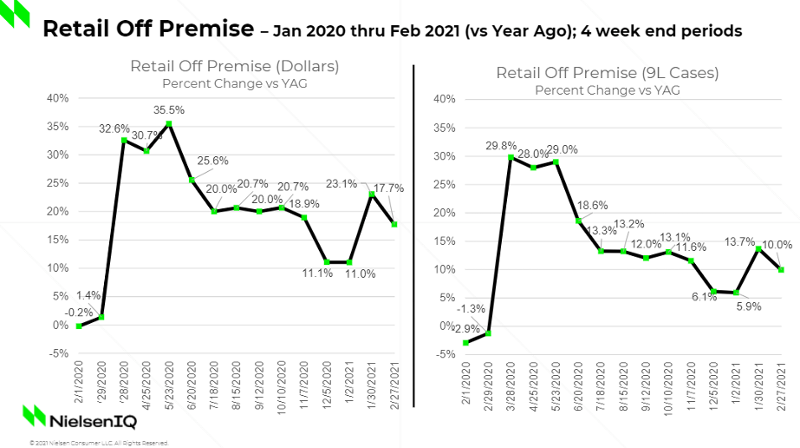 Winery direct-to-consumer shipments and off-premise sales continued to show strong growth nearly a year after the initial "lock down" orders roiled the U.S. wine market and wider economy.
According to data by NielsenIQ and Wines Vines Analytics/Sovos ShipCompliant, DTC shipment value in February grew by 17% to more than $306 million, and off-premise sales were up 18% to $1.6 billion. "With price tiers north of $11 again leading the way as in all prior months, and thus dollar growth exceeding volume growth by a significant degree, the retail off-premise environment continued to premiumize, albeit at levels well below DTC prices," noted Danny Brager in his latest off-premise report.

Brager is the former vice president of beverage alcohol for NielsenIQ and is now representing a new joint data report that tracks the DTC and off-premise markets.
Within the off-premise outlets tracked by NielsenIQ, wines from Napa County and Oregon saw "standout growth" in the last four weeks with sparkling wines enjoying more than 20% by both value and volume.
Oregon wines also did well in DTC with gains of more than 30% in both value and volume with "other US" (or wines from non-West Coast states) enjoying similar growth as well. The average bottle price of all shipments was down nearly $2 to $39.49 compared to last year. "Almost all price tiers —from low to high — reported double digit growth, except for the $50 to $100 tier, which only grew by single digits," Brager said.
The complete off-premise report includes additional data on sales by price tier, varietal, wine origin, winery size and destination markets. For more information, contact Brager at danny.brager@nielseniq.com