Bonobo Winery Releases 2020 Pinot Blanc
Posted on April 16, 2021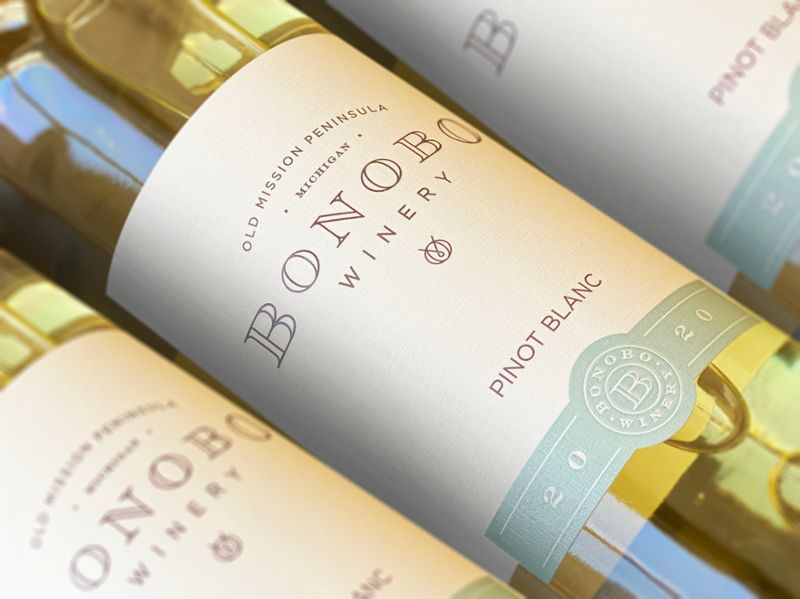 TRAVERSE CITY, Mich., April 16, 2021 – Bonobo Winery, a family-owned vineyard on Michigan's Old Mission Peninsula, is releasing its 2020 Pinot Blanc, among the winery's first major releases of 2021, which many are calling a "beautifully structured, vibrant and fruity summer wine." The 100 percent estate-grown Pinot Blanc is available now to wine club members and in the tasting room, or online at bonobowinery.com.
While Pinot Blanc shares the same genetic fingerprint as pinot noir, it often gets less respect. But these are wines with a hefty dose of virtue, and they are bright, well-rounded and full-bodied. Bonobo's 2020 Pinot Blanc opens with honeysuckle and stone fruit aromas, and a slight touch of spice, complemented with juicy flavors of orchard fruit and citrus, which are rounded out with a chalky minerality.
"The Pinot Blanc is often overlooked, but it is actually incredibly versatile and sophisticated," said Todd Oosterhouse, Bonobo owner and general manager. "Our 2020 Pinot Blanc is approachable, yet refined, and people come from all over to try this limited release."
Bonobo Winery's vision is to bring a sense of approachability to the Michigan vine and wine scene, by removing pretenses, and allowing for an educational and enjoyable experience. Benefitting from the region's strong fruit-bearing properties, Bonobo grapes are estate and locally grown with wine produced on-site. The 19-acre vineyard is currently growing seven grape varieties including Pinot Gris, Pinot Blanc, Sauvignon Blanc, Chardonnay, Riesling, Pinot Noir, and Cabernet Franc.
Bonobo wines are available at the winery as well as specialty wine shops throughout Michigan, or online at https://www.bonobowinery.com/products.
About Bonobo
Bonobo Winery was founded by brothers and Traverse City natives, Todd and Carter Oosterhouse to offer world-class wines in a rustic, yet elegant atmosphere with a breathtaking view. Bonobo's business model is inspired by the close harmony of the traditions, philosophies, and ecological integrities of the region, and the winery is firmly committed to the community, employing local residents and using local resources. More info at https://www.bonobowinery.comhttps://www.bonobowinery.com.