Chateau Ste. Michelle Introduces Aluminum Bottles
Posted on July 24, 2020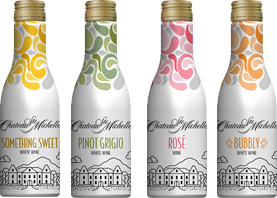 Woodinville, Wash. – Chateau Ste. Michelle, Washington's founding winery, is introducing its first wines packaged in smaller serving 250 ml aluminum bottles with resealable closures this summer. The colorful aluminum bottles feature a whimsical sketch of the winery's iconic Chateau in the shadow of Washington's Mount Rainier.
The line-up includes four flavorful, fruit-driven wines sold in 2-packs for retail stores ($12.99 SRP) and single bottles for restaurants. The wines are available in select markets nationwide, at the winery and online at ste-michelle.com.
"We wanted to create innovative, modern packaging to appeal to consumers looking for convenience and smaller serving options," explains Grant Grieg, Chateau Ste. Michelle Marketing Director. "The wines deliver the same quality winemaking our customers expect from Chateau Ste. Michelle in a package that is ideal for every occasion. These wines are your Chateau on the go."
The winery's lead creative designer, Stacey Neumiller shares what she likes most about the fresh new packaging. "I love that each bottle is playful with a bright pop of color," explains Neumiller. "We wanted to modernize the Chateau and bring it to life with a simple and clean illustration. We also wanted to add Mt. Rainier in the background because we can actually see it from the Chateau on a clear day. Perhaps my favorite thing about the packaging is the fun surprise on the side of each bottle. Look for the moon on the Something Sweet White Blend, a plane on the Pinot Grigio, a kite on the Bubbly and a hot air balloon on the Rosé. It was a fun figuring out clever ways to make the packaging playful and bright."
All four wines are sourced from vineyards in Washington's Columbia Valley.
The beautifully pale pink Rosé offers ripe strawberry flavors with a hint of currant, and an elegant finish.
The Pinot Grigio is a crisp and refreshing wine with bright citrus and mineral characters.
A blend of Riesling, Pinot Gris, Muscat Canelli and Viognier, the Something Sweet White Blend offers juicy, decadent peach and melon flavors.
The Bubby bursts with apple and anise aromas with a hint of exotic spices with refreshing effervescence.