Tarpon Cellars Launches New Wine Label, Cambaro
Posted on April 02, 2020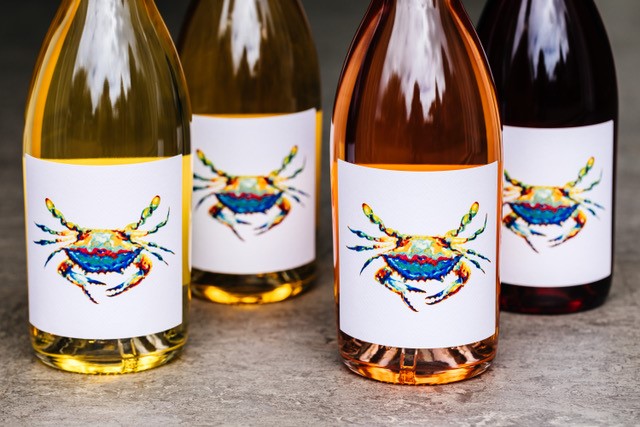 Photo Courtesy: Emma K. Morris
NAPA, Calif.--(BUSINESS WIRE)-- Tarpon Cellars, a Napa-based wine label focused on bringing people together through events, music, and philanthropy, introduces Cambaro. Appropriately recognized as the younger, hipper sibling of Tarpon's flagship offerings, Cambaro is a series of minimal intervention wines that are unique, yet approachable. Crafted to be food friendly, acid driven and incredibly aromatic, the label's wines are all priced under $30.
Made with fruit from the Heringer Estates Family Vineyards in the Clarksburg AVA, Cambaro takes a fresh perspective on winemaking by incorporating lesser used varietals such as Verdejo and Nebbiolo, while exploring techniques like skin-contact white wines (or orange wines) and carbonic maceration. The four wines are unique in their flavor profile, as the aromatics and mouthfeel will appeal to beer and cider drinkers of younger generations, but also balanced and intense in a way that is not typically seen at this price point. The collection includes:
Cambaro White: This blend of mainly Verdejo is a refreshing alternative for those that like a crisp ice cold Sauvignon Blanc or Pinot Grigio. Perfect for porches, oysters and summer.
Cambaro Rosé: A rosé of Tempranillo that features hints of cotton candy and white peach that is as close to Provence as you can get from the comfort of your own backyard.
Cambaro Skin Contact: Slightly experimental, this blend includes white grapes (mostly Chenin Blanc) that have been treated like red grapes and ferment on the skins for approximately 17 days. The result is a rich and layered white wine that is an on-trend alternative to Chardonnay. Sometimes called orange wine, this one packs a bit of a punch.
Cambaro Red: Created using the carbonic maceration winemaking technique in which the fermentation of Nebbiolo takes place with the grapes still on the cluster and no oxygen is present, this wine boasts incredibly bright flavors of red jolly ranchers and crushed cranberry. A great option for a chilled summer red for grilling or smoky dishes.
"The reception we've received since launching Tarpon Cellars in 2017 has been overwhelming. People love the wines and the social responsibility the brand represents, but they were also looking for more budget-friendly options to drink during the week," shares Jeremy Carter, founder and winemaker for Tarpon Cellars. "Cambaro allows us to produce high-quality, distinct flavors that appeal to all types of wine drinkers at affordable prices. It also gave me the freedom to explore some more creative avenues for winemaking that I have worked with throughout my career."
Cambaro, a Spanish word for crab, represents the warm, coastal lifestyle that Cambaro's flavors embody. The label was custom painted by Atlanta-based artist, Charlie Hanavich, who also did the original Tarpon Cellars' design. Preserving the mission that Tarpon Cellars is known for, every bottle of Cambaro will feature a custom Spotify playlist and $1 from every purchase will be donated to the Cystic Fibrosis Foundation of Georgia.
Cambaro wines are currently available at www.TarponCellars.com, with restaurant and retail distribution in Georgia and Florida planned for the coming months.
About Tarpon Cellars
Tarpon Cellars was founded in 2017 by veteran winemaker, Jeremy Carter, with the focus of crafting wines of distinction from Napa Valley. It produces single vineyard wines with fruit from Shifflett Ranch in Oak Knoll. In the spring of 2020, it introduced Cambaro, a second label featuring minimal intervention wines available under $30. All Tarpon Cellars and Cambaro wines feature a custom Spotify playlist and one dollar from every bottle sold goes to the Cystic Fibrosis Foundation of Georgia. Despite being a Napa Valley wine, Tarpon Cellars has deep roots in the southeast, with a distribution focus in Georgia, Florida, North Carolina, South Carolina, Tennessee and Texas. For more information, visit www.tarponcellars.com.