Make Me Blush with New Spritzed Rosé Moscato 
Posted on February 10, 2020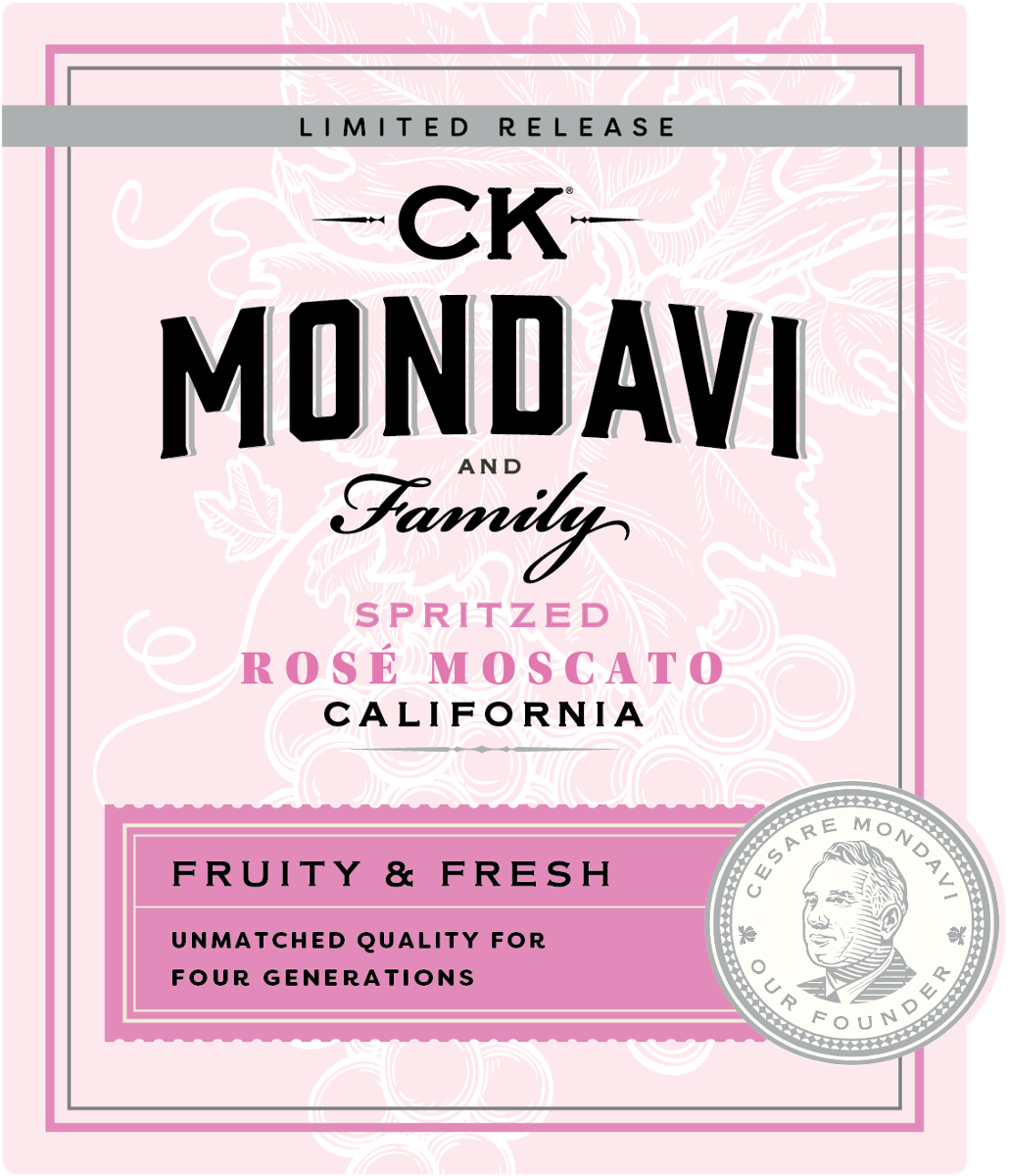 Napa, CA — When it's time to grab a bottle for Valentine's Day or a spring soirée, CK Mondavi and Family's Spritzed Rosé Moscato is a versatile choice for pairing that brings a pop of pink to any celebration. This spritzed, seasonal selection is available now at select retailers nationwide, and features a color-changing label to show when the bottle is perfectly chilled.
"We set out to create a delicious wine that's as enjoyable to serve as it is to drink," said Randy Herron, Head Winemaker, CK Mondavi and Family. "Crafted with the same attention to detail and quality we bring to all our wines, it offers flavors of strawberry and peach, with effervescence on the palate and a creamy yet crisp finish."
Printed with thermochromic – or temperature-sensitive – ink, the label transforms from a light cream color at room temperature to a blushing bright pink when properly chilled, at approximately 55 degrees Fahrenheit.
"This is an engaging way to know just the right serving temperature - when it's pink it's time to drink," said Judd Wallenbrock, Chief Executive Officer, C. Mondavi & Family. "Every bottle is an interactive experience. Plus, these new labels make a big impact in retail cold box displays," noted Pam Novak, Director of Marketing, Lifestyle Brands,
C. Mondavi & Family.
The Spritzed Rosé Moscato is the second in CK Mondavi and Family's line of limited-edition seasonal offerings. The program, which kicked off in 2019 with a Sunset Sweet Red Blend, appeals to consumers' sense of discovery. The CK Mondavi and Family collection also includes Pinot Grigio, Sauvignon Blanc, Chardonnay, Cabernet Sauvignon, Merlot, and Red Blend. All CK Mondavi and Family wines sell for a suggested retail price of $6.99.
About CK Mondavi and Family
CK Mondavi and Family wines are bottled in the Napa Valley by the iconic C. Mondavi & Family. For consumers desiring consistently delicious, everyday wines, CK Mondavi and Family wines overdeliver for the price point. Based in the Napa Valley for almost seventy-five years, CK Mondavi and Family's grapes are 100% sourced from California vineyards, utilizing sustainable farming techniques and winemaking practices that are more typical of expensive wines. Their relentless commitment to quality winemaking and hands-on small lot sourcing sets them apart from other value wines. A large portion of the grapes in CK Mondavi and Family wines are estate grown on the family's 1,850 acres of vineyard property and the family is committed to working with American growers that they've had partnerships with for generations. CK Mondavi and Family are the first and only wines 100% "Made in USA Certified®" and the family produces wines that are consistent, vintage-to-vintage, providing consumers with a value and quality they can rely on. Today, CK Mondavi and Family remains one of the most successful wine brands in America because of its excellent quality and great value. They can be found online at CKMondavi.com, or on Twitter, Facebook, Pinterest and Instagram @CKMondaviWines.