New Wine in a Can: Backpack Wine
Posted on September 22, 2016

Canned wine is currently experiencing incredible growth, with a recent Nielsen report showing an increase of more than 122.5% in sales compared to this time last year, bringing the total category to more than $14.5 million this year. While that is still a small percentage of the total wine category, it does indicate consumer acceptance of the concept, which makes room for new, higher-quality entries, including Backpack Wine™.
Backpack, debuting this month across Chicagoland, offers versatile rose and white wine blends sourced from great vineyards and packaged in recyclable cans that are ready for any occasion from tailgate to ski slope or bar to beach. Backpack Wine, led by a proven wine industry veteran, offers a unique combination of great-tasting, quality wine in a convenient, take-anywhere can, encouraging fans to "Skip the Cork" ™, grab a pack and enjoy socializing no matter what the occasion or location. Backpack Wine will be available in Cheeky Rose™ and Snappy White™ blend varieties, in four-can packs (MSRP: $19.99) at leading grocery and beverage retailers as well as at fine restaurant and bar establishments across the Chicago metro area beginning September 2016.
"We are sourcing the best wines out there, and making them more accessible to everyone, at any venue," states Jim Doehring, President of Backpack Wine. "By sourcing from high quality vineyards and blending to a specific house style, we offer consistent quality and a taste profile that will help wine lovers celebrate occasions they may have had to compromise on before. Backpack Wine can go off the beaten path where other wines can't, bringing our unique flavors to any occasion."
Designed to resonate with today's consumers, Backpack taps into the love of exploration and discovery as well and plays to the independent spirit of the millennial customer. Canned wine is easy to use and socialize over. It is portable, sharable and fun to pair with any foods from casual to fancy. The packaging has a natural integrity with high appeal, being recyclable and cost-effective as well as making wine more approachable, rebellious and fresh.
"With Backpack, the pretense of wine is eliminated, breaking down barriers to exploration for today's consumers who are more concerned with personal taste preference than drinking what is considered good by others," Doehring adds. "Backpack gives wine lovers a way to take their favorite beverage anywhere they go without the fragility of glass or hassle of corks while enticing non-wine fans to try an accessible, easy-going alternative to beer or malt beverages."
Doehring comes to Backpack Wine with a career's worth of experience in the wine industry, having held leadership positions in sales and marketing management at Far Niente Wine Estates, Jordan Winery, Southern Wine and Spirits and Pacific Wine and Spirits. It's this extensive background that has led Doehring to Backpack Wine.
"I've been in this business for a long time, and several years ago I started noticing changing trends in how millennials approached enjoying wine. We conducted research that reaffirmed there was an opportunity to deliver wine in a way that appeals to today's on-the-go consumers," Doehring continues. "Backpack brings the convenience and accessibility of a can along with the great taste and higher quality people who enjoy wine appreciate."
Backpack Wine will be available in Chicagoland beginning in September 2016 at fine retailers, bars and restaurants throughout the metropolitan area. For more information, visit www.backpack.wine.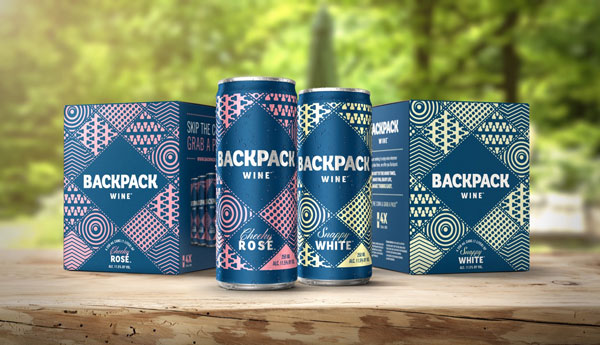 About Backpack Wine
Backpack Wine, a product of Source Code Beverage™ headquartered in Oak Brook, Illinois, is a premium canned wine sold individually or in four-packs of 250 ml cans. Initially available in Snappy White and Cheeky Rose varieties, Backpack Wine is sold through a distributor network and can be found at fine restaurants and bars as well as leading beverage and grocery retailers in several markets including IL, MN, WI, IN, MO, KS, MI, TN, OK, LA, TX, FL, CO, AZ and NV. For more information on Backpack Wine, visit www.backpack.wine, or follow us on Facebook and Instagram at BackpackWineCo.