Six Takeaways from Emetry's Data Summit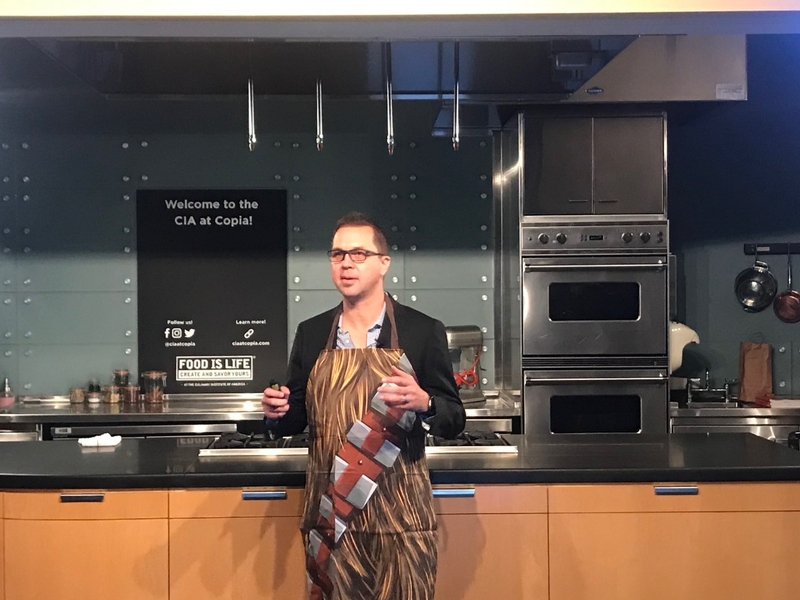 Emetry chief executive Paul Mabray at Copia "We've been cooking a lot this year"

Emetry, a company developing data-driven insights to help wine brands spot opportunities, invited customers and friends to a conference where speakers, most of them from outside of the wine business, discussed their careers and use of data and analytics.

Some of the takeaways:

1. Emetry is developing predictive analytics tools for direct sales and three-tier

Emetry CEO Paul Mabray briefly shared examples of customer segmenting and of a customer migration analysis that can indicate whether a winery is likely to lose a particular club member, whether an on premise account is likely to leave or stick with the winery, and so forth, based on their behaviors. He said a project with Foursquare launching this fall will offer additional insights.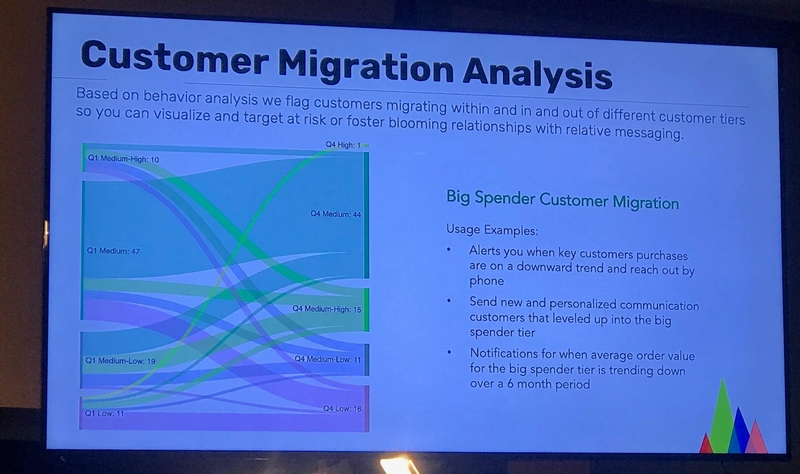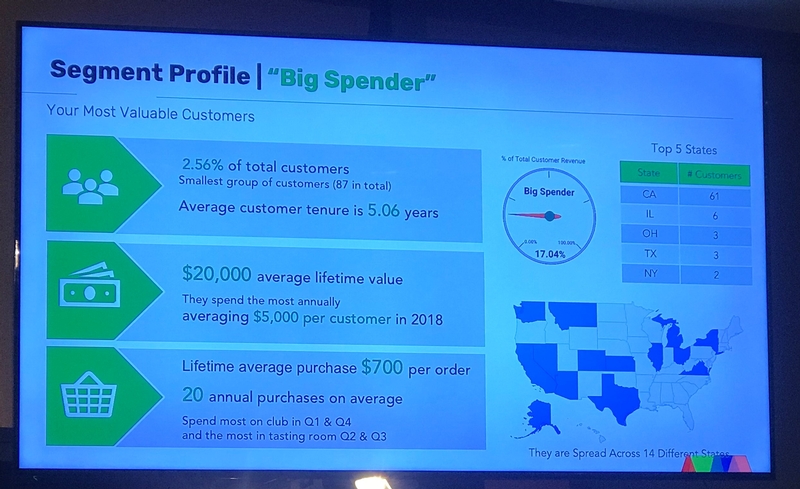 2. DTC is critical for the largest independent non-alcoholic beverage company not affiliated with Coke, Pepsi or Dr. Pepper

Kara Goldin discussed her illustrious career with Apple, AOL, the early days of ecommerce and her inspiration for launching Hint Water, where she's CEO.

Hint Water has been sold by Whole Foods, Starbucks, Kroger, Publix, Target, and Amazon, to name a few.

Goldin said Hint Water is the largest independent non-alcoholic beverage company in the country that doesn't have a relationship with Coke, Pepsi or Dr. Pepper. Yet the direct-to-consumer business fueled by the Hint Water website accounts for 40 percent of the company's overall business and has allowed Goldin to form a relationship with her customers who ultimately decide where to purchase the product.

"Many people are pretty surprised about that," Golden said. She said she launched the Hint website about five years ago after realizing the product was a success but that she didn't know who her customers were (Amazon wasn't providing the customer data - that belongs to Jeff Bezos)

3. Commerce7 Data Shows Personalization Sells Wine Online

Commerce7 is a POS System striving to create a more "consumer-centric" approach to selling wine online.

General Manager Zack Kamphuis discussed results of a newly released report based on insights from 1.2 million transactions.

"If you're a winery and your staff members are having a bad experience with our platform, they're going to complain to you and make their voice heard. In contrast, if one of your customers is having a bad experience with our platform, they're not going to say anything," Kamphuis said. "They're just not going to return or they're not going to buy.

Kamphuis said personalization where content changes based on who's visiting a winery website and based on the context of that visit and the winery's relationship with that customer are quite effective.

He said personalized pages are outperforming standard pages by 16-and-a-half times. "I'm 16-and-a-half times more likely to add an item to my cart if it's from a personalized page," he said.

Kamphuis said an enhanced mobile experience is crucial. He said Commerce7 facilitating google pay and apple pay allows first-time and repeat customers to use one click checkout and that 55 percent of visitors on the platform come from a mobile device.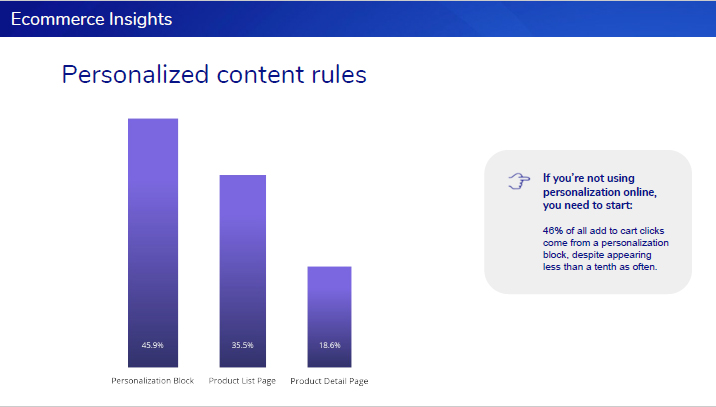 4. There's not that much overlap between alcohol and cannabis users

Michael Rodenburgh is Executive VP, Canada for IPSOS, one of the world's top consumer research firms. Marijuana has been legal in Canada for about a year. The alcohol industry made huge bets on cannabis in Canada. IPSOS is there to assist and replicated its alcohol consumption tracker for cannabis, comparing the two.

The study found 76 percent of alcohol consumers consume alcohol only, while just 17 percent consume both alcohol and cannabis, and just 6 percent consume both. It confirmed that alcohol is a social product while cannabis isn't.

Rodenburgh is trying to determine if the growth of the cannabis category is all going to come at the expense of alcohol and wine, or if it will eat into other categories. He said there's preliminary evidence suggesting medical use is eating into other things such as analgesics and topical pain relief. He said there's massive opportunity ahead for CBD and other substances that are not necessarily psychoactive but that create medical benefits for consumers.

His data shows cannabis is still a small category with 13 percent of Canadians in Q4 of last year saying they used cannabis for any reason. Wine sat at 34 percent while alcohol use was reported at 51 percent.

Rodenburgh said cannabis is not a social product while alcohol is. He said 77 percent of alcohol consumption occasions happen with other people. With wine that number is 83 percent. Fifty-seven percent of recreational cannabis consumption occasions occur alone.
Americans' preferences for cannabis use are similar but apparently more diverse than Canadians.
5. Brands that provide simple experiences are more successful
Christine Lehtonen is VP, Business Development at Siegel+Gale, a "global brand experience agency." She said clarity and ease are at the heart of the customer experience, and that consumers say they will pay a premium for products, experiences, and services that are simpler.

This is totally foreign thinking to wineries! – who for the most part embrace multiple varietals and SKUs – but Lehtonen said companies perform better when they simplify their portfolios.

Lehtonen shared results from a study, the world's simplest brands, now in its ninth year, involving 15,000 people in nine countries discussing 800 brands. The world's simplest brands are ones that put clarity and ease at the heart of the customer experience, she said. "It's almost like folks are begging to pay more if you'll simplify their experience."

6. Wine is complicated and it is hard to create a usable wine app – Jeff Seibert failed twice - The good news? Apple's new iOS reads and writes NFC tags
Jeff Seibert is the co-founder of Digits. He's an angel investor and tech nerd who served as Twitter's Head of Consumer Product, leading efforts across Twitter for iOS, Android and the Web. He co-founded and led Crashlytics, a mobile crash-reporting service that's been installed on more than 5 Billion smartphones.

Along the way Seibert tried to create apps for consumer wine enjoyment – and - long story short – he failed twice – because, as we know, wine is a complex product, and because OCR technology for scanning labels is sketchy at best, the data quality isn't good. It's hard to create a scalable solution. Even today, the leading consumer facing App using OCR to scan labels relies on human teams based in India to identify and categorize the labels consumers scan.

The good news, Siebert said, is Apple just released iOS 13.1 and for the first time the iphone's operating system can read NFC tags.

You can buy NFC stickers in bulk for pennies each that work with the new Apple iOS, and they contain globally unique IDs that can be part of a label, can be placed on top of a cork – whatever.

Some folks already use NFC technology on wine labels ... Tap the NFC tag and a whole marketing site pops up with a video of a winemaker with more details about the wine. Any sort of experience you want to craft.

If you're a collector, you can tag them yourself. Now you can buy some stickers, slap them on bottles, and you're off and running. No need to take a picture. Tap the phone to the bottle and it works.

"The time is now to figure out some sorts of experiences that we can bring to everyone," Seibert said.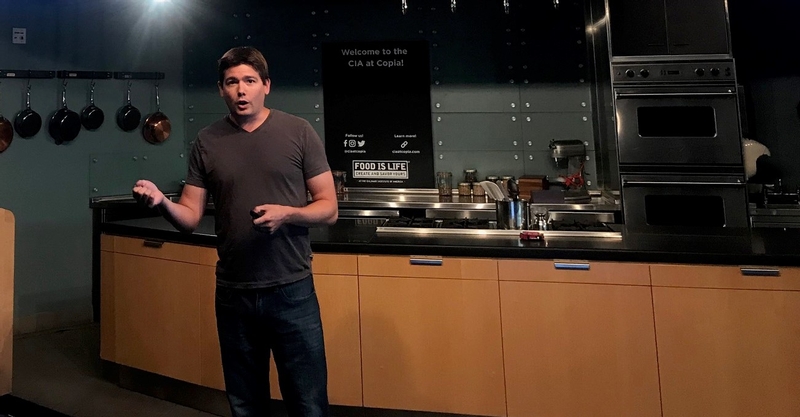 Jeff Seibert

It was Emetry's second data summit.

Last year's event featured Antonio Galloni.

Don't miss next week's Wine Industry Technology Symposium