Tablas Creek Founder Robert Haas Dies
March 20, 2018
Tablas Creek Vineyard partner and founder Robert Haas has passed away, the winery has announced. Haas entered the wine trade in 1950 and founded Tablas Creek Vineyard in Paso Robles in 1989. We will share more information as it becomes available.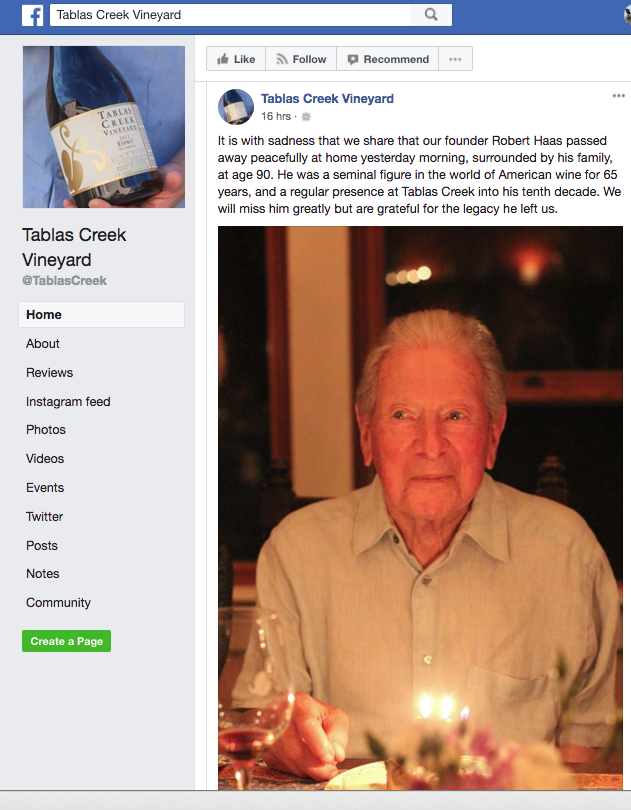 from the Tablas Creek Website:

Robert Haas has played a leading role in the American wine industry for over half a century. After graduating from Yale in 1950, he joined his father's firm, M. Lehmann, Inc., a retailer of fine wines and spirits in Manhattan. As a buyer for the company and its import arm, Leeds Import Company, Haas traveled through the cellars of France, establishing a formidable reputation as a wine taster while forging lifelong relationships with premier wine producers.

In the mid-1960s he set out on his own to import fine estate wines from Burgundy, Bordeaux, the Loire, Alsace and the Rhône Valley, where he met the Perrins of Château de Beaucastel and became the Perrins' exclusive American importer. He founded importer Vineyard Brands through which he introduced the American market to brands such as La Vieille Ferme, Marqués de Cáceres, Warre's Port, Girardin, Alsace's Domaine Weinbach, and Burgundy's Domaines Gouges, Sauzet, Ponsot, Mongeard-Mugneret, Dauvissat, Matrot, Carillon, and Michel among others. The company also served as a representative for newly emerging California wineries in the early seventies, including Chappellet, Freemark Abbey, Clos du Val, Joseph Phelps, Rutherford Hill, Hanzell, Kistler, and later Sonoma-Cutrer. He founded the symposium "Focus on Chardonnay" in 1984 to promote dialogue between producers in Burgundy and California and he also created the first ever French-American Rhône Symposium, which was held at the Meadowood Club in the Napa Valley in 1990.

Haas is one of four American members of the Académie Internationale du Vin. In recognition of his contributions to the international wine community as an importer, a vintner, and an advocate for quality, he was elected as the AIV president in 2000. He was recognized by the Paso Robles Wine Community as 2007 Wine Industry Person of the Year, and in 2014 he received a lifetime achievement award from Rhone Rangers for his contributions to the American Rhone movement. Haas is largely retired but is still a regular presence at Tablas Creek.